If you have ever trained with and without compression shorts you understand how comfortable and desired they can be.
They seem to be popping up in every sport and for good reason; they keep your muscles warm, your goods supported, and wick away moisture in some regions you don't necessarily need excessive sweating.
In addition to these obvious benefits some new features include; deodorization, antibacterial properties, UPF protection, flat seams, specialty stitching, etc. So without further delay here are some of the best Men's Compression Shorts on the market today!
Under Armour HeatGear Compression Shorts
These shorts are made with Under Armour HeatGear fabric, featuring a UPF 30+, 4-way stretch fabrication, and a moisture transport system that wicks sweat & dries fast.
An engineered elastic waistband, 6' inseam, and optimal compression to keep your blood flowing and muscles warm. Read more…
Tesla Compression Shorts
The Tesla Compression shorts were designed for all season and training routines. They feature an optimal material blend that releases heat and wicks moisture for a cooling effect to keep you comfortable at all times.
A non abrasion fabric offers excellent durability and elasticity for an enhanced range of motion and to top it off they are UPF 50+. Read more…
1Bests Compression Shorts
The 1Bests compression shorts feature an ergonomic compression technology that promotes faster muscle recovery and blood circulation.
Made with a polyester/spandex blend that is moisture wicking and quick drying that help keeps you cool and comfortable while providing a full range of motion and flexibility.
They also have a flat lock seam which reduces chaffing or irritation and a unique deodorization function that deters the forming of any unpleasant smells. Read more…
Xtextile Sport Tight Shorts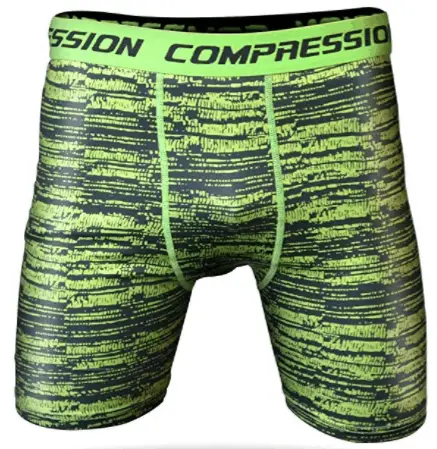 The Xtextile Sport Tight compression shorts have been manufactured to facilitate peak performance by increasing blood flow to elevate oxygen levels and compressing the muscles to reduce fatigue and speed up recovery.
Made from a Lycra elastic blend and a seamless construction that is both durable and comfortable. Read more…
CompressionZ Compression Shorts
Featuring CompressionZ's targeted compression technology these shorts offer maximum mobility with full range of motion and support.
With increased blood circulation and oxygen to the quads and groin, you'll find a quick and effective cure to your soreness and muscle fatigue.
They also provide protection against the elements by acting as cold or heatgear and has moisture wicking properties to keep you dry at all times, and thanks to its anti-bacterial fabric you'll never have to worry about skin chafing, irritation or odors. Read more…
Sanabul Base Layer Shorts
The Sanabul Essential shorts are composed of a blend of polyester, nylon, and spandex to help achieve the perfect fit.
They can be used for both hot and colder climate workouts due to the unique blend of materials, stitching, and design.
The 4 way stretch material with graduated compression, reinforced 5-thread 2-needle stitching, and an elastic waistband improves blood flow throughout muscles and ensures long lasting quality and comfort without irritation. Read more…
Mcdavid Cross Compression Shorts
Exclusive McDavid Cross Compression Technology warms and stabilizes muscles by mimicking taping methods used by athletic trainers, adding support to hamstrings and quads.
This technology forms a hip spica wrap for treatment of hip flexors and warms and stabilizes hamstrings and quads. They also feature HDC  moisture management and 6-thread flat-lock technology for comfort and strong seams. Read more…
Defender Compression Tights
The technology of Defender compression tights will keep you cool in summer and will provide heat retention in the winter.
The Quick and Dry Transport System wicks sweat away from the body, keeping you cooler and drier with a water metastases layer, a water absorption layer, and TWC-WAY air circulation design.
They also have a smooth and chafe free flatlock seam that allows for a full range of motion and comfort. Read more…
Royal Journey Performance Shorts
Royal Journey performance shorts feature a flat-lock seam that promotes excellent comfort and protection.
They also use a deodorization function that repels unpleasant smells left behind from sweat and the ergonomic compression fit allows for an enhanced range of motion and a breathable wearing experience. Read more…
RDX Thermal Compression Shorts
The RDX flex 4-way stretch compression shorts feature an anti-microbial fabric that wicks moisture away from the skin and maintains body temperature.
They use interlocking flat seams, a ventilated front, and extra wide comfort fit waistband. Read more…
ChinFun Performance Shorts
ChinFun Performance shorts are made with compression, sweat-wicking fabric for a supportive and comfortable base layer during your workout.
Flat, ergonomic seams allow natural movement and feel smooth against your skin. The polyester/spandex material is breathable and moisture-wicking to help keep you dry and comfortable.
They feature a gusseted crotch for full range of movement and added comfort, a soft elastic waistband that provides a smooth and secure fit, and minimal seams for additional comfort. Read more…
If you have made it through the whole list you have some things to consider, everything from specialty stitching to cool/warm gear fabric.
Whatever you end up deciding to go with we hope this helped in your search and encourage you to take the plunge and get some compression shorts. In our opinion any pair is better than none, so good luck and train!