Finding the best CrossFit barbell shouldn't be complicated. It's a basic piece of training equipment we all depend on to get stronger, complete fundamental workouts, and add variety to our routines.
But, as with any other modern fitness product, there's a surprising amount of variation in style, quality, and price when it comes to barbells. Plus, within this product range, certain bars are definitely more suited for a CrossFit regimen than others. 
Luckily, we've tested and reviewed 15 of the best barbells we could find for CrossFitters. And any of these would make a nice addition to a home gym setup. 
We've summarized our findings below, along with an overview of the factors you should learn about and consider when shopping around for a new barbell. 
Let's get into it.
---
In a hurry? Here are three great picks to get you started: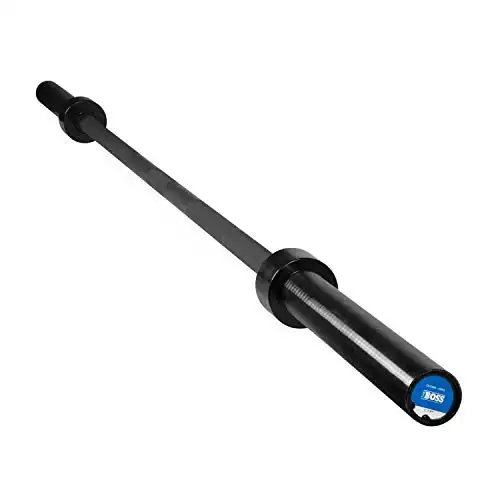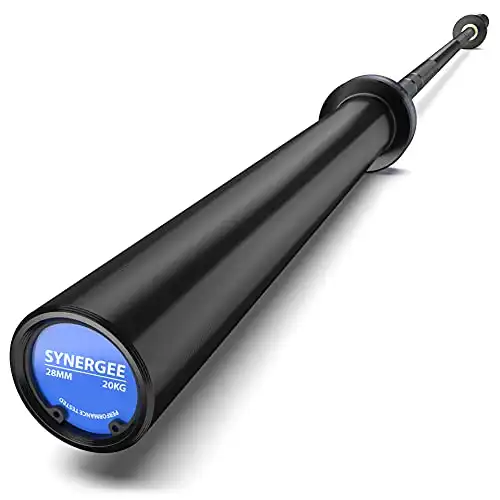 ---
Best Barbells for CrossFit
1. CAP 7-Foot Olympic Barbell
Specifications: 
Dimensions: 86″ x 3.03″ x 3.03″
Weight: 44 lbs 
Material: Japanese Steel
If you're on the hunt for the best CrossFit barbell money can buy right now, you could do far worse than starting your search with the CAP 7-Foot Olympic barbell, a premium option that scores maximum points in terms of strength, durability, and grip comfort. 
The unbreakable Japanese steel used in the construction of CAP's signature project boasts an impressive PSI (Pound per Square Inch) of 132,000 PSI, making it one of the most resilient barbells on the market and providing enough strength to help you lift 400+ lbs. 
This is finished in a smooth black phosphate, which gives the bar an attractive finish and significantly enhances its life span. 
There's also the mid-depth knurled grip which eliminates slips while the rotating sleeves and bushings (more on these terms in the buyer's guide below) ensure flawless spins without doing damage to forearms and wrists. 
While the CAP Olympic Barbell is definitely higher up the pricing scale than others you'll find on this list, its overall construction quality and CrossFit-friendly features make it a clear winner in our book. 
Pros: 
Features high-quality sleeves
Phosphate coating prevents rusting
Designed for full-body workouts.
Cons:
Some users report that the bar causes splinters
Pricing options can be expensive. 
2. Rogue Freedom Bar 
Specifications: 
Dimensions: 86.75″ x 1.12″ x 3.03″
Weight: 44 lbs
Material: Chrome 
The aesthetic appeal may not be anyone's top priority when it comes time to choosing a new barbell, but there's still no denying that the Rogue Freedom Bar is one beautiful piece of equipment.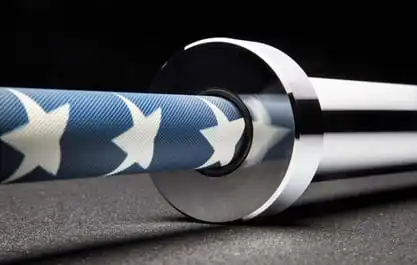 The stunning chrome finish with a red, white, and blue shaft design really does help this one to stand out from the crowd and adds an attractive (and patriotic) look to your home gym. 
Still, looks certainly aren't everything, and there's a lot more to like here too.
The 190,000 PSI tensile strength shaft, for example, provides an unbeatable amount of strength, ensuring it can handle 1,000+ lbs of weight without bending or other damage. 
Also, the ceramic-based coating provides maximum protection against rust, wear, and corrosion, ensuring this is one bar that's built to last for years to come. 
Pros:
Made in the USA
It comes with lifetime warranty against bending
Premium quality knurling prevents slips without being uncomfortable. 
Cons: 
High price tag
Some users report the cerakote coating tends to scratch easily. 
3. Rogue Ohio Bar 
Specifications:  
Dimensions: 86.75″ x 1.12″ x 3.03″
Weight: 44 lbs 
Material: Chrome or Cerakote
The Rogue Ohio Bar remains one of Rogue Fitness' best-selling barbells for a very good reason.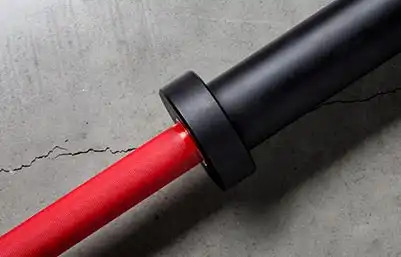 Made in the USA construction combines 190,000 PSI steel with a polymer-ceramic composite coating to provide exceptional durability. 
Meanwhile, the equally outstanding knurling provides a smooth-yet-solid grip with none of the abrasions or splinters that can occur with lesser-quality bars. 
Cap all that off with Rogue's trademark aesthetic design quality, and what you've got is a perfect addition to any CrossFit setup. 
Pros: 
Lifetime warranty against bending
Excellent spin
Features dual knurl marks. 
Cons: 
Lack of center knurl can make it unsuitable for certain types of exercises.
4. E.T. Energetic Olympic Barbell
Specifications: 
Dimensions: 86.61″ x 3″ x 3″
Weight: 44 lbs
Material: Alloy steel
If you're serious about taking your CrossFit training to the next level and need a barbell that can support a weight limit that's well above average, the E.T. Energetic Olympic Barbell should definitely be on your radar. 
This premium-grade weight bar boasts a 205,000 PSI tensile strength, making it more than capable of loading up to 1,500 lbs. 
If you've ever tried lifting so much weight with other bars and find that they end up bending too easily, the heat-treated alloy steel and hard chrome coating ensures that need never be an issue. 
Plus, not only are the sleeves fiction welded for greater support, but the addition of 8 needle bearings ensure a smooth and fast spin, making it ideal for clean & jerk.
Pros:
Comfortable, abrasion-resistant knurling
Attractive price
Long-lasting durability.
Cons:
It can be challenging to take out of the packaging
Maybe too much for users lifting smaller amounts of weight.
5. Annzoe Olympic Weight Bar
Specifications: 
Dimensions: 89.5″ x 4.75″ x 4.5″
Weight:  35 lbs 
Material: Alloy steel
If you like the idea of an alloy steel barbell that offers remarkable strength and durability but found the 1,500 weight capacity of the E.T Energic option was just too much, then the Annzoe Olympic Weight Bar may be more your thing.
Featuring a 190,000 PSI high tensile strength shaft that supports up to 700lbs, it's more than hardy enough to support a typical CrossFit workout, while the combination of a longer length and lighter weight provides greater freedom and flexibility in terms of movements. 
This well-made bar features a centre knurl that's well designed to provide a happy compromise between solid grip and abrasion-proof design, ensuring it's another great choice for upgrading your next WOD. 
Pros: 
It comes with 90-day money-back guarantee and an 18-month warranty
smooth bearings ensure quality spinning
Affordable price. 
Cons:
Small number of users report that it sheds shavings when iron weights are added.
Ends aren't smooth, which can make putting weights on a noisy experience.
6. Synergee Regional Olympic Barbell
Specifications:
Dimensions: 86.4″ x 4″ x 4″
Weight:  44 lbs 
Material: High-Grade Steel
The Synergee Regional Olympic Barbell provides a solid alternative to the E.T Energetic for anyone who wants a high-caliber weight bar capable of supporting up to 1,500 lbs.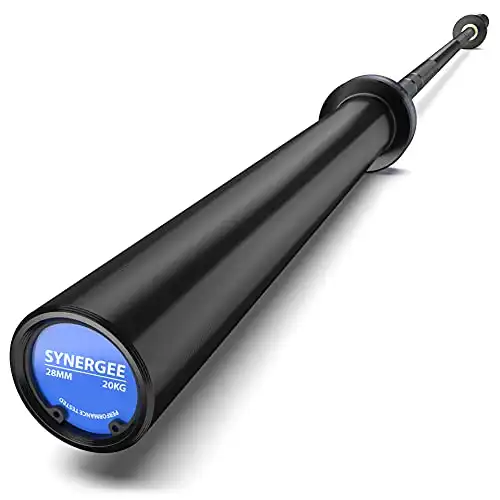 Although the 190,000 tensile strength rating isn't quite comparable with the latter's 205,000, it still provides very good strength, stability, and support. 
As far as construction goes, the combination of high-grade steel with a stylish black phosphate finish ensures you're getting a barbell that's every bit on a par with one you might find in your favorite gym, with a level of durability that it can withstand all of the drops called for by even the most intense of CrossFit WODs.
Pros:
Diamond knurl ensures comfortable, no-slip, no-abrasion grip
Attractive design
Excellent spin.
Cons:
Customers frequently report that the bar arrives with damaged packaging
May be prone to scratching. 
7. Rogue Curl Bar
Specifications: 
Dimensions: 54.50″ x 1.12″ x 3″
Weight:  30 lbs
Material: Zinc.
So far, our guide to the best barbells for CrossFit has focussed exclusively on Olympic bars since these are the type commonly found in popular CrossFit gyms.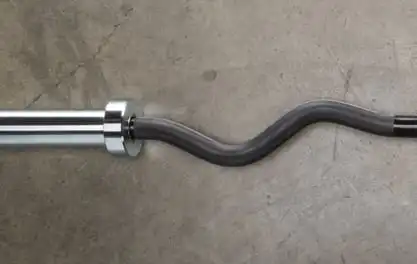 Still, if you much prefer to get your workout done with a curl design instead, you'll find the Rogue Curl Bar tough to beat. 
Everything we liked about the previous Rogue options is present and correct here, including premium-grade, Made in the USA construction, comfortable knurl grip, and long-lasting durability.
The latter is provided thanks to the unique E-coat, a paint coating that is applied electronically to provide the highest level of resistance to scratches and damages. 
In other words, no matter how enthusiastic you get with this one, you can be sure that it's going to continue to look and function at its best for a very long time to come. 
Still, that's not all.
The curl design also makes it a great choice for both newcomers and those bouncing back from injury, ensuring zero strain on the wrists during those high-rep sessions. 
Pros:
110,000 PSI tensile strength
Compatible with most Olympic plates
Bronze brushings provide an all-round smooth feel
Cons:
Design means the bar is not rackable
E-Coat may make the bar too slippery for some users
8. Yaheetech Olympic 7 feet Weight Bar
Specifications:
Size: 86″ x 3.74″ x 3.74″
Weight: 36 lbs
Material: Iron
The Yaheetech Olympic 7 feet Weight Bar is a smaller, lightweight Olympic bar that's ideal for those just getting started with CrossFit training. 
The 36 lbs bar supports an upper weight limit of 300 lbs, and while that may be a far cry from the 1,000+ weight limits we've seen with others, it does mean that newcomers will be able to safely and comfortably use this one for everything from squats and lunches to curls and even bench presses. 
Also adding to the Yaheetech's beginner-friendly appeal is the price, coming in significantly lower than many other top-rated models. 
Yet while this may be low-cost, it's by no means cheap. 
The chrome finish makes this one highly-rust resistant, while the solid iron construction ensures it can withstand drops without a lick of damage. 
If you're already an experienced CrossFitter, this one may be a little lacking, but for those in the early days of their training, it really is a quality choice.
Pros: 
Smaller size makes it perfect for home gyms with limited space
Features dual knurl marks
Includes smooth swivelling sleeves to eliminate warping.
Cons:
May not be suitable for experienced CrossFitters
Some users report that this is difficult to tighten up after adding weights. 
9. Rogue MG-2 Multi-Grip Bars 
Specifications:
Size: 82″ x 1.25″ x 1.25″
Weight: 39 lbs / 45 lbs
Material: Steel
If you're taking your workout over to the bench and need something other than the usual Olympic-style bars, the Rogue MG-2 Multi Grip Bars may be well worth a look.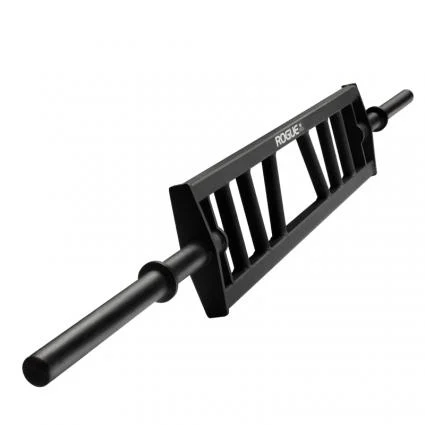 As ideal for minimizing wrist and shoulder stress as they are for helping you to create and experiment with different lifting techniques, these high-grade bars lend a certain versatility to your workout room.
The six angled handles are well-spaced at intervals of 6.5″, 14.5″, and 22.5″, affording the flexibility to work on different muscle groups without changing the bar. 
Stick to the close grip, and you've got the perfect bar for targeting triceps, while a wider grip is ideal for pec workouts. 
While this one suffers a similar plight to other Rogue Fitness bars in that the protective black powder coating may start to fade, the overall construction is, much as you'd expect from this brand, absolutely superb.
Pros:
Made in the USA
Available in two different sizes
Compatible with standard Olympic plates.
Cons:
Black powder tends to wear off over time 
It may not fit all racks.
10. Rogue Bella Bar 2.0
Specifications: 
Size: 79.13″ x 1″ x 1″
Weight: 33 lbs
Material: Cerakote 
The first thing you notice about the Rogue Bella Bar 2.0 is the attractive pink cerakote shaft which is guaranteed to add a welcomed splash of color to any CrossFit gym or home workout space. 
Still, while it may look cute, this is still an incredibly strong and powerful bar in its own right. 
The combination of 190,000 PSI tensile strength, deluxe bronze brushings, and impressive durability has made this one of the go-to bars of choice for the yearly CrossFit games and other flagship competitions, ensuring that when you choose this one, you really are using the same weight bar as the very best in the sport.
Pros:
Strong, abrasive grip
Tournament grade bar built to International Weightlifting Federation standards
Made in the USA.
Cons:
Knurling can be difficult to see
Paint tends to scratch easily.
11. LIONSCOOL 7-Foot Olympic Bar
Specifications:
Dimensions: 88″ x 3.6″ x 3.6″ 
Weight: 44 lbs
Material: Alloy steel
If you're looking for a good-quality barbell for CrossFit that won't break the bank, the LIONSCOOL 7-Foot Olympic Bar proves to be another great option for the budget-conscious CrossFitter. 
Despite its affordable price tag, this one boasts enough strength and durability for light to mid-weight workouts.
The 80,000 PSI tensile strength provides sufficient strength to hold up to 500 lbs in weight, while the combination of alloy steel and chrome makes it highly resistant to drops, scratches, and damage. 
Add in some excellent rust-resistant properties and multiple knurling positions and you're looking at a great value-for-money weight bar. 
Pros:
Excellent knurling provides a very good grip
Low price
Features 2 large bushings and bearings to create smooth spin.
Cons: 
Advanced users may need to upgrade to a more advanced bar
Could be better packaged when shipped.
12. E.T Energetic 47" Olympic Curl Bar
Specifications:
Dimensions: 49″ x 3.5″ x 3.5″
Weight: 21.3 lbs
Material: Steel
If the last curlbar we looked at wasn't quite right for you, the E.T Energetic 47" Olympic Curl Bar may prove to be the best alternative around right now.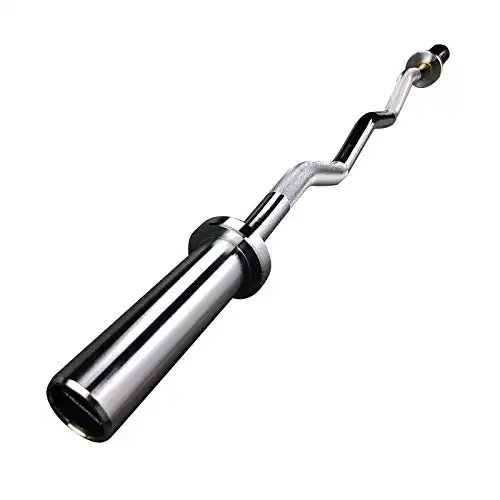 The 32.5" central shaft features shallow, yet well-defined curls that are purpose-built to help CrossFitters avoid strains and more serious injuries, while the rest of the 47" total shaft length consists of two, solid-steel 7" handles.
A real highlight of this one is the friction-welding process used in the sleeves, providing a greater level of strength and support than traditional welding options.
These are complimented by two bearings and two brash brushing which work to provide just the right amount of spin.
Pros:
Gym-grade construction quality
Diamond-knurled handles
Fits most standard racks.
Cons:
400 lbs weight limit may be too light for some users
Coating tends to scratch.
13. Rogue Fitness Ohio Bar – Black Oxide
Specifications:
Dimensions: 86.75″ x 1″ x 1″ 
Weight: 44 lbs 
Material: Steel with oxide coating.
A special upgrade to one of Rogue Fitness' best-selling bars, the Rogue Ohio Bar – Black Oxide features a unique protective coating which keeps the whole thing looking and functioning at its best for longer.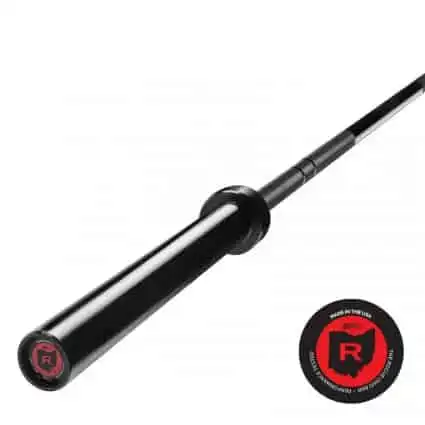 That's far from the only benefit.
Black oxide also significantly enhances the knurl, creating a feel that's akin to a naked bar while still delivering a sturdy and comfortable grip.
In terms of performance, this one is on a level of any other of Rogue Fitness' premium-grade bars, offering a nice combination of whip and stiffness which makes it a great choice for all types of lifting.
Pros:
190,000 PSI for optimum strength
Bronze bushings
Comes with lifetime warranty against bending.
Cons:
Expensive price tag
Oxide coating requires regular maintenance.
14. Synergee Games Cerakote Barbells
Specifications:
Dimensions: 86.4″ x 4″ x 4″
Weight: 44 lbs 
Material: Cerakote
Another high-value offering from Synergee, the Synergee Games Cerakote Barbells is designed primarily for powerlifting and bodybuilding, giving it a strength and resilience that is more than sufficient for CrossFit training.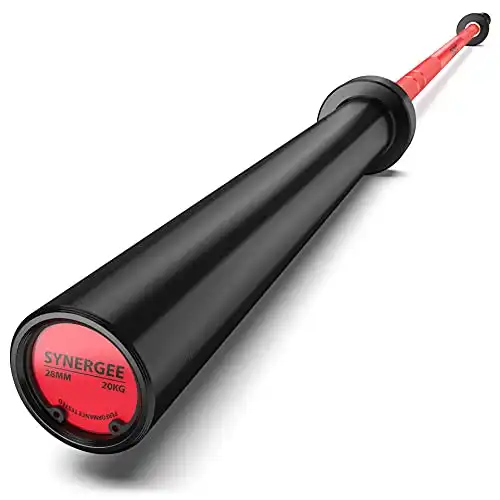 The 190,000 PSI and 1500 lbs weight capacity puts this one on a par with any of the top rated barbells we've looked at so far, guaranteeing that it's suitable for heavy-duty workouts, with a 16.4″ sleeve length to ensure that even the biggest plates will fit comfortable and securely. 
Of course, another highlight is that Synergee really does make some beautiful looking weight bars. Sure, looks aren't everything, but if you're sick of drab, cold-looking gyms, the color and overall design of this best-selling Synergee bar will no doubt appeal. 
Pros: 
10 needle bearings for improved spin
Cerakote finish to keep the bar in top condition
Features dual knurl marks.
Cons:
Paint tends to chip 
Some users report that the color shown in pictures doesn't quite reflect the actual product.
15. CAP 6-Foot Olympic Barbell
Specifications: 
Dimensions: 72″ x 3″ x 3″
Weight: 28 lbs 
Material: Solid cold rolled steel
Last but not least, we come to the CAP 6-Foot Olympic Barbell, another short, lightweight weight bar that's ideal for dynamic workouts.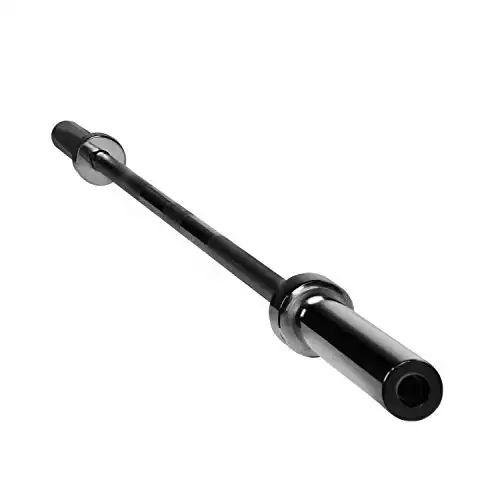 The bar's compact design also makes it a perfect choice for those home workout rooms where space is at a premium, but while size may certainly matter here, being small isn't the only thing the CAP bar has to offer. 
The 63,800 PSI tensile strength steel is strong enough to withstand a maximum recommended weight limit of 500 lbs, with the solid steel construction ensuring there's zero bending. 
Another key feature is the medium-depth diamond knurling which provides a solid, firm, non-slip grip that doesn't cause pain or discomfort when lifting. 
Add that to an attractive design and reasonable pricing, and this is another great choice for getting those WODs done at home.
Pros:
Reduced grip size makes it ideal for smaller CrossFitters
Perfect size for small spaces
Features rotating sleeves to relieve pressure.
Cons:
Powder coating tends to come off too easily
Doesn't come with collars.
Buyer's Guide: Finding the Perfect Barbell (For any CrossFit Athlete)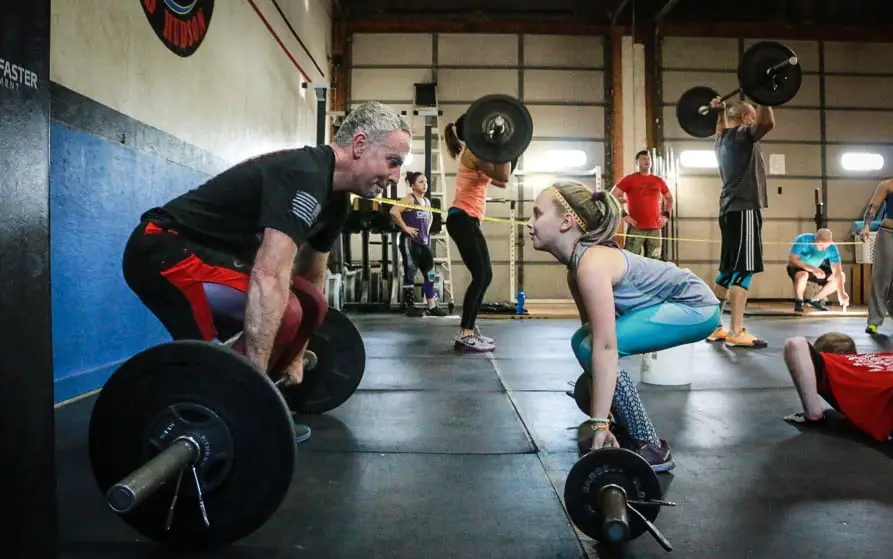 Now that we've covered some of our favorite bars on the market, it's worth reviewing a bit more about these fitness tools and going over the basics to make sure you select the right one for your routine and setup.
The Olympic Barbell or Standard Barbell for CrossFit, Olympic Lifting, or Power Lifting
In the simplest terms, a barbell is a metal pole that allows weighted disks to be attached for weightlifting.  
However, like everything else in the world there are several things that makes barbells different and better geared toward specific training.
For example, an Olympic barbell has a standard design with the only variation being between a men's and a women's bar.
The men's Olympic barbell is 7.2 feet long, weighs around 44 pounds, and has a bar diameter of 28 mm. The women's Olympic barbell is 6.9 feet long, weighs around 33 pounds, and has a bar diameter of 25 mm.
This bar is always used for Olympic weightlifting, which consists of only two lifts, the snatch and the clean and jerk.  
Fortunately, these lifts are not the only thing a barbell is used for, and as a result there are now options for power lifting barbells and multi purpose barbells.
Barbell Benefits…Why You Need a Barbell!
The barbell is a great piece of equipment that when used correctly can develop several muscles simultaneously.
For example, using a barbell to complete a standard deadlift targets the majority of the muscles in your body.
This includes primary muscles such as your glutes, hamstrings, quads, etc as well as stabilizer muscles in your lower back, neck, and abs.
Very few pieces of exercise equipment do this and in fact most machines nowadays focus on specific muscle groups. This allows for muscle-specific training, but is very timely and deters the development of much needed stabilizer muscles.
Overall, a barbell with weights is the foundation for a full-body weight training program and one of the most efficient muscle building and weight loss activities available.
Here's what to look for in your barbell.
Steel Barbell
The most important part of a barbell is the steel it is made from, with the quality being gauged in two ways; tensile strength and yield strength.
Tensile strength is the amount of pressure, measured in PSI (pounds per square inch) a barbell can handle before breaking, high quality steel having high PSI and low quality steel having low PSI.
The tensile strength of a barbell is a great measurement but not as important as the yield strength of a barbell. Yield strength of a barbell is the amount of pressure before the bar becomes deformed and will not return to its original straight design, the bar being permanently bent.
Most people are not going to lift heavy enough to worry about the tensile strength of a bar and it breaking during a workout, however a permanent bend of a bar is a real concern.
With a bend in mind it is recommended to get a barbell with a tensile strength of at least 190 PSI, a barbell with this measurement is not likely to bend with "normal" heavy lifting.
Barbell Knurling
Knurling on a barbell is the textured etch on the shaft of the barbell that is used for grip while weight lifting.
An Olympic barbell has a center knurl for a men's bar and no knurl for a women's bar.
A powerlifters bar will typically have aggressive knurl throughout the bar and a multipurpose bar has medium grade knurling on the outsides of the shaft, with a clear middle to not chafe or scratch during certain movements.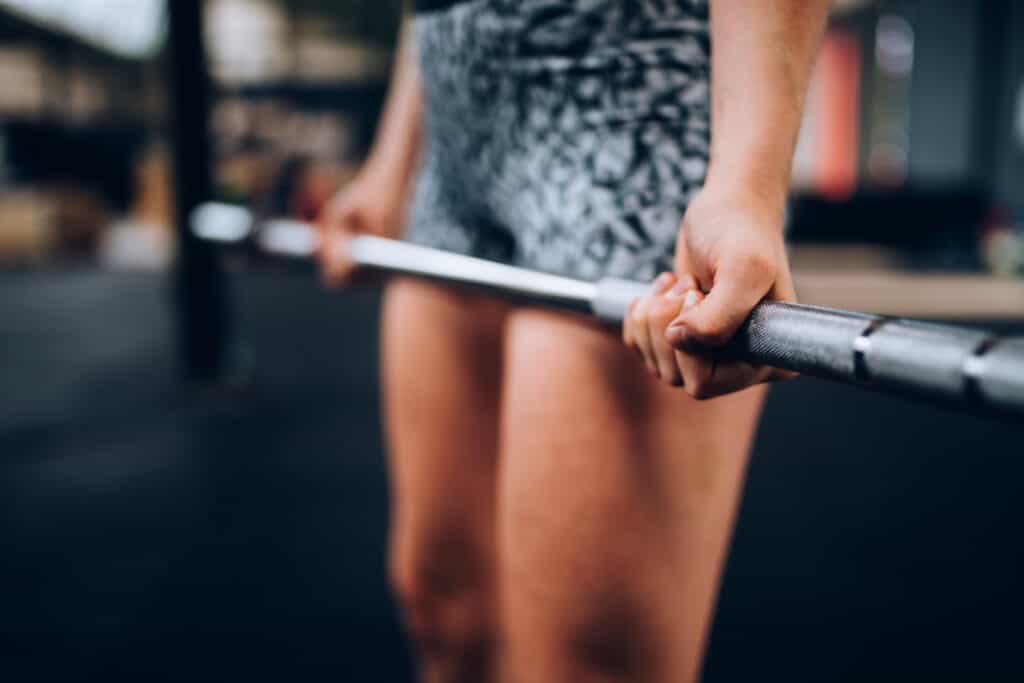 Multipurpose barbells usually have a smoother/fine knurling along the entire shaft of the barbell allowing for a variety of grip distances.
This is an important feature but not a defining one as adjustments can be made with the addition of tape, chalk, grips, and gloves.
Barbell Spin
The spin of a barbell refers to the bushing or bearing in the sleeve assembly, which allows the sleeve to rotate or spin on the shaft of the barbell.
Depending on the use of the barbell you are going to want different spin speeds.
Olympic weightlifters usually want a bearing system for a faster smoother spin in order to get under the bar quickly, whereas a power lifter wants a bushing, which spins slower and is more rigid.
The majority of barbells use a bushing system as they are less expensive, require little maintenance, and last for years. Bearings are only really seen in high end Olympic barbells due to cost.
Barbell Whip
The whip of a barbell is the flex, movement, or momentum of a barbell once lifter movement has ceased.
Whip is ideal for an Olympic weightlifter that uses the momentum of the bar when doing a movement like the clean and jerk, and whip is terrible for a powerlifter that wants a rigid bar to perform movements like the deadlift.
The movement or use of a barbell is going to be the deciding factor on whip, however this is a difficult thing to measure and is usually best reviewed by actual users instead of the manufacturer.
In any case a general rule of thumb is that the thinner the bar the more whip it will have and the thicker the bar the less whip it will have.
Diameter of Barbell
Olympic barbells have a standard men's bar diameter of 28 mm and a women's diameter of 25 mm, when made with high quality steel these standard diameters are considered to have the best whip for Olympic lifting.
There are however a variety of barbell diameters available.
For example, a powerlifter typically uses a bar with a minimum diameter of 30 mm for grip and less whip.
In addition to movement specific bars, diameters has been created for different users, such as children, larger hands, etc.
To most, diameter isn't a huge concern but a signal of steel quality.
If a bar has a large diameter but low tensile strength it usually means it is made with low quality steel. The manufacturer cut costs by using scrap type steel and made a thick bar for a minimum PSI measurement and price point.
Barbell Construction
So far there are a lot of things to consider when selecting your barbell; the steel, knurling, spin, whip, shaft construction, and diameter.
Considering all of these factors you will need to look at overall quality of design and construction.
Which combinations are you looking for?
What's does a barbell need to have?
The list goes on and on, but overall I think everyone can agree that they want a solid bar that allows for weight training without breaking.
To meet this basic want, it is recommended to go with something made in the USA instead of saving a few bucks for a low quality scrap steel bulk import.
Rogue is a recognizable brand that offers this exact thing, you can check more out here.
Barbell Finish / Barbell Coating
The finish or coating of a barbell can impact how long your bar lasts but is usually thought of as a preference.
You can get a basic unfinished steel bar or something as high end as coated with Cerakote (a polymer ceramic coating).
Obviously you will need to consider if your barbell is going to be used inside or outside as this will play a factor into your decision, but most barbells are going to have some type of coating to deter from rust or oxidation due to sweat, salt, etc.
Some barbells offer colored coating for a more personalized barbell while protecting your equipment.
Price of Barbell
As with anything else, you can get the cheapest option available or spend way too much money with something unnecessary.
Just keep in mind that you get what you pay for, so we recommend staying within a price range that is relative to the features you want in a barbell.
A realistic price range for a solid barbell is between $200 to $400, anything cheaper and you're sacrificing quality, and anything more expensive is only necessary for highly technical movements.
Barbell Warranty
When looking at the warranty of a barbell it is more important to consider the manufacturer than it is the warranty, if the manufacturer is out of business in a few years a warranty isn't worth squat.
Lifetime warranties have become the standard these days, but still some are better than others, some require you to pay for shipping whereas others allow you to bring to a store for exchange.
Get a quality barbell and you won't have to worry much about this feature.
Frequently Asked Questions About CrossFit Barbells 
What barbells does CrossFit use?
CrossFit training typically involves the use of Olympic barbells, though bars with a curl or multi-grip design can also be useful for beginners or those recovering from injury.
Is bar weight included in CrossFit?
Yes. At the CrossFit games, bar weight is factored in during a competitor's weigh-in. Amateur CrossFitters will also consider bar weight when determining the weight of the plates they need.
What brand of barbells do CrossFit gyms use?
Rogue Fitness are one of the premier names in CrossFit equipment and their barbells can be frequently seen in gyms across the US, though other brands such as Cap and Synergee also prove popular.
What is the Best Barbell to Buy for CrossFit in 2022?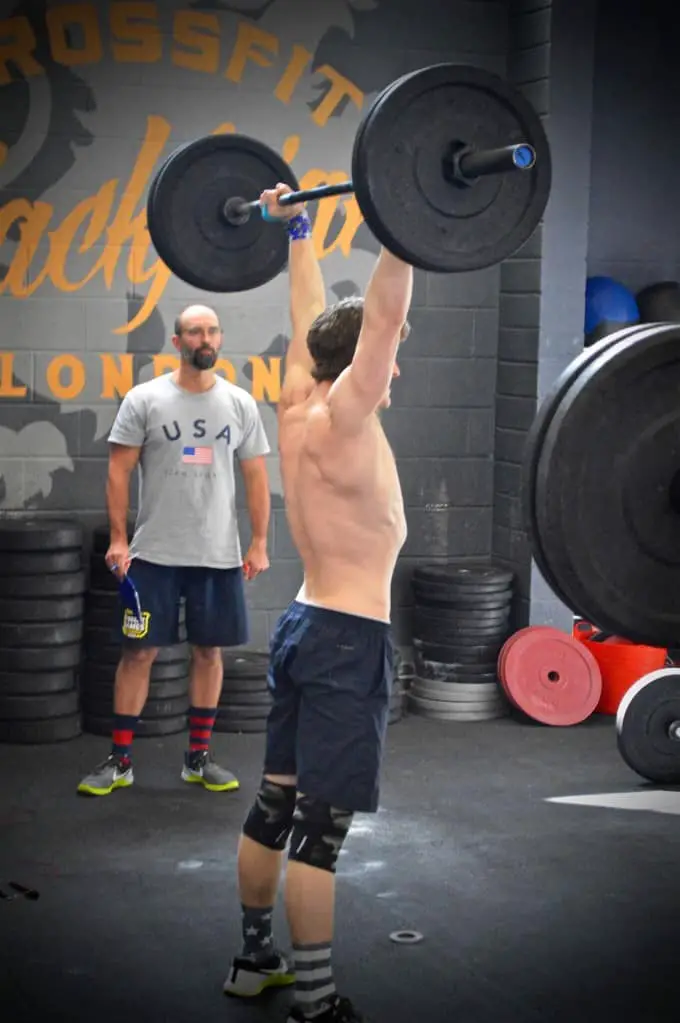 As you've no doubt deduced by now, any number of important factors need to be considered when choosing which CrossFit barbell to invest in.
Variations in type, size, and weight limit can all make a difference to your WOD, meaning what might be the best option for one CrossFitter isn't necessarily the right choice for another.
If you're a beginner or recovering from injury for example, then the Rogue Curl Bar may be the perfect choice as the curl design helps to reduce pressure on the wrists, forearms and shoulders.
If keeping your costs down is a top priority, then you'll find the budget-friendly E.T. Energetic Olympic Barbell  ideal thanks to its combination of high quality and low pricing.
However, if you're a serious CrossFitter looking for the best Olympic barbell around right now, then our first-placed pick, the CAP 7-Foot Olympic barbell, is certainly the one to go for as it offers exceptional construction quality, an impressive weight limit, and the kind of comfortable grip that will ensure your workouts go smoothly.