Start shopping around for the best CrossFit watches to help track, monitor, and improve your workout performance, and you may discover that it's almost as challenging as your favorite WOD.
Sure, there's a whole plethora of fitness-orientated wearable technology out there, but while most of them are great for sports like running and cycling, very few seem well equipped to suit the unique nature of CrossFit training.
The good news is that there are some smartwatches on the market which do make a perfect addition to your CrossFit gear.
Below, we've rounded up seven of the very best to help you find the one wearable that's right for you.
Top 7 Best CrossFit Watches
1. Garmin Fenix 6 Pro
Our Pick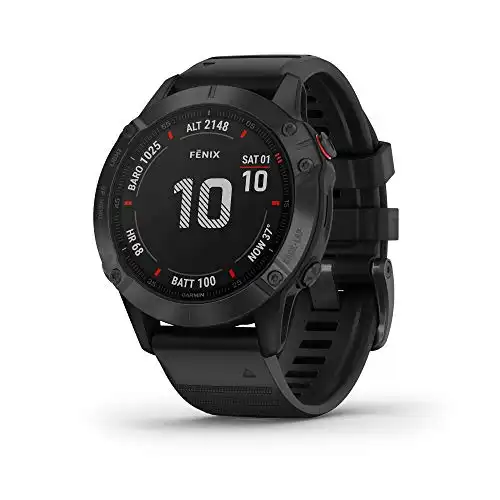 Specifications:
Screen Size: 1.3″
Display Type: LCD
Connectivity Technology: Bluetooth, ANT+, WiFi
While FitBit may be the smartwatch of choice for casual fitness fans and those who simply want to improve their health, Garmin has proved itself to be the go-to brand for those who take their fitness training seriously.
The Garmin Fenix 6 Pro is a perfect example of why the company's wearable technology has become such a hit, not only with CrossFit athletes, but runners, rowers, climbers, and other athletes.
The highlight of this one is the unique Pulse Ox sensors which monitor your body's oxygen saturation levels and an innovative body battery that gives an estimate of your current energy reserves.
This can prove incredibly useful for knowing when it's time to really give it your all and when it's time to take a rest day.
Elsewhere, compatibility with Garmin Strength, and a number of top Garmin CrossFit apps make it possible to access and track a number of pre-designed WODs, with performance statistics saved so that you can access them via the Internet to analyze your workout.
Combine all this with an in-built interval training mode which is ideal for CrossFit and other HIIT training activities, and it's no wonder the Garmin Fenix 6 Pro is the top CrossFit watch on the market right now.
Pros:
Display can be easily read, even in sunlight.
Includes advanced sleep monitoring to make sure you're getting enough rest.
Features music storage and compatibility with third-party streaming services like Spotify and Apple Music.
Cons:
High price tag makes it one of the most expensive watches around.
Some users report that it takes time to learn how to use all of the Fenix 6 Pro's features.
2. Apple Watch Series 7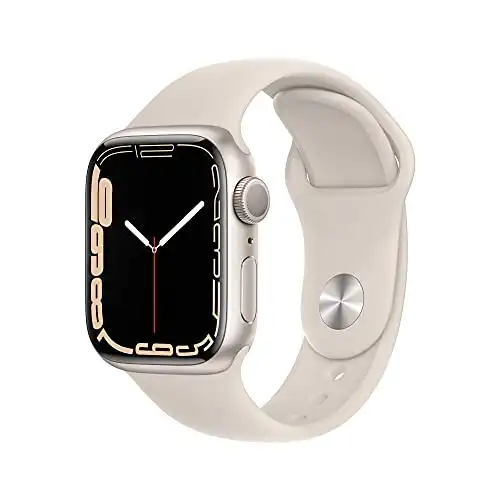 Specifications:
Screen Size: 1.61″
Display Type: Always-on Retina display
Connectivity Technology: GPS
Garmin may have a few good apps for CrossFit, but nowhere near as many as you'll find on the Apple App Store.
From top CrossFit timer apps to those with pre-set WODs, heart rate monitoring, and more, if you're serious about using the best tools to optimize your workouts, the Apple Watch Series 7 may be the one for you.
Apps aside, the biggest selling point of Apple's latest wearable is that it features an always-on retina display. With that mode enabled, all of your performance data is visible the whole time, meaning you don't have to stop halfway through your next Grace WOD just to check on your activity.
Using the Functional Fitness setting, you can monitor your heart rate and compare it across several workouts to note where you're improving, while the main display shows not only average heart rate, but also training session length, estimated number of calories and more.
Finally, we're big fans of advanced features like blood oxygen monitoring, ECG testing, and recovery monitoring, all of which make the Apple Watch Series 7 an ideal choice for tech-savvy CrossFitters.
Pros:
Larger than average screen size makes it easier to view the display.
Highly durable design with crack-resistant screen.
Features in-built fall detection for solo workouts.
Cons:
Battery doesn't last as long as with other watches.
Charges using a USB-C cable which isn't compatible with older charging blocks.
3. Garmin Vivoactive 4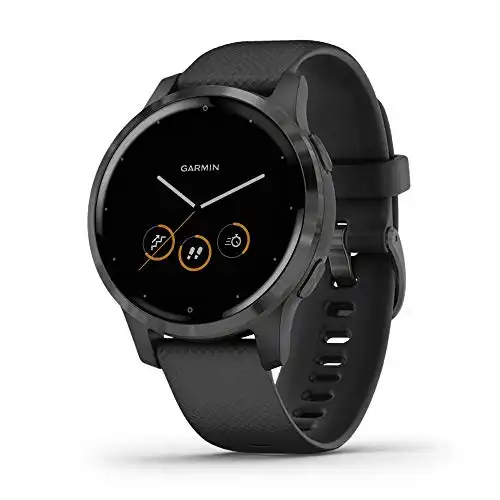 Coming in at a lower price point and with less features than the Fenix Pro, the Garmin Vivoactive 4 still helps track your energy levels using the Pulse Ox.
Plus, it calculates respiration, stress, estimated heart, hydration, menstrual cycle, and more. Thanks to its over 20 preloaded indoor and GPS sports fitness app, you can record all your metrics during your workout.
If you want something slightly different from CrossFit, you can get easy-to-follow, animated workouts on the screen with workouts such as Pilates, yoga, and strength and cardio exercises.
The Garmin Vivoactive 4 has an extended battery life, enabling you to use it in various modes without developing battery anxiety. You can use it for up to 8 days in smartwatch mode: 6 hours in music and GPS mode.
There are also tracking and safety features such as incident detection during particular activities. Once you pair it with a compatible device, you can also get assistance, sending your real-time location to emergency services.
Pros
Large LED screen
You can pair it with both android and apple devices
Animated workouts
Tracking and safety features
Great battery life
Body battery energy monitoring
Can play music
Cons
Not as rugged as other CrossFit watches on this list
4. Polar Vantage V2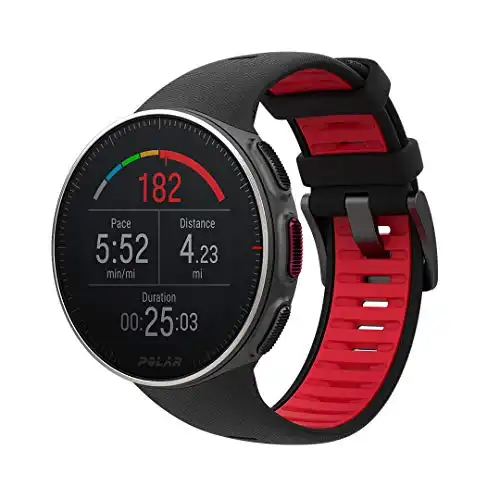 Specifications:
Screen Size: 1.2″
Display Type: LCD
Connectivity Technology: GPS
Though all of the best CrossFit watches featured in this guide scored high marks for accuracy, none scored higher in this category than the Polar Vantage V.
The high-end smartwatch takes advantage of Precision Prime Sensor Fusion technology which results in the highest heart rate accuracy levels of any watch around.
The best part is that the optical HR sensor is integrated into the device, meaning you can enjoy accurate readings without the need for a chest strap.
Not that accuracy is all that this one has going for it.
The Vantage V comes pre-loaded with two excellent programs; Training Load Pro and Recovery Pro.
Working in unison, these apps give you extensive insights into the intensity of your training sessions and how those sessions affect your body, as well as how you're progressing with recovery.
If you're the type of athlete that gets so enthusiastic about CrossFit you're sometimes guilty of overdoing it, this can prove very valuable in reminding you to take a day off or at least take it a little easier.
Finally, it's hard not to be impressed with the battery life, which offers up to 40 hours of training time on a single charge.
Pros:
Lightweight-yet-durable design.
Comes with Polar Flow App with HIIT option for tracking CrossFit training.
Provides complete training data to help you analyze and improve your performance.
Cons:
Doesn't offer pre-set WOD plans.
Touch screen is less responsive than other smartwatches.
5. Garmin Instinct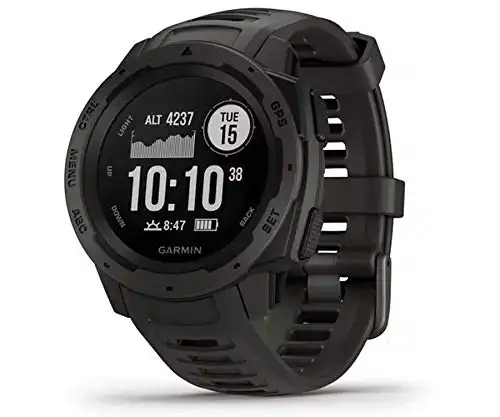 Specifications:
Screen Size: 1.27″
Display Type: LCD
Connectivity Technology: GPS, Bluetooth
If you like the idea of a top-level Garmin but found the expensive Fenix 6 Pro was just a little out of your price range, the Garmin Instinct may be a better option.
Our pick of the best budget-friendly CrossFit watch around right now, the relatively low price tag is in no way indicative of low quality.
Track your favorite Hero workout, and you'll be able to access a wealth of useful, CrossFit-relevant data such as Vo2 max, heart rate, intensity minutes, threshold power, and more.
What's more, if you're prone to going so hard that your smartwatch takes a bit of a beating, you'll no doubt appreciate the U.S military-grade construction quality with in-built thermal, shock, and water protection.
While the Instinct may not be the most elaborate or feature-rich Garmin CrossFit watch out there, for an affordable, entry-level model, there's nothing better on the market right now.
Pros:
Excellent battery life of up to 14 days in smartwatch mode on a single charge.
It comes with preloaded activities and workouts.
Compatible with Garmin Connect.
Cons:
Some users report reliability issues with the heart rate monitoring feature.
Step counter and sleep tracker aren't as reliable as on other watches.
6. Polar Ignite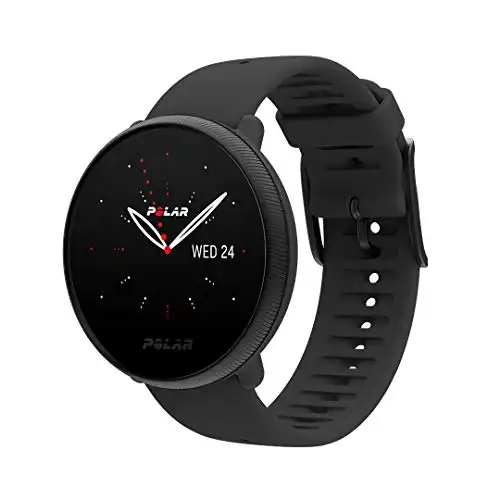 Specifications:
Screen Size: 1.2″
Display Type: LCD
Connectivity Technology: GPS
Much like the Vantage V, the Polar Ignite 2's best feature is the Precision Prime sensor fusion technology which allows for industry-leading levels of accuracy when it comes to heart-rate monitoring.
However, what we really like about it is the HIIT profile on the in-built Polar Flow app, which allows you to perfectly and accurately track times as you're going through your favorite WOD and offer performance-based workout guidance to help you optimize your workout.
Elsewhere, the rest and recovery monitoring features are second-to-none, helping you to ensure that whether you're trying a new rowing WOD, you're always feeling fit, refreshed, and ready to go.
Pros:
Integrated optical sensors eliminate the need to wear a separate heart-rate monitor.
Built from glass fiber polymer for maximum durability.
FitSpark feature offers custom-made workout suggestions.
Cons:
Not very good at tracking strength training.
Some users report issues with pairing the Ignite 2 with their smartphone.
7. Suunto Spartan Sport Wrist HR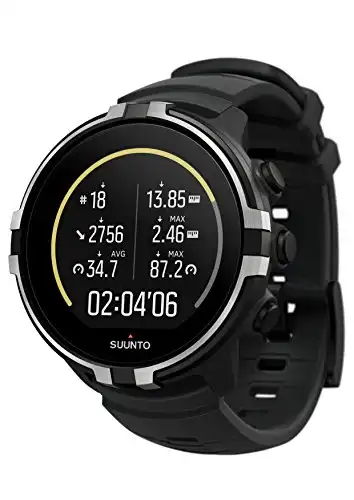 Specifications:
Screen Size: 1.97″
Display Type: LCD
Connectivity Technology: GPS, WiFi, Bluetooth
While other watches scored the highest marks in categories such as accuracy or all-around features and functionality, the Suunto Spartan Sport Wrist HR's biggest strength is, well, its strength.
Make no mistake about it, this is one tough piece of kit. The highly-durable mineral crystal glass face is next to impossible to crack, while the steel bezel provides added protection for your device.
As with all good fitness watches, it's waterproof, too, so you don't need to worry about it getting drenched in sweat during a particularly intense workout.
That said, there's a lot more going on here than simply excellent materials and top-grade construction quality.
The Spartan features multiple sports modes, with a dedicated CrossFit mode that lets you track and record all aspects of your WOD, including steps, reps, lifts, and more.
Connect to the Suunto Movescount app, and you'll also be able to access purpose-built timers for EMOM (Every Minute on the Minute) and Tabata sessions, ensuring that you can spend less time configuring your watch for a workout and more time actually getting the training done.
Meanwhile, the ability to customize which data is displayed during your workout allows you to focus only on those stats that you really care about, whether that's reps completed, the time elapsed, or calories burned.
Pros:
Affordable price for a smartwatch.
Battery life of up to 40 hours on a single charge.
Real-time heart rate tracking is displayed in graph form.
Cons:
The Movescount app isn't the most user-friendly fitness app out there.
Heavier than other watches, which may affect comfort.
How to Choose the Best CrossFit Watch: A Buyer's Guide
So, you've seen what we consider to be the top seven very best fitness watches for CrossFit athletes to wear while training, but how exactly did we reach that decision?
How did we decide that these six models are better than anything else out there?
More importantly, how do you decide which one is ultimately worth spending your hard-earned money on?
To answer these questions, we've put together this comprehensive buyer's guide in which we discuss the key factors we considered when making our selections, as well as advise on how each of these factors may influence your final buying decision.
Comfort
With so much technology and advanced features to offer, it's often easy to overlook the fact that a fitness watch is still very much a watch at the end of the day.
That means it's crucial that it remains comfortable during your workouts.
First of all, it needs to be a good fit, which means finding a watch with an adjustable strap is always a good idea as you'll be able to set a fit that's neither too snug nor too loose.
Sweat-resistant materials are also a popular choice for fitness watches. After all, what could be worse than having your wrist irritated by a watch rubbing up against stinging sweat while you're trying to train?
Finally, the weight of the watch may also make a difference. While no smartwatch is necessarily heavy, some do weigh a little more than others, and this can make them feel like a burden to wear.
Battery Life
Let's be honest, the last thing you want is for your new watch to die out on you mid-workout, nor do many CrossFit athletes really want the hassle of having to charge their watch every day simply because the battery becomes depleted after every WOD.
This is why, no matter what your other priorities may be when it comes to buying a smartwatch, battery life should always be something you take into serious consideration.
The best fitness watches offer at least 40 hours of training time from a single charge, though there are some models out there that can continue to perform at their best for an uninterrupted 14 day period without the need to be recharged.
Performance Monitoring
For most CrossFitters, one of the main factors motivating them to buy a smartwatch is the ability to properly track, monitor, and analyze their workout data in order to help them continually improve their performance.
At a bare minimum, any good watch that you buy should at least offer heart rate monitoring, and if this can be done via the watch's own in-built sensors without the need for third-party wearable monitors, all the better.
It's also worth noting that some fitness watches are essentially fancy pedometers. While that may be great for runners, it doesn't help you much when it comes to the part of your workout where you need to lift weights.
As such, it's a good idea to check that the watch you're thinking of buying is set up to track weight sizes, reps, and other lifting metrics.
Accuracy
Accuracy is one of those factors that some athletes take super seriously while others barely pay attention to.
The truth is that all good CrossFit watches -especially the ones in this guide- offer a good degree of accuracy, though most of these are based on best estimates which may not be entirely on the nose.
For some CrossFitters, that may well be fine. If you simply need a good idea of how you're performing and the ability to compare multiple workouts, any one of our watch selections will be fine.
However, if you really do need your tracking to be right down the point, you might want to skip most other options and focus on models offered by the Polar brand. These watches utilize a special precision sensor to offer the most accurate tracking around, making them a great option for data-obsessed athletes.
Recovery Monitoring
A good CrossFit watch shouldn't just be there for you while you're sweating away in the gym, it should also be there for you in between workouts too.
After all, we can only really perform at our best in the CrossFit box if we're getting enough rest, recovery, and proper sleep out of it.
That's why we gave extra marks to those fitness watches which featured built-in recovery options which help to track your sleep and monitor your physical well-being. Using these features, you gain a better understanding of when it's time to push for a new personal best and when it's time to engage in a lighter workout, or even treat yourself to a well-earned rest day.
Durability
Whether you're buying a smartwatch, a brand new kettlebell, or a new pair of CrossFit shoes, strength and durability should always be an important factor when buying CrossFit gear.
This is especially true when it comes to watches, as even the most affordable ones still run to several hundred dollars in cost.
So, if you're spending all that money, you need to know that you're buying a product that's built to last, ensuring long-term value-for-money with none of the drawbacks of having to order expensive repairs or replacement parts.
Water-resistant, shock-proof watches with crack-resistant screens, solid bezels, and unsnappable straps always make for better options.
Still, it doesn't hurt to also look for a watch that comes with a decent warranty just to be on the safe side.
Workouts
If you only want a fitness watch for basic features such as heart rate monitoring, this last point may not be such a big deal.
However, if you want to really use a watch to its full potential, looking for one that comes with pre-set CrossFit workouts – or at least the ability to create your own custom workouts- is going to be a smart move.
Ease of Use
Last but not least, let's remember that smartwatches are supposed to make our lives easier, so if they take hours to set up or they're cumbersome to use, that pretty much defeats the whole point.
With that in mind, it's a good idea to look for watches that offer a well-designed, intuitive interface, clear navigation, and a simple set-up process so that you can spend less time tinkering with your tech and more time focussing on giving it your all during your next workout.
Frequently Asked Questions About CrossFit Watches
What fitness watch do CrossFitters use?
Many CrossFit athletes opt for Garmin fitness watches, with the Fenix 6 Pro and the affordable Garmin Instinct proving to be the most popular models.
What features should I look for when buying a fitness watch for CrossFit?
Heart rate monitoring, timers (especially ones pre-built for CrossFit workouts), and recovery monitoring options are some of the most valuable CrossFit features to look for when buying a CrossFit watch.
Are FitBits good for CrossFit?
FitBits can be used to track certain CrossFit activities, though they only really count steps and calories and aren't very accurate when it comes to tracking the unique and diverse range of exercises in a typical WOD.
What is the Best CrossFit watch to buy in 2022?
Our aim with this guide was to arm you with all the information you could possibly need to know to make the best possible purchasing decision when it comes to buying a new CrossFit watch.
We've told you what this year's top seven watches are, what makes them so good, and what to look for when choosing one of your own.
Ultimately though, the one thing you'll need to look for more than anything else is a watch that best aligns with whatever your priorities may be.
If you're looking for a top-quality CrossFit watch, but you're turned off by the high price that comes with many of the best-selling models, you might want to look at the Garmin Instinct, which is our pick of the best budget-friendly watch on the market today.
If you want the most accurate tracking features possible, then either the Polar Vantage V or the Polar Ignite 2 with their Precision Prime sensor fusion technology may be the one for you.
However, if you want a top-grade CrossFit watch that scores high marks in terms of accuracy, durability, and comfort while also offering an extensive array of CrossFit-compatible features, look no further than the Garmin Fenix 6 Pro, a watch that proves itself to be the very best of the best.