Trying to determine the single best rowing machine for CrossFit training out of the abundance of options out there can be almost as exhausting as an actual rowing workout.
Your CrossFit partners and workout mates recommend one brand, your favorite CrossFit YouTube channels recommend another, while the owner of your local CrossFit box recommends the third alternative altogether, leaving you none the wiser when it comes to making that big purchasing decision.
If that sounds like a familiar problem, this guide is for you.
We've tried and tested dozens of this year's best-selling rowers, all in the name of providing the ultimate, definitive answer to a question we're asked time and time again here at Boxelettes:
What is the best CrossFit rowing machine to buy?
You'll find our answers, along with a helpful buyer's guide, below:
2022's Top 5 Best Rowing Machines for CrossFit
1. Concept2 Model D Rower
Top Pick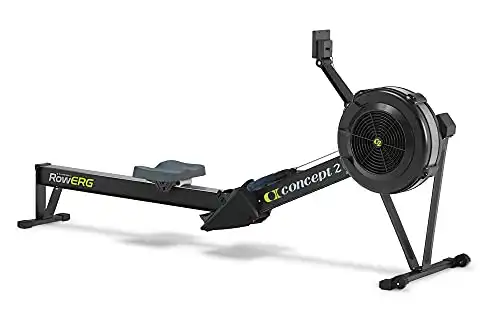 Specifications:
Height: 33″
Width: 24″
Length: 96″
Hang around the CrossFit community for even a brief length of time and it won't take long before you'll hear the name Concept2.
Based in the heart of the Green Mountains of Vermont, the brand has carved out an untouchable reputation as an industry leader in the field of endurance training equipment.
This is partly thanks to products like the popular Skierg machine, but mostly it's down to the runaway success of their flagship product, the Concept2 Model D rower.
Redefining the standards for quality CrossFit rowing machines, the Model D may not be the cheapest rower on this list, but it does guarantee that you and/or your gym customers will be training on the kind of professional-grade equipment used by some of the world's top athletes.
Indeed, both Olympic rowing teams and elite CrossFitters alike use this one for a full-body cardio workout thanks to the smooth, quiet performance afforded by its flywheel mechanism.
The Concept2 Model D has also earned its status as the industry benchmark thanks to its well-loved Performance Monitor 5 (PM5), an advanced, onboard system that not only lets you track your rows by metres, pace, watts, and even calories, but also offers wireless connection to third-party heart rate belts and apps for comprehensive performance tracking.
Add in a durable frame and five-star construction quality, and what you've got here is the best CrossFit rower on the market today.
Pros:
Industry-standard rower used in commercial gyms, competitions, and in Olympic training.
Separates into two pieces for easy storage.
500 lbs user capacity makes it a solid option for heavier athletes.
Cons:
Most expensive CrossFit machine in this guide.
Exporting workout data from the PM5 can be difficult.
2. Murtisol Air Resistance Rowing Machine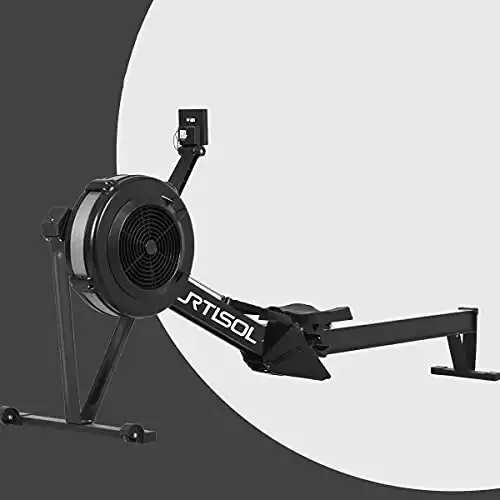 Specifications:
Height: 17″
Width: 22″
Length: 57″
If you're in the market for a top-quality rower but the Concept2's high price tag is out of your budget right now, you might want to consider the Murtisol Air Resistance Rowing Machine instead.
Our pick of the best rowing machines for CrossFit training on a budget, the rower offers performance comparable to the Model D for only half the price.
The air resistance rower comes with 10 preset difficulty levels, making it just as ideal for newcomers as it is for seasoned CrossFit pros, while the ergonomic design and oversized rail make this one of the more comfortable rowers around.
Pros:
Affordable price.
Standard performance monitors track both preset and custom workouts.
Divided into two for easy storage.
Cons:
The performance monitor isn't as accurate when counting strokes as other machines.
Ordering spare or replacement parts can be difficult if not impossible.
3. Teeter Power10 Rower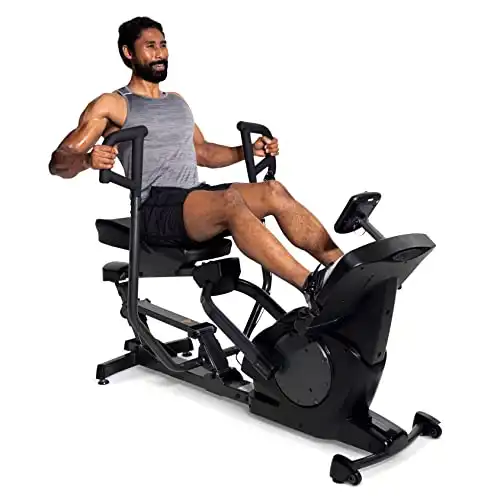 Specifications:
Height: 43.25″
Width: 37.5″
Length: 62.75″
Whether you're going all-in on some of the most popular rowing WODs or simply adding a machine to an existing workout routine, it's no secret that hopping on a rower is a great way to ensure a full-body workout.
Still, if the kind of intensity you get from your existing rower just isn't cutting it for you anymore, the Teeter Power10 Rower may be just the thing to help you up your game.
The unique elliptical path makes it possible to switch mid-workout from pushing to pulling, allowing you to target core muscle groups while others recover.
Meanwhile, the bi-directional resistance and 7 resistance levels combine to help you improve both strength and cardiovascular conditioning at the same time.
Though this one is at the pricier end of the scale, the access to free trainer-led workouts via the Power10 app does prove incredibly valuable, especially for newcomers or those who prefer to workout from home yet still have access to quality coaches.
Pros:
Includes performance monitor which tracks time, calories, distance, strokes per minute, and heart rate.
The multi-grip handle makes it easier to switch grip mid-workout while targeting different muscles.
Features transport wheels and upright storage design.
Cons:
Expensive price
Can be difficult to assemble.
4. Echelon Smart Rower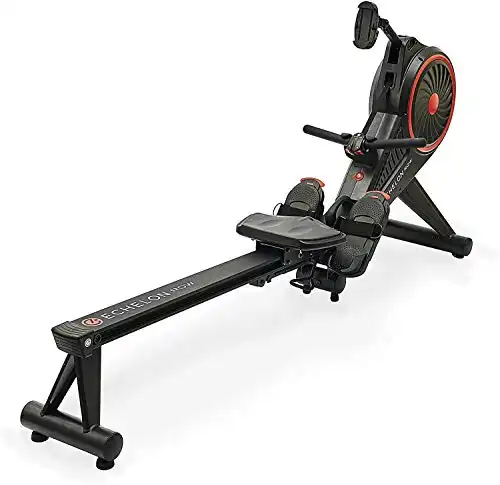 Specifications:
Height: 43.70″
Width: 20.47″
Length: 84.65″
The best rowing machine for CrossFit athletes who enjoy virtual, interactive training sessions, the highlight of the Echelon Smart Rower is that it comes with 90-days of free access to the brand's Echelon Premier Membership.
This membership allows you to tune into thousands of live and on-demand classes designed to help you improve speed, endurance, and strength, as well as access to yoga, pilates, and other fitness programs.
Elsewhere, the membership also offers scenic rides for those long and otherwise boring workouts, plus advanced tracking and more.
Of course, even without the optional membership, the Echelon Smart Rower is still a great piece of exercise equipment in its own right.
In particular, we're big fans of the 32 different resistance levels which provide a suitable workout for athletes of all levels of experience and ability.
Pros:
Resistance controls located in handle-bars so that you can change levels without interrupting your workout.
Foldable design makes it easy to store.
Features adjustable device holder.
Cons:
Opting out of the membership means you won't be able to see your current resistance level on the display.
$40 membership can make this an expensive option.
5. WaterRower Club Rowing Machine

Specifications:
Height: 21″
Width: 24″
Length: 83″
Last but not least, if you're already a veteran of the waters and find that the typical indoor rowing machine just doesn't quite replicate the experience of real-world rowing, the WaterRower Club Rowing Machine might be the one machine your workouts are currently missing.
Water rowers like this one replace the traditional air-resistance approach to rowing with a flywheel that sits inside an enclosed water tank.
The result is a workout that is not only remarkably smooth and near-silent but provides a rowing feel that's as close to the real thing as you're going to get without actually taking a rowboat out on the water.
Built from high-grade solid ash with a gorgeous stained finish, the WaterRower Club Water Rower doesn't just look stunning, it's also ideal for areas with lots of foot traffic which makes it a perfect choice if you were aiming to add a water rower to your commercial CrossFit box.
Pros:
Self-regulated resistance gives you better control over your workout.
Includes a Series 4 performance monitor which displays intensity, stroke rate, heart rate, duration, distance, and zone bar.
Stores upright making it a good choice for small home gyms.
Cons:
Incredibly heavy once the water tank is filled which make it difficult to use.
Can be difficult and time-consuming to assemble.
How to Choose the Best Rowing Machine for CrossFit Training
If you've read through the top five reviews above, you've probably reached a similar conclusion to the one we did:
A serious argument could be made for each one of those five machines to be considered the best of the best.
So how do you determine which one is the best option for you?
Below, we share the criteria we looked for when choosing the best CrossFit rowing machines, and explain how each one may influence your purchasing decision.
Size
There are some instances when size really doesn't matter. Unfortunately, choosing the best CrossFit rowing machine isn't one of them.
There are two main things to consider here.
First of all, is the rowing machine you're thinking of spending money on actually big enough to comfortably support your frame.
A vigorous workout is hard work enough without dealing with the discomfort of trying to cram your body onto a rowing machine that's too short or too narrow.
At the opposite end of the spectrum, smaller athletes may find that an exceptionally large machine poses similar problems. If it's too long to really get a firm footing in place, you're going to spend half your workout simply trying to find a good position to ensure an optimum workout.
It's for this reason that it's always a good idea to look not only at the basic dimensions of any rowing machine you want to buy, but to also consider whether it offers enough adjustability to properly suit your body.
When it came to making our own selections, we awarded high marks to those machines that come with a decent range of adjustability, ensuring that they're ideal for CrossFitters of all shapes and sizes.
Space
Sticking with the subject of size, the next major thing you need to consider is how much room that machine is going to take up.
If you're adding a machine to your home gym, for example, then it pays to look carefully at that space, take measurements, and consider whether you're going to have enough floor space to fit that machine while still having room to move around it and transition to the next piece of equipment.
If you don't have a dedicated workout space at home (or if it's simply not big enough to keep all of your equipment out at the same time), then the next most important factor to consider is how easy it is to store your machine away when it's not in use.
This is why most of our top five picks include those rowers that can be folded away or otherwise stored with minimum hassle, allowing you to save space when not working out while still being able to quickly and easily set up ready for your next WOD.
Resistance
Rowing machines typically come in four different types of resistance options, each one offering a different workout experience.
Magnetic Rowers
While magnetic rowers are gaining in popularity as of late, we've found that they're not exactly the smoothest on the block, nor do they allow for the kind of resistance you're going to need to put in a truly strenuous workout.
Hydraulic Rowers
Hydraulic rowers are also popular thanks to their low price tag, small size, and the ability to work each arm independently, however, they're rarely as well-built as other types of machines and aren't really suitable for larger users, a downside which may rule them out of the running for CrossFit athletes.
Air Rowers
Air resistance rowers are some of our favorites on the market.
Although they tend to be noisier than other types, the use of a fan-based flywheel makes it easy to adjust the speed and intensity of your pace mid-workout without having to adjust any settings.
Water Rowers
Lastly, water rowers are the best option for replicating the real-world rowing experience that you'd get out on the open water.
They function very similarly to an air rower, albeit using a tank of water rather than a flywheel to create resistance, allowing for maximum smoothness during your workout.
Though they can be large, heavy, and expensive, they're also typically the most attractive type of rower out there and make a wonderful addition to any home gym.
Performance Monitoring
For many athletes, CrossFit training is serious business. If we're going to up our game and perform at our best, we need to know what our best actually is.
We also need to know that we're not spending the appropriate amount of time and putting in the appropriate amount of effort on any given machine before moving onto the next part of our WOD.
This is why choosing a rower with a good performance monitor can be so important.
Most of the best CrossFit rowing machines feature in-built monitors which track vital stats like time, distance, resistance level and, if we're rowing for calories, those stats too.
Still, it isn't just the features themselves that are important to consider, it's how easy it is to use the monitor on your new CrossFit equipment.
After all, you could have the most sophisticated performance monitor in the world, but if it takes forever to set up, is difficult to navigate, or otherwise distracts from you putting the work in, it's only going to be counter-intuitive.
Durability
Last but not least, never underestimate what a major difference the durability and overall build quality of your machine can make.
Whether you're buying a power rack, a new set of CrossFit barbells, or just about anything else, a lot of the equipment we use can be pretty costly, so it's important to know that it's built to last.
That's why our top five picks all come from trusted brands with a well-earned reputation for quality, ensuring that if you choose one of these, you've got yourself a rowing machine that's going to continue serving you well for years to come.
Frequently Asked Questions About CrossFit Rowing Machines
What rowing machines do CrossFit use?
The Concept 2 Model D is the definitive CrossFit rowing machine that you'll find in many commercial CrossFit gyms and official competitions, though other brands like Assault Fitness are also popular choices.
Why do CrossFitters use rowers?
CrossFit athletes incorporate rowers into their training because they're a low-impact way to get a vigorous full-body workout with minimal impact on the joints.
Is a C2 rower worth it?
Although expensive, Concept2 (C2) rowers are definitely worth it as they provide the highest standards of performance, ergonomic design, and all-round durability.
What is the Best CrossFit Rowing Machine to Buy in 2022?
If you've read this far, we hope you'll agree that we've given you all the information you could possibly need to know to buy the best CrossFit rowing machine for your home or commercial gym.
You know the top products on the market, you know precisely what makes them so good, and you even know the important factors that separate the merely good rowers from the absolutely outstanding ones.
Yet if you've reached this point and still haven't been able to make your mind up, let us leave you today with a few final recommendations.
If you're looking for a quality CrossFit rower that won't break the bank, the Murtisol Air Resistance Rowing Machine is our pick of the best budget-friendly machine.
If you're ready to up your intensity to a whole new level, the Teeter Power10 Rower's bi-directional resistance and seven high-grade resistance levels make it an ideal choice for those super-serious workouts.
However, if you're simply looking for the all-round best combination of features, ergonomics, durability, and performance, look no further than the Concept2 Model D rower, an all-star machine that sets the standard for quality in CrossFit rowing machines.