It's no secret that investing in the best men's CrossFit shorts you can buy can make a major difference to your next workout. 
Providing the ultimate combination of flexibility, breathability, and support, good-quality shorts can make it much easier to move around from exercise to exercise, all while enjoying maximum comfort. 
The only difficulty, of course, is determining which shorts are worth spending your hard-earned money on. 
After all, there's a whole host of CrossFit clothing brands out there, all offering shorts in a range of materials, designs, and prices. 
Sure, it's great to have so many options, but having so many can also make it tricky to pick just one pair to purchase. 
That's why we've put together this comprehensive guide to the best men's CrossFit shorts currently on the market. 
Below, we'll not only outline the key things you should be looking for when buying new shorts but also give you our expert recommendations on the top 5 best shorts out there. 
What to Look for When Buying Men's CrossFit Shorts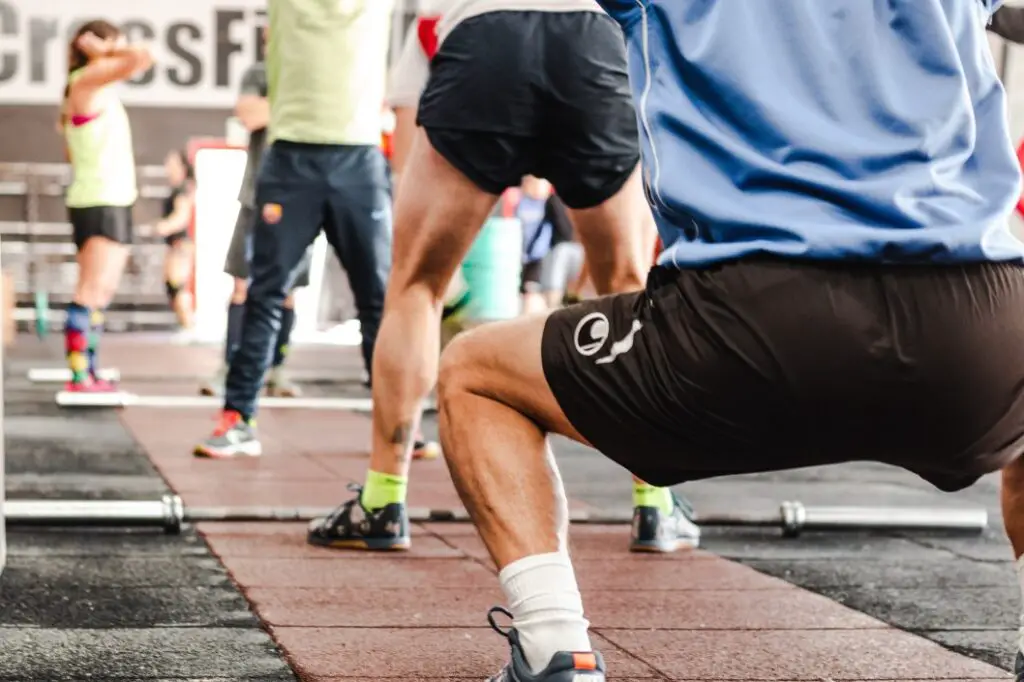 Before we dive into our top 5 picks, it's useful to share with you the key things we considered when making our selections. 
The following factors helped us separate the best from the rest and should all be high on your list of priorities when picking new CrossFit clothes.
Material
Whether you're buying new shorts, a pair of top-quality CrossFit shoes, or just about any other kind of workout clothing, the material should always be a top priority. 
Ultimately, it's all about finding the right balance between breathability and durability.
The material should be lightweight enough to give you plenty of room to breathe while sweating your way through your WOD. If they're too light, however, you run the risk of rips, tears, and other damage, especially when you're at the most vigorous stage of your workout. 
Synthetic materials such as polyester and spandex are particularly good at this, which is why you'll find a number of our top five picks are made from these types of materials. 
Sweat-Proof
To be honest, we've yet to find a pair of CrossFit shorts that are 100% sweatproof. That said, the better a pair of shorts is at keeping you as dry and cool, the more comfortable you're going to be wearing them. 
Inner Briefs
Sticking with the theme of sweat, all that heat and sweat that gets generated between your legs when you work out can lead to some pretty nasty chafing. That's why we awarded higher marks to shorts that include chaff-preventing inner briefs and why such a feature should be top of your list of priorities. 
Size
Speaking of comfort, buying CrossFit shorts is one activity where size does matter. 
The best shorts are those which offer a snug, supportive fit without being too restrictive. 
Design
How you look may not be your top concern when you're toiling away at your favorite CrossFit gym, but let's face it: 
Each one of us has our own personal style and taste, so it's always a bonus when you can find a pair of shorts that look the part. 
While style is certainly a very personal thing, finding CrossFit shorts that you feel make you look your best can make a big difference to your confidence levels, a factor that may be especially important if you're competing in a competition such as the CrossFit Games. 
Pockets
Much like style, the decision to buy a pair of CrossFit shorts with or without pockets all comes down to personal preference. 
Some CrossFitters love having pockets they can keep valuables in while they work out, though others prefer to keep everything locked away in their CrossFit gym bag and not have all that extra pocket material getting in the way of their workout. 
Budget
Last but not least, pricing is just as important when it comes to buying the best men's CrossFit shorts as it is when investing in a new power rack or set of barbells. 
In our guide, we've picked out shorts at various price points to help you pick a pair that's within your budget. 
Top 5 Best CrossFit Shorts to Buy in 2022
1. Rogue Fitness Black Ops Shorts 2.0
Top Pick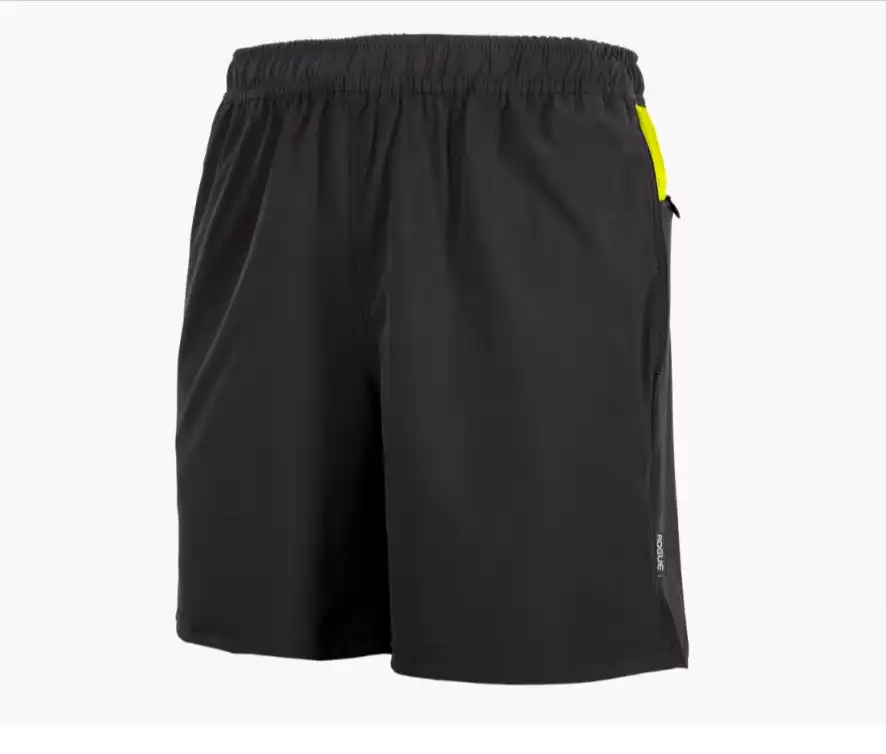 Specifications: 
Waist size: 30″ – 38″
Material: 92% Polyester, 8% Spandex
Inseam: 6.5″
Spend any amount of time in the CrossFit community and it won't be long before you hear the name Rogue Fitness mentioned as one of the best brands in town. 
From weighted vests and CrossFit gloves to barbells, kettlebells, and more, the company excels in making premium quality equipment specifically designed to help CrossFitters optimize their performance. 
So, when we tested out all of the top CrossFit shorts options for this guide, it came as little shock to us to find that their Rogue Black Ops 2.0 training shorts were the absolute best of the best. 
If you were paying attention above, you'll know that material makes a major difference to your overall workout experience. 
As CrossFit specialists, Rogue Fitness understand this more than most, which is why their Black Ops shorts are made from a four-way stretch material that combines 92% polyester with 8% spandex for maximum comfort and maneuverability.
If you're a fan of having pockets in your CrossFit shorts, you'll like the spacious side pockets as well as the secure zipper on the back stash pocket to keep your belongings safe. 
Add all that to the fact that Rogue Fitness Black Ops 2.0 shorts come in an array of attractive designs, and it's no wonder they're the all-around best CrossFit shorts on the market today. 
Pros: 
Includes mesh venting for added breathability
Available in 8 design choices
Zipper pockets are just the right size to keep valuables such as cell phones and wallets secure. 
Cons:
Some CrossFitters complain that the leg is too wide
Higher-than-average price for shorts.
2. Under Armour Men's Tech Graphic Shorts – Best Budget Shorts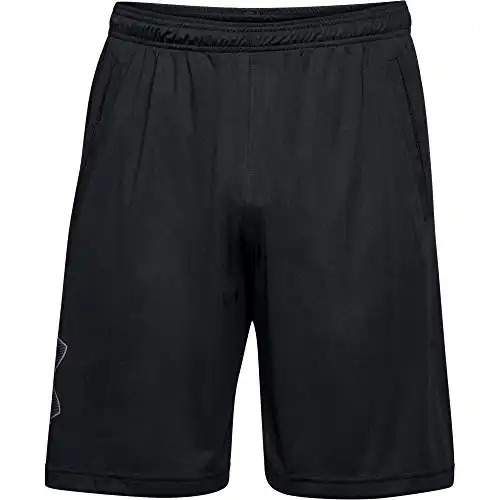 Specifications: 
Material: 100% Polyester
Waist size: 28″ – 59″
In-seam: 10″
If you're new to CrossFit and aren't sure if you're ready to commit to spending top dollar on gear, or if you're simply looking to up your CrossFit game on a budget, the Under Armour Men's Tech Graphic Shorts may be a perfect choice. 
The most affordable shorts in this guide, the low price belies the kind of superior quality which serves as the bedrock of Under Armour's unwavering popularity among athletes. 
Under Armour's unique UA Tech fabric dries quickly so that you never have to worry about sweat-soaked shorts ruining your performance, while the 100% polyester construction means they can be easily tossed into a standard wash when they need to be cleaned. 
If looks matter, you'll also love that Under Armour sells these shorts in a huge selection of designs, meaning you're practically guaranteed to find a pair that matches your personal style. 
Pros:
Low-cost shorts from a reputable athletics brand
Highly sweat-proof
Features mesh hand pockets.
Cons:
Pockets don't have zippers
The thin material can be a bit too revealing for comfort.
3. Rogue Fitness Barbell Club 2.0 Mesh Shorts – Best Mesh Shorts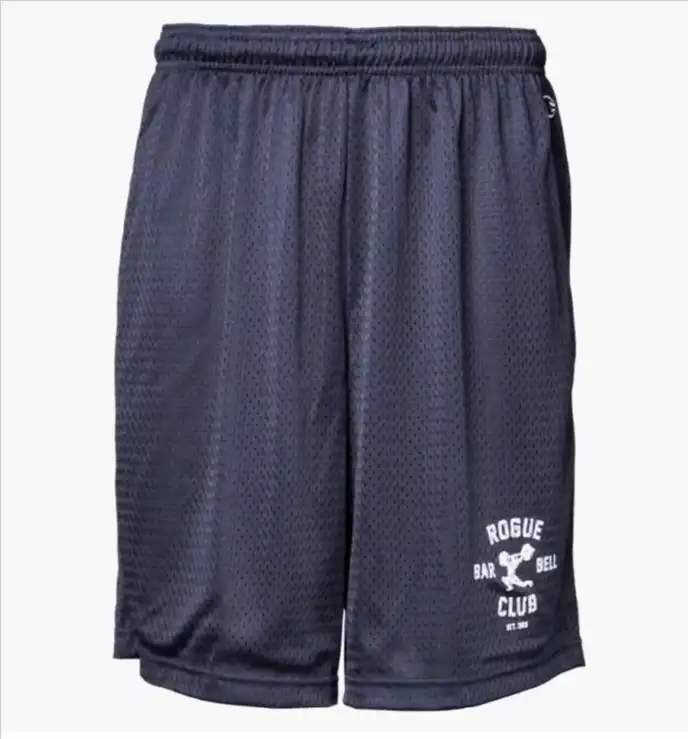 Specifications: 
Waist size: 28″ – 46″
Material: 100% polyester
In-seam: 99″
Make no mistake about it, Rogue Fitness Barbell Club 2.0 Mesh Shorts are among some of the most cool-looking CrossFit apparel we've come across. 
Although limited in color choices (black and dark blue are your only options), the attractive mesh design and bold Rogue Barbell Club logo ensure you're going to be one of the best-dressed athletes in your favorite CrossFit gym. 
Still, looks aren't everything, and what makes these shorts among the best of the best is the excellent breathability and flexibility afforded by the mesh construction. 
If you're fed up with shorts that are too constricting and too hot to wear, you'll love these loose-fit shorts that do a great job of keeping you as cool and comfortable as you could hope to be while working hard on your favorite hero workout. 
Pros: 
Affordable price
Polyester construction makes them easy to machine wash
Available in a wide range of sizes. 
Cons: 
Doesn't have any pockets which may be an issue for some users
Some athletes report that the logo begins to wear off rather quickly.
4. New Balance Men's Accelerate 5″ Shorts – Best 5″ Workout Shorts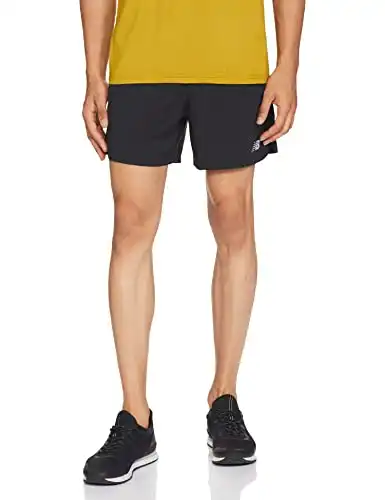 Specifications:
Waist size: 27″ – 50″
Material: 55% Recycled Polyester, 45% Polyester
Inseam: 5″
Who likes short shorts? Well, we do for one, and if you do too, you may find a lot to like about these New Balance Men's Accelerate 5″ Shorts.
Unlike longer shorts which may flap around the knee and cause discomfort during training, New Balance's best-selling 5″ shorts offer a more snug athletic fit. 
The in-built crepe brief liner helps to prevent chafing; the whole design is built to keep these shorts close to the body to support active movements without becoming too restrictive. 
Though they're far from the most attractive shorts on the market, New Balance Men's Accelerate 5″ Shorts are practical, affordable, and a great alternative to lengthier workout gear.
Pros:
Features an in-built key pocket to keep valuables safe
Low-cost pricing 
New Balance Dry technology helps to keep you free from sweat. 
Cons:
Design choices are quite limited 
The pocket doesn't include a zipper which may be problematic for some users. 
5. Goruck American Training Shorts – Best Shorts With Pockets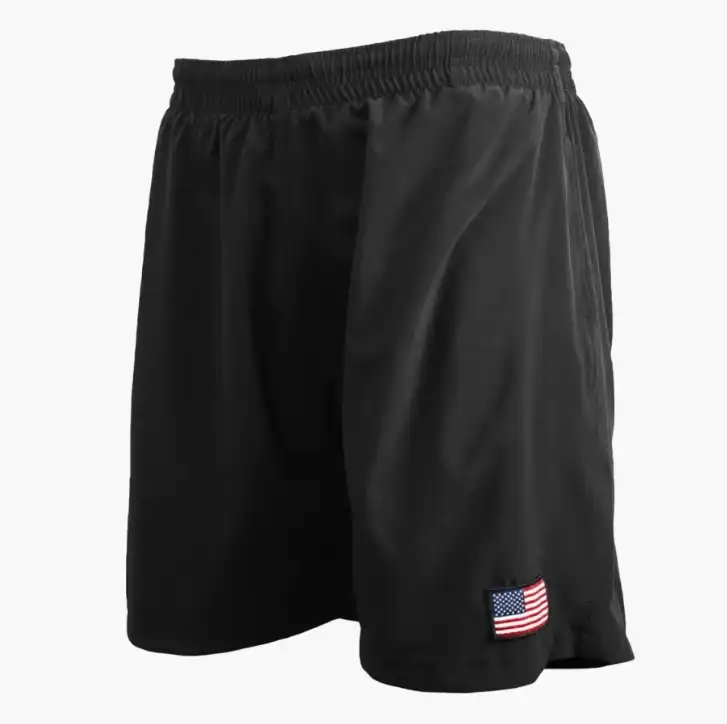 Specifications: 
Waist size: 29″ – 37″
Material: 86% Polyester / 14% Spandex
Inseam: 7.5″
Last but not least, no guide to the best CrossFit shorts for men would be complete without giving a mention to the popular Goruck American Training Shorts from Rogue Fitness.
These premium-quality shorts tick all the right boxes in terms of durability and mobility, while the blend of polyester and spandex that makes up the four-way stretch fabric means you'll enjoy lightweight, breathable CrossFit shorts which do a great job of preventing sweat build-up. 
For us, however, the real highlight of these American-made shorts is the pockets. 
If you're keen to find a pair of workout shorts that provides enough room to securely store your phone, wallet, keys, and any other essentials you may need to bring along, you'll like the two generously-sized side pockets and hidden zippered pocket.
Of course, it isn't just the quantity and size of those pockets that are important. What we like is that each pocket holds your valuables in a secure way that doesn't negatively impact your performance. 
Pros:
Made in the USA 
Includes adjustable drawcord for a better fit
Features an inner brief to prevent chaffing. 
Cons:
Limited size choices compared to other shorts
Most expensive shorts in this guide.
Frequently Asked Questions About Buying Men's CrossFit Shorts 
What are CrossFit shorts made of?
The best CrossFit shorts are made from either polyester, spandex, or a combination of both. These materials are chosen because they're the most breathable and flexible. 
Who makes the best CrossFit shorts for men?
Rogue Fitness, Under Armour, and New Balance are the leading brands for men's CrossFit shorts.
How much do men's CrossFit shorts cost?
Expect to pay around $30 – $50 for a pair of good-quality CrossFit shorts. That said, some budget-friendly options do cost under $20 while top-of-the-line brands may cost anywhere from $75 – $100. 
What shorts do professional CrossFit athletes wear?
Professional CrossFitters like Matt Fraser and Rich Froning wear lightweight athletic shorts that allow their legs the freedom to breathe and move freely while still providing protection and support. 
Should you wear underwear with CrossFit shorts?
There are some athletes who swear that going commando during their workouts means they have more freedom of mobility. However, all the heat and sweat that can generate during a workout can lead to bacterial infections, so it's always better to wear underwear while training. 
What are the Best CrossFit Shorts for Men? Our Final Verdict
So, there you have it, our guide to the top five best men's CrossFit shorts on the market. 
Make no mistake about it, with so many good options, making our selection was no easy process, and there were several products from major brands like Reebok and Nike which narrowly missed out on a place on our list. 
Still, the five options above all scored the highest marks in terms of manufacturing quality, breathability, and mobility, and in reality, any one of them could reasonably claim to be the best CrossFit shorts on the market. 
All of this ultimately leaves one big question:
Which pair should you actually buy?
It may sound obvious, but as with most purchasing decisions, it all comes down to a matter of finding a product that most closely meets your needs.
If you're shopping for new athletic apparel on a budget, we recommend the Under Armour Men's Tech Graphic Shorts which in our opinion are the best low-cost shorts around. 
If you need plenty of pocket space so that you can safely keep your important possessions close to hand while you train, then look no further than the Goruck American Training Shorts. Made in the United States, these premium-quality shorts may be among the most expensive around, but they do a great job at helping you hold on to your belongings in a way that won't drag you down or interfere with your workout. 
If, on the other hand, you're simply concerned with buying a pair of shorts that offer the best all-round value for money in terms of quality, mobility, and design, then it has to be the Rogue Fitness Black Ops Shorts 2.0 which are undoubtedly the best of the best in 2022. 
Need more recommendations for the best CrossFit gear to improve your workout? Check out this guide to the best CrossFit watches or this one on the best CrossFit gloves of 2022. 
Finally, if you're shopping for a friend or partner, be sure to check out our guide to the best CrossFit shorts for women.