The Best CrossFit Shorts for Women!
One of the training essentials regardless of your programming is shorts!
With that being said, let's keep this short and sweet…no pun intended, here are this years best CrossFit Shorts for Women!
NIKE Pro Training Shorts
The women's NIKE Pro Short is perfect for high-intensity training and competition. Its body-hugging fit and innovative cooling fabric deliver performance and comfort along with side seams that trace your natural shape for optimal movement. Read more…
ASICS Volley Short
The Asics volley shorts feature an anti-chafing seam and exclusive Asics motion dry fabric, they deliver comfortable coverage that won't get in the way of your performance. Read more…
WOD Shorts
Yoga tight shorts for any functional movement training; featuring flatlock stitching, moisture wicking materials, and a seamless waistband for additional comfort and mobility. Read more…
Gear info and more…
Cloya Tight Fitness Shorts
The Cloya fitness shorts are sweat wicking, have a four-way stretch construction that is  breathable, and a wide waistband that is comfortable without digging in. Read more…
Baleaf Workout Foldover Shorts
Designed with feminine lines, Baleaf women's shorts offer a flattering look as you work out. Made with moisture-wicking spandex that is both soft and cool on your skin while providing excellent stretch and mobility to help move without restrictions. Flat seams help minimise irritation caused by chafing and a mini hidden waistband pocket is perfect for stashing small items. Read more…
Neonysweets 3 Pocket Workout Shorts
These shorts are perfect for those on the go that need to bring something with them, featuring two side pockets that are big enough to hold your smartphone and a back zipper pocket for security storage. Read more…
ODODOS Power Flex Shorts
The ODODOS Power Flex shorts are created from a blend of 4 way Stretch Fabric, which is non see through and is designed to remove moisture from your body, providing maximum comfort. Each piece compresses, lifts and shapes the body, while keeping muscles warm, enabling the wearer to perform at their maximum. Everything is anti-microbial, dry-wicking, and uses flatlock threading. Flatlock is identified by a band of interlocked thread on both sides of the suit, sometimes in contrasting thread colour for visual effect. Achieved by lapping the neoprene together, which creates a flat comfortable seam while allowing water to penetrate. Read more…
IAB Energy Shorts
The IAB Energy shorts are designed to minimize distractions and maximize comfort, utilizing a trademarked No Ride technology. Engineered with functional fabric, these versatile, breathable and lightweight shorts are designed to wick away moisture and dry quickly for added comfort while you train. Read more…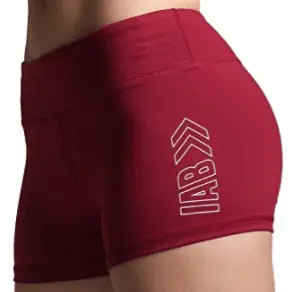 DIVA MODE FITNESS Shorts
The Diva Mode Fitness shorts are perfect for any type of training, featuring a thick padded no-dig waistband that is comfortable and flattering for all body types. Made with a non see through moisture wicking compression fabric that was designed to avoid riding up during activity. Read more…
Tough Mode WOD Shorts
The Tough Mode WOD shorts are truly professional workout shorts, featuring a comfortable no see through fabric that has a matt finish to hide imperfections. Read more…
FIRM ABS Performance Shorts
The Firms Abs Performance shorts are made of a unique blend of materials that allow your skin to breathe while providing support for any type of training. They have a flat elastic fold over waistband that stretches for mobility and support. Read more…
Click for more CrossFit products and info!
S2 Activewear Shorts
The S2 shorts are made of high quality Supplex material that will not pill, sag or pull apart at the seams. Supplex is a spandex, polyester blend that is breathable, holds shape, dry fit, butt lifting and anti peeling. The shorts also feature a mid-rise wide shape enhancing waistband that creates support and comfort. They are made with a high quality 6-thread double lock stitch seams, are shrink and fade resistant with a stretch to fit compression. Read more…
Why wear the shorts, what is CrossFit?
Courtesy of CrossFit.com
"CrossFit is a fitness regimen developed by Greg Glassman over several decades. Glassman, CrossFit's Founder and CEO, was the first person in history to define fitness in a meaningful, measurable way: increased work capacity across broad time and modal domains. He then created a program specifically designed to improve fitness and health.
CrossFit is constantly varied functional movements performed at high intensity. All CrossFit workouts are based on functional movements, and these movements reflect the best aspects of gymnastics, weightlifting, running, rowing and more. These are the core movements of life. They move the largest loads the longest distances, so they are ideal for maximizing the amount of work done in the shortest time. Intensity is essential for results and is measurable as work divided by time—or power. The more work you do in less time, or the higher the power output, the more intense the effort. By employing a constantly varied approach to training, functional movements and intensity lead to dramatic gains in fitness.
The community that spontaneously arises when people do these workouts together is a key component of why CrossFit is so effective, and it gave birth to a global network of CrossFit affiliates that number over 13,000. Harnessing the natural camaraderie, competition and fun of sport or game yields an intensity that cannot be matched by other means.
The CrossFit program is driven by data. Using whiteboards as scoreboards, keeping accurate scores and records, running a clock, and precisely defining the rules and standards for performance, we not only motivate unprecedented output but derive both relative and absolute metrics at every workout. This data has important value well beyond motivation.
Overall, the aim of CrossFit is to forge a broad, general and inclusive fitness supported by measurable, observable and repeatable results. The program prepares trainees for any physical contingency—not only for the unknown but for the unknowable, too. Our specialty is not specializing.
While CrossFit challenges the world's fittest, the program is designed for universal scalability, making it the perfect application for any committed individual, regardless of experience. We scale load and intensity; we don't change the program. The needs of Olympic athletes and our grandparents differ by degree, not kind."