It's no secret that wearing the best weighted vest for CrossFit can be one of the most simple yet effective ways to take your workouts to the next level. 
Worn across the chest and abdomen, these vests evenly distribute a series of weighted plates across your body to up your total body mass. As a result, you find yourself working harder and thus amplifying the results from each Workout of the Day (WOD). 
Top Pick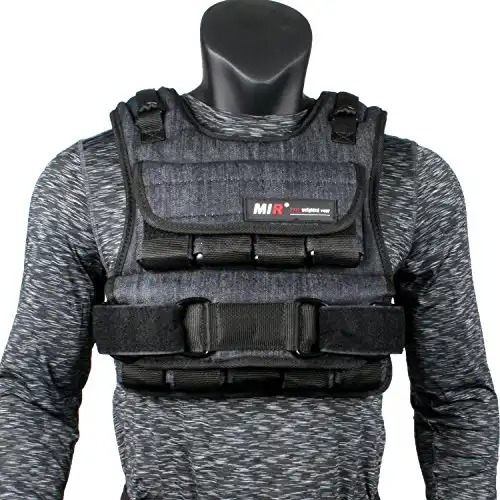 Runner Up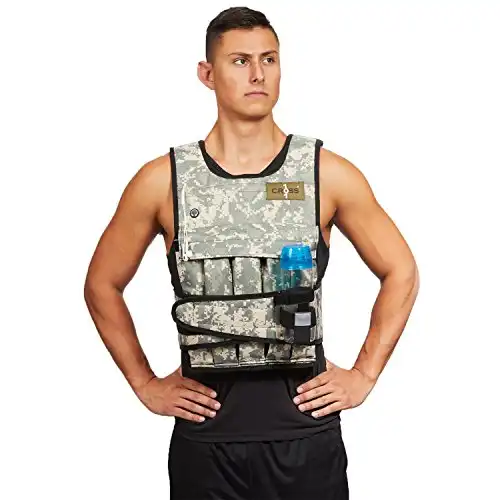 Editor's Pick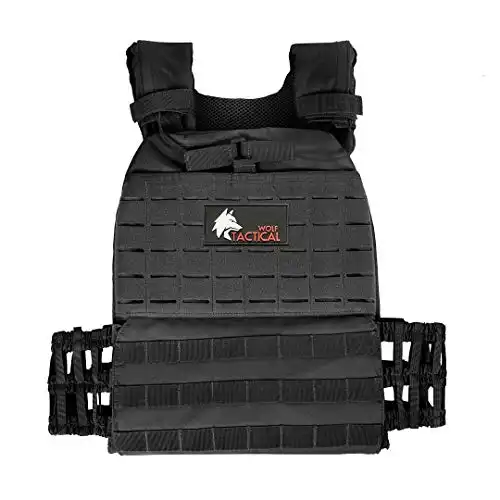 Still, as a diehard CrossFit aficionado, you already know this. You know that a vest can prove to be an invaluable piece of equipment, but what you don't know is which one of the countless options on the market you should spend your hard-earned money on. 
Complicating matters further is the simple fact that what may be the best CrossFit vest for one person isn't necessarily the most appropriate option for you or someone else.
So, how exactly do you pick the one product that's going to add the most value to your workouts?
That's the question that we'll answer with this comprehensive guide. 
Below, you'll find our top ten picks of the very best vests currently on the market, along with our recommendations on which one is the most suitable. 
If you ultimately decide that none of our picks quite does it for you, then don't worry, we've also included an in-depth buyers' guide to help you pick one that's right for you.
Top 10 Best Weighted Vests for CrossFit 2021 
1. miR Air Flow Weighted Vest 
Top Pick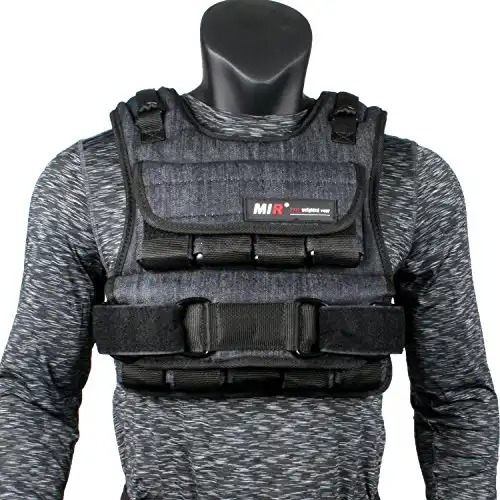 That the miR Air Flow Weighted Vest tops our list should come as no surprise to anyone who really knows their stuff when it comes to CrossFit gear. 
The brand make a range of premium quality vests, a number of which will feature in this guide. Yet out of their full range of products, it's the Air Flow Weighted vest that beasts them all. 
That's partly because of the air flow design which gives the vest its name. It's specifically designed to help your body to stay cool during those intense wokouts, while the soft, hybrid material doesn't scratch or cause discomfort. 
Best of all, we like that this one is fully adjustable. While some vests take a one-size-fits-all approach to their design, that does sometimes mean you get a product that doesn't quite fit as snugly (or perhaps fits *too* snugly) as you'd like.
With this, there's no such problem. Simply adjust the straps and find the perfect fit.
Finally, it's important to note that the vest is available from 20 lbs to 60 lbs, with the option to remove each individual 3 lbs iron weight for better flexibility, making it perfect for those times when you do want a bit of a lighter workout.
Specifications: 
Weight: 20 lbs – 60 lbs 
Vest material: Hybrid design with nylon straps
Weight material: Iron 
Pros:
Fully machine washable
Comes with a lifetime warranty
Highly durable iron weights.
Cons:
Securing the adjustable strap can be tricky
Buying additional weights can be expensive.  
2. CROSS101 Camouflage Weight Vest
Much like miR, CROSS101 are another brand with a reputation for excellence in the CrossFit community, and their CROSS101 Camouflage Weighted Vest is a perfect example of why. 
Available in a range of weight sizes to suit athletes of all different sizes, the vest utilizes a series of 4.4 lbs sandbags which can be easily removed for added flexibility.
On the outside, there's even room to hold a sports bottle, making it ideal if you need somewhere to store your favorite recovery drink on your way to and from training. 
It also has to be said that this is one cool-looking vest. 
While almost all of the other options are pretty much all plain black, the option of either arctic or desert camo here really stands out and is perfect for anyone who enjoys adding a unique look to their workout gear.
Specifications: 
Weight: 20 lbs – 80 lbs 
Vest material:Nylon
Weight material: Sandbags
Pros: 
Excellent, premium-quality material ensures lasting durability
Available in 7 different weight sizes
Versatile, one-size-fits-all design. 
Cons:
Some users report it rubs uncomfortably on the shoulders
Sandbags tend to give off an odor that some find unpleasant.
3. WOLF TACTICAL Adjustable Weighted Vest
If you're not quite ready to go all-out with a large, 60+ lbs option, the lighter WOLF TACTICAL Adjustable Weighted Vest may be the perfect fit for you.
This smart-looking vest is sold with pairs of durable, solid steel weights weighing either 5.75 lbs, 8.75 lbs, or 14.5 lbs, allowing you to wear anywhere from 14 lbs – 31 lbs. 
While that still guarantees a good workout, it also means that you're not burdened with more weight than you can manage when first starting out. 
Elsewhere, the adjustable waist straps and tensional bands on this one-size-fits-all vest allow you to maintain a perfect fit no matter whether you're heading to CrossFit, HIIT training or other physical activity.
Specifications: 
Weight: 14 lbs – 31 lbs
Vest material: 600D Oxford Nylon
Weight material: Steel
Pros: 
Includes oversized airflows to ensure maximum breathability
Available in 7 different design choices
Features storage pockets at front and rear to help customize your workout. 
Cons: 
Weights are sold separately, increasing the cost
Velcro weight fasteners aren't as sturdy as on other vests.
4. miR Short Weighted Vest
Didn't we tell you miR would be putting in another appearance on this list?
This time, we're looking at the popular miR Short Weighted Vest, a best-seller that measures just 11″ in length to guarantee it stays up high on your body while getting your workout done. 
If you don't like the idea of vests that clunk around your abdomen then this might be the perfect vest, especially if you're also planning to use it for activities such as running where lengthier vests can prove to be a pain. 
Still, size isn't all this miR vest has going for it. 
Much like the Air Flow vest we looked at earlier, this comes with a series of solid, 3 lbs iron weights, meaning you never have to worry about a flimsy sandbag bursting on you.
It also features adjustable straps that don't rub or chaff the way others do, while the extra-strong, super-durable nylon material ensures that this vest will continue to withstand countless workouts for years to come.
Specifications: 
Size: 20 lbs – 60 lbs
Material: Nylon
Weight material: Iron
Pros:
Equal weight distribution for maximum comfort
Includes lifetime warranty
Includes extra straps and double D rings to ensure a snug fit. 
Cons:
Version with zipper only available in 30 lbs, 40 lbs, and 50 lbs options
Expensive compared to other vests.
5. miR Women's Weighted Vest
Yes, miR are back again, this time with their miR Women's Weighted Vest, a product that consistently proves itself to be the best CrossFit vest designed exclusively for women. 
Primarily, what makes this such a good choice is the X-shaped design that connects the shoulder straps to the padded weight section which runs across the body, just below the chest, meaning it's specifically designed for a woman's body. 
All of this, combined with the soft, durable nylon material helps to ensure optimum comfort, while the fact that you can easily add or remove the 3 lbs weights as you please helps you to customize each workout to your current requirements. 
Specifications:
Size: 10 lbs – 50 lbs
Material: Nylon 
Weight Material: Iron
Pros: 
Features fully adjustable velcro belt
Affordable price
Fits all sizes. 
Cons:
Some users find this difficult to secure without help
Doesn't come with instructions
 6. Zelus Weightest Vest 
Ready to buy a new vest but still need to keep a tight hold of the proverbial purse strings? 
The Zelus Weightest Vest is the best budget-friendly CrossFit vest around right now, coming in at a very affordable price tag and offering excellent value for money. 
What we love the most about this one is the sheer range of weight options available. 
Those options start at just 4 lbs which is a great choice for newcomers or those who are bouncing back from injury and need to take it easy. After that, you can choose from either a 4 lbs, 6 lbs, 8 lbs, 12 lbs, 16 lbs, or 20 lbs option.
In other words, as long as you don't need more than 20 lbs in weight, you're guaranteed to find a vest that's the perfect weight for you.
Elsewhere, the neoprene rubber fabric and double-stitching provides an impressive level of durability that you usually don't find with vests at this low price point. 
Specifications:
Weight: 4 lbs – 20 lbs 
Material: Neoprene rubber fabric
Weight material: Iron sand 
Pros: 
Features reflective straps for night workouts
Includes storage pockets for music players, phones and other essentials. 
Cons:
Not suitable for those who need more weight
Weights can't be removed.
7. RUNFast Max Adjustable Weighted Vest 
We've seen vests that are ideal if you need something that's lighter-than-average, but what happens if you really want to up the intensity and take on more weight than the usual 40 lbs – 60 lbs options provide?
Simple: 
You pick up the RUNFast Max Adjustable Weighted Vest, that's what. 
Starting with a 20 lbs option, this one goes all the way up to 120 lbs in 20 lbs increments, and if that's not enough, there's even extra storage pockets into which you can add any extra weights you may have.
As the name implies, the RUNFast Max is designed first and foremost with runners in mind, but it works equally as well in a CrossFit environment and even comes with optional shoulder pads to minimize chafing and improve comfort.
Specifications:
Weight: 20 lbs – 120 lbs
Material: Nylon 
Weight material: sandbags
Pros:
Affordable price
Evenly distributed weight to optimize workouts
High-quality adjustable straps to ensure a snug fit.
Cons:
Weighted sandbags are a bit flimsy and will likely need replacing
Features a poorly-designed music/accessory pocket with no opening for headphones.
8. Aduro Sport Weighted Vest
The Aduro Sport Weighted Vest is another excellent, light-weight option for those who want the benefits of carrying extra pounds on their workout while still maintaining maximum flexibility and maneuverability.
Unlike other models which place all of the additional weight around the chest and abdomen, the sandbags (filled with odorless iron-sand) are fitted into the highly durable shoulder straps and are properly padded in to prevent them from slipping out of place.
If having the weights in the straps sounds uncomfortable, the good news is that each one comes with extra padding to ensure they don't rub and chaff as you get into your routine.
All this, plus a very affordable price tag, makes it a good alternative to any number of the other vests we've looked at so far.
Specifications:
Weight: 4 lbs – 30 lbs
Material: Neoprene rubber fabric
Weight material: Iron sand
Pros:
Comes with lifetime guarantee
Breathable neoprene material helps keep your body cool
Includes mesh pocket for storing valuables.
Cons: 
Limited room to increase weight if this isn't heavy enough for you
Some users report their sandbags leak.
9. CAP Barbell Women's Weighted Vest
If you're definitely on the hunt for a good quality women's CrossFit vest but weren't taken with the option we looked at earlier, the CAP Barbell Women's Weighted Vest may be more to your liking.
On the downside, this one doesn't come in multiple weight options, you either take the 30 lbs model or you leave it, though on the plus side you can take the iron weights out if you need to reduce your weight. 
The combination of polyester and reinforced nylon provides remarkable durability, ensuring that it's unlikely to fall apart even if you hit your favorite CrossFit gym for a work out everyday of the week. 
Much like the miR option we looked at earlier, this is specifically designed to cater to the female body, and features a touch-and-close fastener to ensure a snug fit.
Specifications:
Weight: 30 lbs 
Material: Polyester
Weight material: Iron 
Pros:
Includes padded shoulder straps for added comfort
Features reflective strips for increased visibility
Uses solid iron bars rather than sandbags.
Cons:
Not waterproof
Only available in 30 lbs option.
10. LEKÄRO Adjustable Weighted Vest
Last but not least, we come to the LEKÄRO Adjustable Weighted Vest, a 44 lbs option which has to be one of the most uniquely-designed vests we've come across. 
Although the maximum weight only goes up to 44 lbs, that weight is made up of no less than 96 different steel plates, each one weighing around 0.45 lbs.
As such, you get to truly customize your vest to a level that few other vests can match, with the ability to increase or decrease the weight you carry in increments of less than half a pound. 
What's more,each of those weights is secured into place with a powerful velcro seal that simply will not come loose no matter how vigorously you train. 
Specifications:
Weight: 44 lbs 
Material: PVE elastic rubber and nylon mesh
Weight material: Electroplated steel
Pros:
Highly breathable material to keep you cool
Anti-wear webbing ensures weights don't rip through the material
Soft padding layer provides added comfort and support.
Cons:
Vest size may be too small for users over 6'3″
Straps are placed in an awkward place making it difficult to secure.
Choosing the Best Weighted Vest for Your CrossFit Training: A Buyer's Guide 
So, you've read what we consider to be the ten very best weighted vests for CrossFit that money can buy in 2021, but if you've done so, you may have even more questions than when you started, namely:
Which one of those vests is the perfect choice for the way you train?
And:
How did we determine that these are the ten best out of the countless other options out there?
To answer those questions, we put together this comprehensive buyer's guide, explaining not only the factors that we considered most important when making our selections, but most importantly, how each of these factors may influence your final buying decision. 
Weight Options 
As you've seen by now, weighted vests come with an enormous array of weight sizes. For example, the budget-friendly Zelus Weightest Vest and the Aduro Sport Weighted Vest  both start at just 4 lbs while the RUNFast Max Adjustable Weighted Vest goes all the way up to a substantial 120 lbs. 
The truth is that more weight isn't always best. If you're just starting out, recovering from injury, or simply small in stature, then it may be that a lighter vest weighing between 4 lbs and 20 lbs is the best option for you, while for larger-bodied CrossFitters or anyone who really wants to up their game, a heavier 40+ lbs vest will be best suited. 
Weight Material 
Different vest manufacturers use different types of weights. For the most part, you're either going to find vests that use sandbag-like weights, or those that use solid metal weights which look like small, solid bars of soap or steel plates. 
While sandbags can be useful in lighter vests, they also have an annoying tendency to burst, leak, or otherwise suffer from damage after repeated use.
This may not be an issue if you're only going through one of the classic WODs once a week, but if you're hitting the gym every day, you may find that those sandbags need replacing sooner rather than later. 
On the other hand, steel and iron bars tend to be heavier, but they're also much, much more damage-resistant and also have the added benefit that they don't slide around as much during your workout. 
Vest Material 
While you're really buying a weighted vest for the weights themselves, never underestimate what an important factor the actual vest material plays in determining a truly good product. 
Most vests are either made from nylon, neoprene (a form of synthetic rubber), or polyester, all of which are known for their durability. While there isn't much difference in the three in terms of long-lasting quality, there are other factors to consider too, especially when it comes to breathability.
Nylon mesh is an excellent choice for this, allowing air to flow through the vest and stopping you from becoming overheated.
You may also want to play close attention to what other users say about each vest's odour-resistant qualities. 
As we all know, CrossFit can be sweaty work, and the last thing you want is a vest that continually reeks of sweat no matter how much you wash it. 
Gender 
The majority of CrossFit vests are designed to be gender-neutral and fit just as well on men as they do on women. Still, let's face it: 
Women's bodies are designed differently and there are some vests which, even if they say they fit women, just aren't that comfortable.
That's why, just as you can buy the best CrossFit shoes for women or other essentials designed for the female body, you can also find vests that are specifically just for women. The miR Women's Weighted Vest, for example, features a design which narrows in from the shoulders to the chest and then expands out again just underneath the chest, ensuring there's no squashing or unpleasant discomfort. 
If you're a woman who finds that regular vests hinder, rather than help, your performance, it may be time to opt for a female-friendly model. 
Accessories Storage 
The inclusion of extra storage pockets may not be the most important factor that anybody looks for when choosing a good vest, and it was rarely a deciding factor for us when picking our top ten choices. 
That said, we did give extra points to those CrossFit vests that provided storage for things like phones, music players, and even a sports bottle. 
While those things can also add extra weight, being able to carry them with you means you no longer have to worry about where your valuables are while enjoying the extra convenience of being able to carry those essentials with ease. 
Design
Finally, design played a limited choice in picking our top ten. The CROSS101 Camouflage Weighted Vest, for example, immediately stood out to us thanks to unique camo design.
Sure, that alone wasn't enough to ensure it got a place in our guide, but it was enough to appeal to us, and indeed, to anyone who prefers to show off their unique sense of style in a sea of average-looking, all-black vests.
Frequently Asked Questions
How heavy should a CrossFit vest be?
CrossFit vests can be as light as 4 lbs or as heavy as 120 lbs plus, so it really all depends on you. As a general rule, your vest shouldn't be heavier than 10% of your body weight.
What is the best weighted vest for CrossFitters?
The miR Air Flow Weighted Vest is our pick of the best weighted vest for CrossFitters as it is exceptionally well-made, available in a range of weight options, and is highly breathable. 
Why are weighted vests so expensive?
While some CrossFit vests can be expensive, this is usually down to the high quality materials that manufacturers use to ensure their vests are durable, breathable, and odour-resistant. That said, some good quality vests can be found for well under $50.
What is the Best Weighted Vest for CrossFit in 2021? 
As you've likely discovered from the sheer range of products in our top 10, the real question is not so much about finding the best weighted vest for CrossFit in general, and more about finding the best weighted vest for your own individual training and personal circumstances. 
With that in mind, knowing what's most important to you will ultimately help you determine the best option to spend your hard-earned money on.
If you're curious about training with a weighted vest but don't want to spend a lot of money on something you may not keep, or if you need to keep a close-eye on your wallet, the budget-friendly Zelus Weightest Vest comes with at a very affordable price and still provides top value for money in terms of weight options and all-round durability. 
If you're a woman looking for the best CrossFit vest designed specifically for women, the miR Women's Weighted Vest comes highly recommended thanks to its X-shape design and exceptional comfort. 
However, if your only concern is getting the best CrossFit vest your money can buy right now, you may well prefer our top pick, the miR Air Flow Weighted Vest. 
Combining miR's usual exceptional quality, an innovative airflow design to keep you cool and a good number of weight options, it really is the best thing out there for really taking your WODs to a whole new level.