There could be any number of reasons why you might be on the hunt to buy the best kettlebells for CrossFit training. 
Perhaps you're looking to stock up a small home gym that will allow you to get a serious workout done despite not having the space for large equipment like power racks.
Maybe you simply appreciate being able to practice popular CrossFit kettlebell exercises like Turkish Get-Ups, kettlebell swings, and squats.
Or it may simply be that you're hoping to equip your commercial CrossFit gym with the best possible products to provide an optimal experience for your users.
Whatever the case may be, there are scores of options to choose from, which can make picking the perfect kettlebell seem almost as challenging as your latest WOD. 
If that's a problem you're facing right now, this guide is for you.
We've tried and tested dozens of 2022's best-selling CrossFit kettlebells to find the top choices  that offer the most value in terms of weight options, ergonomic design, and all-around durability.
Below, you'll find reviews of each of our top five picks to help you determine the absolute best' bell for you, your space, and your workout.
Kettlebells Reviewed in this Guide
Best Kettlebells For CrossFit In 2022
1. Titan Fitness All-In-One Adjustable Kettlebell
Our Pick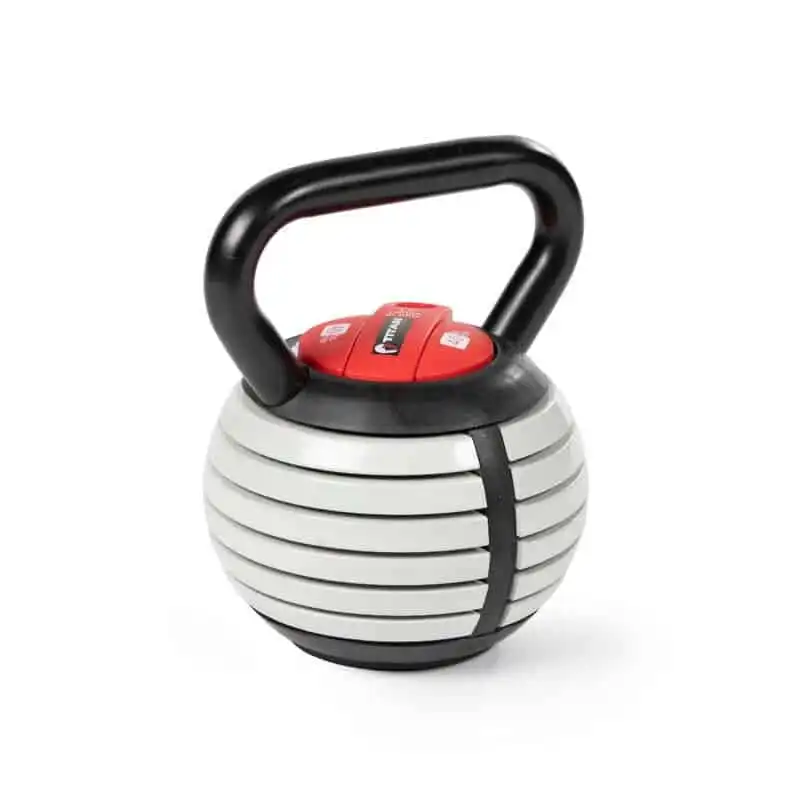 Specifications:
Weight options: 10 lbs – 40 lbs (adjustable)
Material: Cast iron
Finish: Black and silver powder coating
Of all the CrossFit kettlebells we looked at, the Titan Fitness All-in-One Adjustable Kettlebell consistently proved itself to be the best of the best for a number of key reasons.
First of all, there's excellent adjustability options.
One of Titan Fitness' best-selling kettlebells, this popular product allows you to work with a variety of weights from 10 lbs up to 40 lbs.
While the 40 lbs maximum weight may not be enough for hardened CrossFitters, this weight range does make it ideal for beginners who can up their game as they gain more experience, or for those workouts where you need different weights for different exercises.
I found that changing things up is simply a case of activating the easy-to-use quick-lock mechanism, then adding or removing one of the six weight discs that weigh between 4.5 lbs and 6 lbs.
Beyond that, I also find that the ergonomic handle adds another layer of comfort.
When our hands get tired, and we're just trying to get through the reps, these are the quality details that become more noticeable.
Pros:
The adjustable design gives you the freedom to work out with multiple weights without having to buy several different kettlebells

Flat base allows for easy storage and provides support for handstands and similar exercises

Good value for money compared to the cost of other adjustable kettlebells.
Cons:
The maximum 40 lbs weight may not be enough for more experienced CrossFitters

The individual weights aren't clearly labeled. Some users find it best to mark each weight with a sharpie to make it easy to tell what you're working with. 
2. Kettlebell Kings Powder Coat Kettlebell
Powder Coat Pick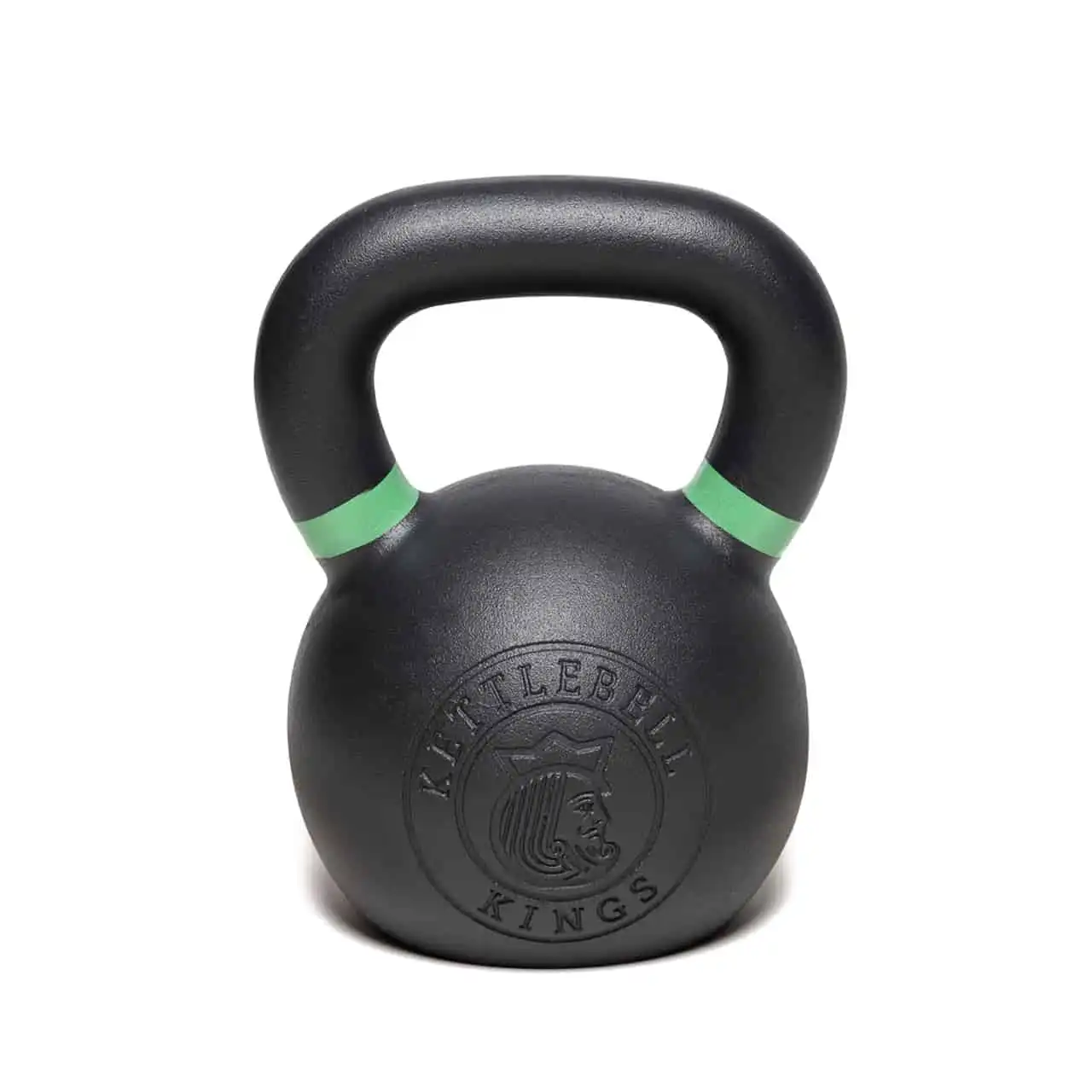 Specifications:
Weight options: 5 – 100  lbs
Material: Cast iron
Finish: Powder coating (black) with color bands to indicate weight
If you're a fan of powder coated bells, then you'll probably appreciate the smooth feel of these weights. It's one of the main reasons people prefer powder coat over E Coat, and vice versa (prefer a semi-gloss and textured feel? See the Rogue E Coat below).
These kettlebells from the ever-popular Kettlebell Kings brand are made from single mold cast iron and come with a very durable powder coating.
More specifically, while we've noticed some powder coated bells can be more susceptible to dings and scratches, and hence a preference for the E Coat in some cases, this updated version was redesigned with improved abrasion resistance.
Yup, you get that true combo of smoothness plus durability with these, and that's why we like these as a complete set option for a home or even commercial gym owner.
Other features we love are the color coded bands, so you can easily find the weight you need (I find this especially helpful), along with a nice recessed logo that, unlike many stamped on logos, won't just peel off after several rounds of use.
Yet, as you might suspect, with these fancy features comes a slightly higher price tag, especially when compared to other powder coated kettlebells used at CrossFit.
For example, you'll be looking at a price range from $69 all the way to $425 for these bad boys.
However, we still feel it's a reasonable price for the level of quality you get with these.
Pros
Smooth and durable kb set available in a full range of weight options
Color coded weight identification
Enhanced gripping and abrasion resistance
Cons
More expensive than standard powder coated bells
3. Rogue Kettlebell – E Coat
Editor's Pick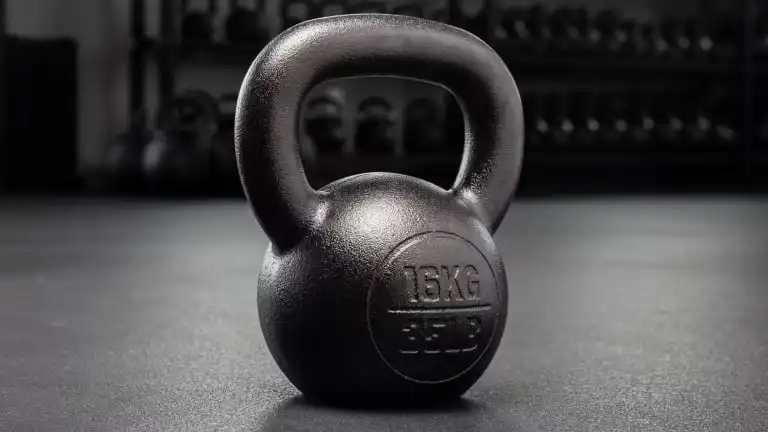 Specifications:
Weight options: 9lbs – 88 lbs
Height: Varies by weight
Handle width: Varies by weight
Base width: Varies by weight
Material: Cast iron
Finish: Black E-Coat with 22 GU Gloss
Spend any amount of time on Boxletets.com and you'll soon discover that we're big fans of Rogue Fitness. 
This is no bias on our part. 
It's simply the case that, having used everything from their high-performance jump ropes to their brilliant barbells and all manner of Rogue Fitness CrossFit equipment in between, we find that they always deliver remarkable quality products that are perfectly designed for CrossFit. 
As such, it came as absolutely no surprise to us when the Rogue Kettlebell – E Coat outperformed scores of its competitors.
The one thing we like best about Rogue Kettlebells is that they come in a huge range of weight sizes which cater for everyone from absolute novices to experienced, competition-ready CrossFitters.
The actual weight range goes from a light 9lbs all the way up to a hardcore 88 lbs, with each kettlebell being incredibly well-priced compared to what else is out there on the market right now.
Of course, we couldn't wrap up our review of this one without mentioning the trademark E-Coat that gives this one its name.
But, like me, you might be wondering if e-coat is just some marketing jargon, or does it actually make a difference?
What I learned is that this patented E Coat adds a thin, durable layer that provides fantastic adhesion and toughness while still allowing you to feel every minor groove of the surface texture for better grip and performance.
In fact, you'll find this same E Coat finish on other top-selling Rogue products, including the Ohio bar (also featured in our top CF barbells review). 
With all that being said, if you're looking for a premium-quality kettlebell at an affordable price, the Rogue Fitness E Coat range is almost guaranteed to have the best CrossFit kettlebell for you no matter what size of weight you like to work with.
(Learn more about the difference between Rogue E Coat and Rogue Powder coat kettlebells).
Pros:
Made in the USA

Weight is stamped on one side in both lbs and kg to make them easy to identify

22 gloss-unit (GU) gloss finish adds aesthetic appeal which makes them an attractive option for commercial CrossFit gyms.
Cons:
Some users dislike the rough texture of the kettlebell handle

The grip isn't sweat-absorbent, which can cause comfort and handling issues.
4. Amazon Basics Enamel Cast Iron Kettlebell
Budget Pick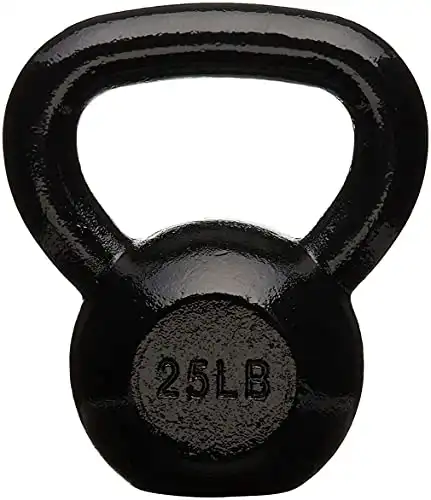 Specifications:
Weight options: 15 lbs 
Material: Cast iron
Finish: Black enamel
Is the Amazon Basics Enamel Cast Iron Kettlebell the best kettlebell you're ever going to buy?
No.
Is it the best kettlebell you're ever going to buy for under $25? 
Absolutely. 
If you're looking to buy your first CrossFit kettlebell but your wallet is still reeling after spending so much on those expensive CrossFit shoes, this discount option may prove to be ideal. 
Available in a 15 lb option, its beginner-friendly size is combined with an incredibly resilient cast iron and enamel construction, providing a level of long-lasting durability that you'd typically only get with a higher-priced kettlebell.
This may be a low starting weight (although it does come in several other weight options – see below), but I find that having a 15 lb or 25 lb kettlebell is great for high-reps and cardio type workouts. It's also useful for warm-ups. 
Combine that with a textured handle to ensure a comfortable grip, and what you've got here is the best budget kettlebell for CrossFit around right now.
Pros:
Also available in 10, 20, 25, 30, 35, 40, 45, 50, and 60 lbs options

Weight stamped onto side for easy identification

Sturdy, solid construction.
Cons:
Some users complain that the handle is too small to use properly 

The enamel finish can become scratched easily
5. Kettlebell Kings Competition Kettlebell
Competition Ready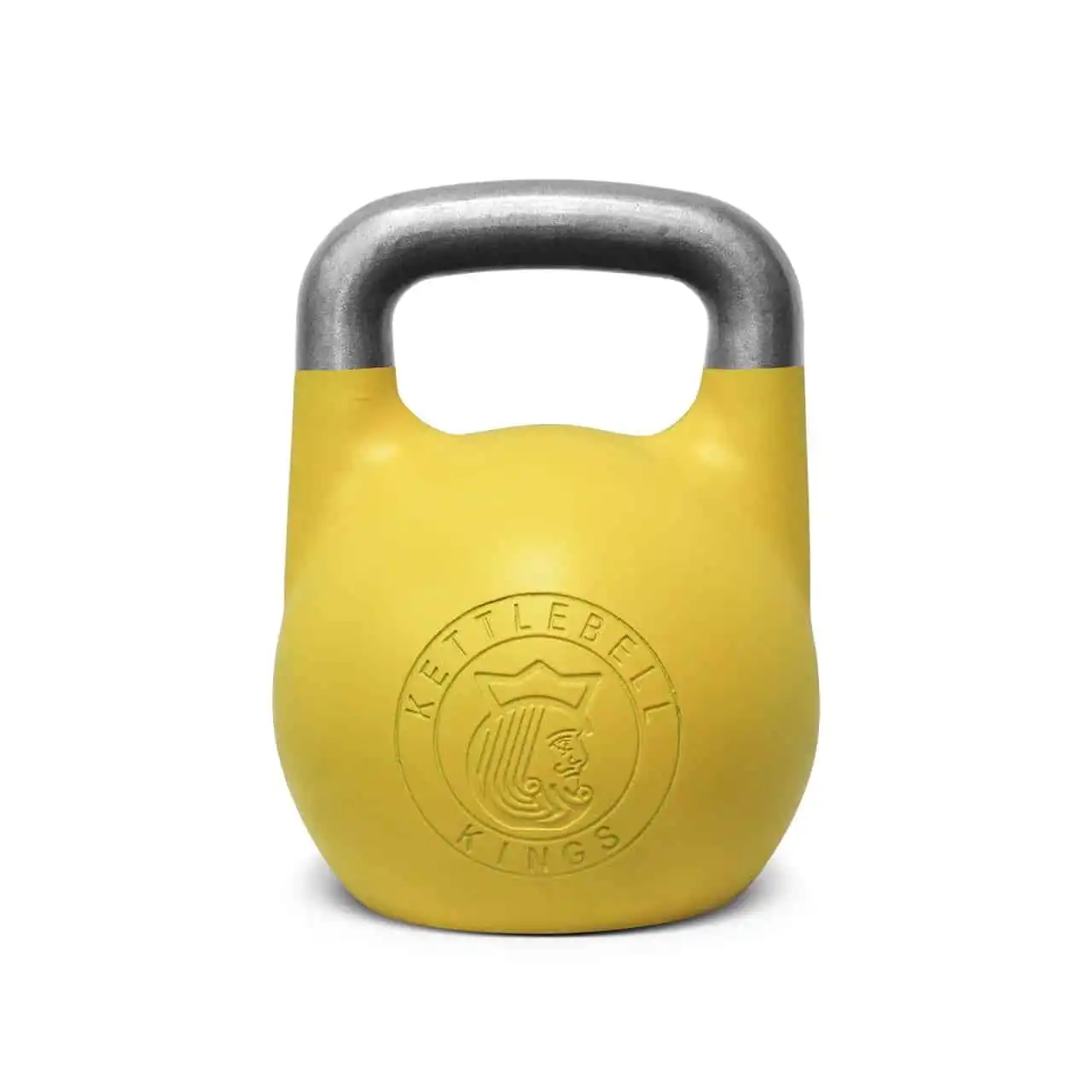 Weight options: 18lbs – 106lbs
Material: Steel
Finish: Painted colors in accordance with international standards
If you're ready for competition level kettlebells, this steel bell is worth your attention. As a competition bell, it conforms to international standards in terms of handle diameter (35 mm), size, and colors:
8 kg / 17.6 lbs – Pink
12 kg / 26.4 lbs – Blue
16 kg / 35.2 lbs – Yellow
20 kg / 44.0 lbs – Purple
24 kg / 52.8 lbs – Green
28 kg / 61.6 lbs – Orange
32 kg / 70.4 lbs – Red
36 kg / 79.2 lbs – Grey
What sets this kettlebell apart, though, is the smooth, hollow core handles and mold cast steel construction that minimizes fillers. The handle design is smooth, comfortable, and importantly, still holds chalk well.
As a competition level (or aspiring) lifter, you know this is important. As for the lack of fillers, since KB Kings uses mostly steel, there is less "shifting" around within the bell when completing lifts and movements. These low-cost fillers can throw us off balance, so it's nice to reduce this as much as possible.
As for downsdides, this bell has a dull finish, unlike the semi-glass you'll see with an E coat weight. Also, for some, this handle was a little too narrow for a 2-handed grip, especially when wearing gloves.
But for Crossfitters who want a steel bell built to international competition standards, from 18 lbs to 106 lbs, these are some of the best on the market.
Plus, you get that nice and reassuring lifetime guarantee that Kettlebell Kings offers.
Pros
Steel competition bell with minimal fillers
Designed to meet international kettlebell standards
Hollow core handles for improved comfort and grip
Comes with lifetime warranty
Cons
Handle might be too narrow for some
6. Titan Fitness Adjustable Competition Style Kettlebell
Adjustable + Competition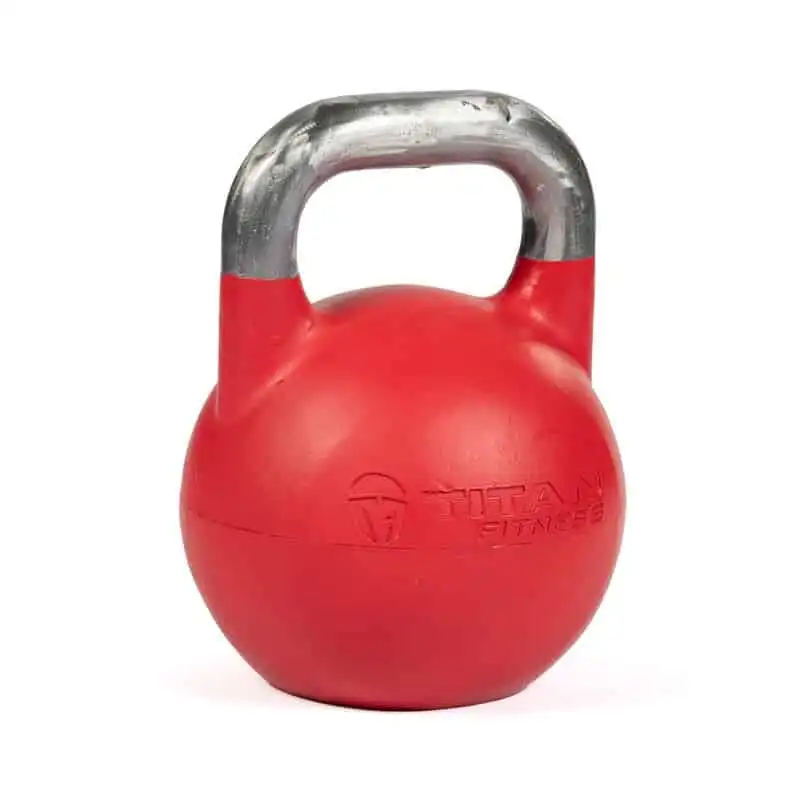 Specifications:
Weight options: 12 kg (26.45 lbs) to 32 kg (70 lbs)
Height: 11.4″
Handle width:  7.4″
Base width: 8.26″
Material: Cast iron
Finish: Red powder coat
Another excellent option for serious CrossFit pros or those harbouring ambitions of entering competitions, the heavy size and adjustable nature of the Titan Fitness Adjustable Competition Style Kettlebell makes it ideal if you're training to compete yet have limited space at home.
Adjustable in 2 kg increments all the way from 12kg to 32kg (roughly 26 lbs – 70 lbs), the process for moving up and down a weight couldn't be simpler:
Just take the screw out, adjust the weight, and put the screw back then you're ready to get a serious workout in even if space in your home gym is at a premium.
Pros:
Comes with allen wrench for easy adjustments

Non-welded handles ensure maximum durability

One of the heaviest adjustable kettlebells around, making it a good choice for more experienced users. 
Cons:
Most expensive kettlebell in this guide by a good margin

Measured in kilograms which may be confusing for CrossFitters used to working with pounds and ounces.
7. Kettlebell Kings Beginner Package (Virtual Course + Kettlebell Kit)
Beginner Training Kit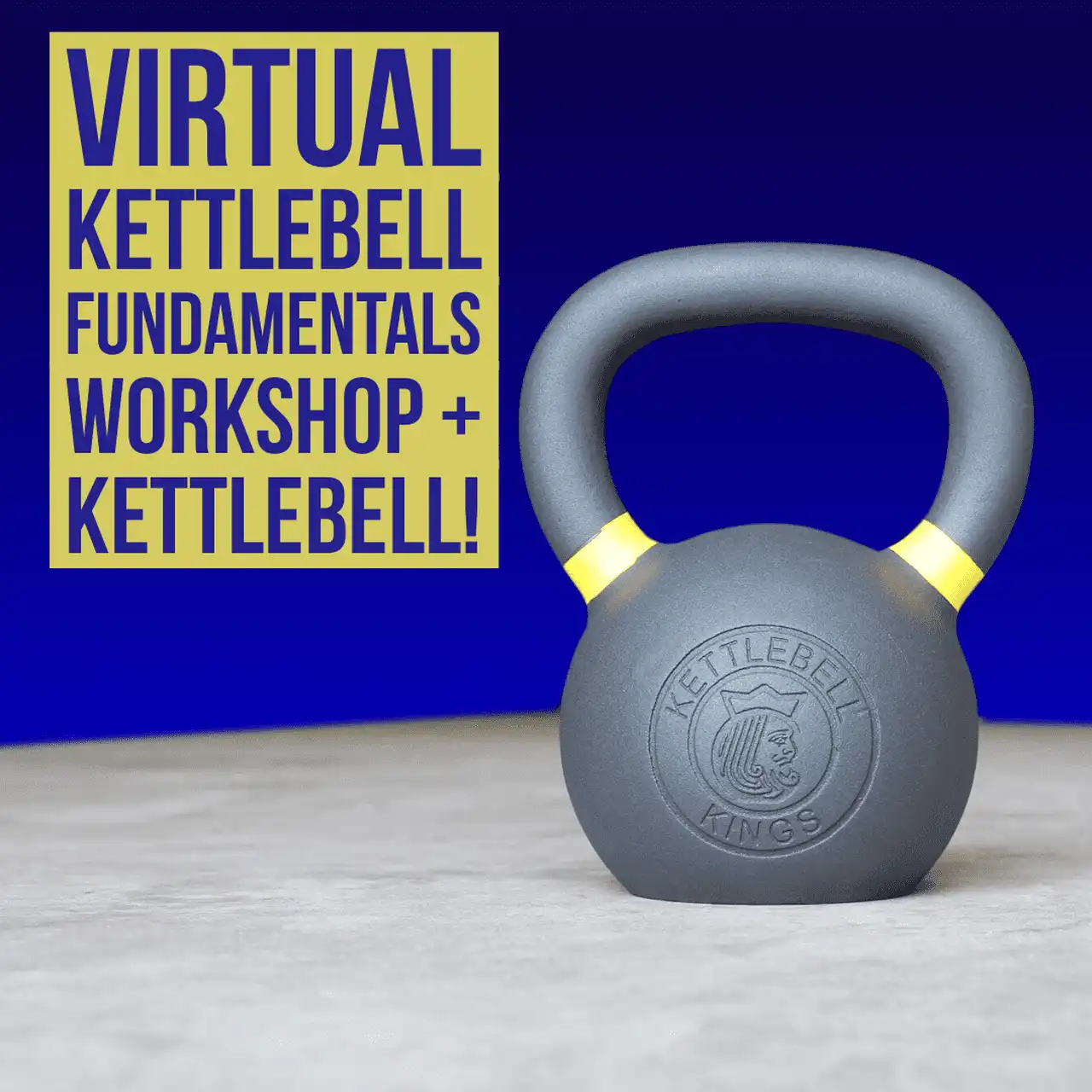 Specifications:
Weight options: 6, 8, 12 and 16 kg
Material: Cast Iron
Finish: Powder Coat
This beginner option from Kettlebell kings comes with one of their popular powder coated kettlebells plus access to their virtual training series. The training series includes online workshop videos covering safety, proper breathing, warm up and preparation, technique, and specific exercises with variations.
Okay, this isn't really a single bell we're recommending here. But we think, if you're just getting started, the best option is to learn these fundamentals before you jump into advanced routines.
You could of course just by one or two cast iron bells to get started, like many of us do. But the workshop series is a great bonus and will help you start off on the right foot, and hopefully avoid common training injuries that can occur when rushing into a workout routine.
The included bells are available in beginner-friendly 6, 8, 12 and 16 kg options.
And don't worry, just because it's a "beginner" package, it doesn't mean you're getting a low-quality product.
In fact, the included kettlebell is single cast iron with a beginner-friendly handle diameter and spacing, so you can practice with a firm and comfortable grip.
Plus, all of their kettlebells have flat bottom design, so it will stay put when you're taking a break or storing the kettlebell in between sessions.
Pros 
Comes with access to an instructional workshop covering safety, training tips and exercises with variations
High quality single cast kettlebell with comfortable grip and handle diameter and spacing (window)
Cons
High cost than other beginner-level bells due to the virtual workshop add-on
Available weight range is limited to just 4 options with this package
8. Bionic Body Soft Kettlebell With Handle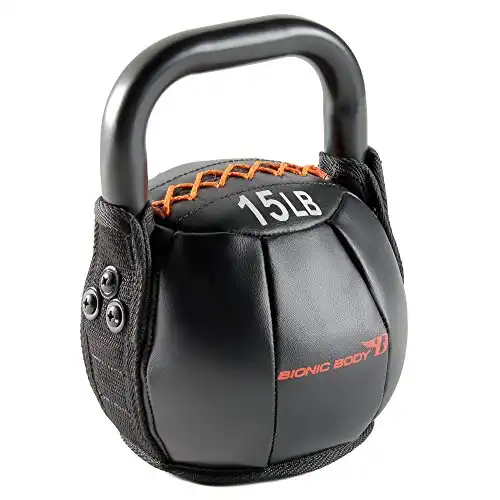 Specifications:
Weight options: 15 lbs
Height: 10″
Handle width: 8″
Base width:  8″
Material: Sand and steel powder
Finish: Vinyl
If you love working with kettlebells but you've experienced more than your fair share of damage to yourself or your environment when a cast iron bell is accidentally dropped, the Bionic Body Soft Kettlebell with Handle may hold plenty of appeal. 
The combination of soft, yet well-packaged sand and steel powder interior with an equally as soft-yet-tough vinyl exterior provides a safer workout while also meaning you avoid the kind of scuffs, scratches, and blemishes that often blight your typical cast iron kettlebell.
Still, the construction itself isn't the only thing we like about this one.
The compact, safe-saving structure of the Bionic Body kettlebell makes it easy to work on everything from squats and swings to deadlifts and get-ups, even if you don't have an awful lot of room to maneuver. 
Perhaps the best part is that all of this comes at a relatively affordable price.
While the Bionic Body may not be the cheapest kettlebell for CrossFit, it's far from the most expensive and will undoubtedly suit the budget of even the most financially-conscious CrossFitter.
Pros:
Also available in 10, 20, 25, 30, 35, and 40 lbs weight options

Comes with a two-year manufacturer guarantee

Features a large, ergonomic handle to ensure optimal grip and make it easier to do large movements.
Cons:
The square-shaped handle design is different from what many people are used to on standard cast-iron bells which may take a bit of getting used to

While the outer vinyl casing is durable, a rip or tear could leave you with a lot of sand to clean up. 
CrossFit Kettlebell Buying Guide
So, you've seen what we consider to be the best CrossFit kettlebells, but how do you decide which one of these options is the best fit for you and your workout?
Below, we'll discuss the key things you'll want to consider when making your purchasing decision:
Weight Options
Kettlebells come in a huge variety of weight options, from a lightweight 5 lbs all the way up to 100+ lbs. There's even a kettlebell out there that weighs a whopping 203 lbs! 
As far as sizing goes, it really depends on a few factors, including the type of exercises and lifting you plan to do, how old you are, gender, etc.
There are some parameters to keep in mind, though.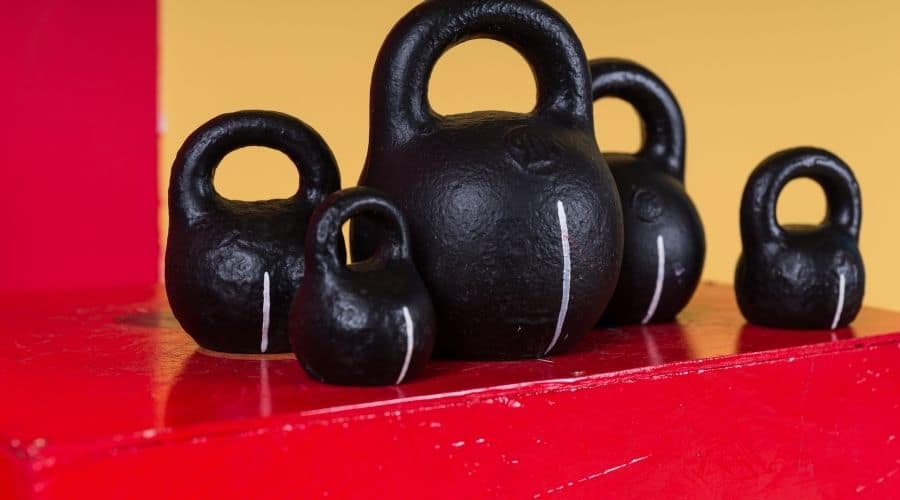 For example, if you're over 18 and love doing explosive ballistic exercises like jumps and throws (who doesn't?), or swings, snatches and cleans, you should look for a range between 35 lbs (16kg) and 53 lbs (42kg) for men, and 18 lbs (8kg) and 35 lbs (16kg) for women.
On the other hand, for slower kettlebell exercises, like grind moves, presses, deadlifts, goblet squats or even Turkish get-ups, your range should be a little lower.
After all, you're looking to complete around 8-10 reps at least for these types of exercises, so start with around 18 lbs up to 44 lbs for men, and 13 lbs to 26 lbs for women.
Keep in mind that you'll need to experiment with what works, and if you're a beginner, you should start at the low end of the range (or whatever feels comfortable at first).
If you're an advanced Corssfit athlete or have been using kettlebells for a while, you're probably on the heavier end of these ranges.
That said, many experienced athletes prefer doing high rep routines with kettlebells, and are more than happy to stick with low weights in the 10 to 25 lbs range to get a high-intensity or cardio workout.
With all these variations, it speaks to why you might want to start with an adjustable kettlebell at home.
But if you have a home gym or are adding a new set for your box,  a complete weight set is your best bet to accommodate different exercises and experience levels.
Which brings us to . . .
Adjustable Vs. Single-Weight Kettlebells
If you're planning to work with multiple weight sizes, you basically have two options:
Buy a new kettlebell for each weight, or buy a single, adjustable kettlebell that lets you switch between weights on a single 'bell.
Each one has their own advantages and disadvantages. 
An adjustable kettlebell undoubtedly saves space, allowing you to work through multiple weights without having to clutter your workout space with multiple pieces of equipment. However, moving between those weights means interrupting your workout as you stop to make the necessary adjustments.
Buying a kettlebell in multiple weight variants avoids this problem, but does take up more space which may be a problem if you don't have much room to begin with.
Material
As with most CrossFit equipment, the materials used in the construction of kettlebells make an enormous difference to their overall quality.
The majority of the best kettlebells are made from solid cast iron, chosen not only for its weight but because it's incredibly durable and built to last. Keep in mond that solid, single cast iron is important. This means entire bell, including the handle, is made from a single cast iron mold, rather than multiple pieces. 
We'd almost always recommend looking for a cast-iron option unless you're worried about an accidental drop causing damage or injury, in which case you may prefer a soft kettlebell like the Bionic Body Soft Kettlebell with Handle.
However, if you choose a competition style kettlebell, then steel is the material of choice. Importantly, you'll want to make sure the manufacturer doesn't add weight with a ton of fillers, like sand or metallic powder.
With steel weights, fillers are a necessary evil. But when there's too much of it, it can throw off the balance. That's why we recommend sticking with a product like the competition bell from Kettlebell Kings (see above).
Handle Grip
Not all kettlebell handles are made equal, meaning this is something you're going to have to pay close attention to.
Look at the diameter of the handle grip and determine whether it's a good fit for your hand size. Too big, and you'll have trouble maintaining a proper grip. Too small, and holding onto that kettlebell properly can easily mess up your form.
Look at the texture and the finish of the grip too. Is it comfortable? Will it absorb sweat or become all slippy when you up the intensity of your workout and start sweating?
If it's the latter, stay away. If it's the former, you've got yourself a good quality kettlebell. 
Kettlebell Window
Last but not least, you'll also want to pay attention to the kettlebell window, which is the gap formed by the three interior sides of the handle and the roof of the kettlebell weight. It should be big enough to provide enough room for both of your hands, but not so big that it becomes difficult to perform rack-based exercises like snatches and jerks. 
Frequently Asked Questions About CrossFit Kettlebells
What Is The Best Weight Kettlebell To Start With?
If you're brand new to the world of CrossFit training, a relatively light kettlebell weighing between 8 lbs – 12 lbs is going to be your best option depending on your existing level of strength.
What Kettlebells Are Used In CrossFit?
Serious CrossFitters will get maximum returns from their WODs by using a 35 lbs – 50 lbs kettlebell with a large handle, solid grip, and flat base.
How Many Kettlebells Should I Have?
This depends. If you're planning to do exercises like swings which require you to have both hands on the handle, then you only need one kettlebell of each size that you want to work with. On the other hand, if you're upping your game with single-handed lifts, two kettlebells of each size you want to use are all you'll ever need. 
What Is The Best CrossFit Kettlebell?
If you've read through our top-five picks, you'll probably have deduced that each one more than holds its own in terms of quality, performance, and weight options and could thus make a reasonable case for being considered the absolute best CrossFit kettlebell on the market today.
Ultimately then, the process of choosing just one of these top products is all going to come down to what you prioritize the most when choosing new equipment for your home or commercial CrossFit gym.
If you're just starting out and want an affordable, beginner-friendly kettlebell or you just generally want to prioritize keeping your costs as low as possible, then the Amazon Basics Enamel Cast Iron Kettlebell is our pick of the best budget CrossFit kettlebell around right now and will undoubtedly serve you well. 
If quality, brand reputation, and a large selection of weight options are what you look for the most when choosing CrossFit equipment, then you'll find all three of those things in spades with the Rogue Fitness E-Coat range.
That said, if we had to recommend just one product as the absolute best of the best, it would have to be the Titan Fitness All-in-One Adjustable Kettlebell as its impeccably well-made, built to last, and, thanks to its easily adjustable design and range of weights, is the perfect choice for enjoying the ultimate CrossFit workout, even in smaller spaces.