If you are just starting your CrossFit journey to have a stronger and fitter body, you might have this question in your mind or have even heard others ask it, "what shoes will I need for CrossFit?"
This is an important question as CrossFit has various workouts with different demands. You also need to take into account your workouts and more.
CrossFit shoes have been created and designed slightly differently than sneakers or regular running shoes that you might wear to the gym.
CrossFit shoes have a design that can handle the rigors of various exercises while providing you stability and more.
To this end, here are the best CrossFit shoes to purchase:
Best CrossFit Shoes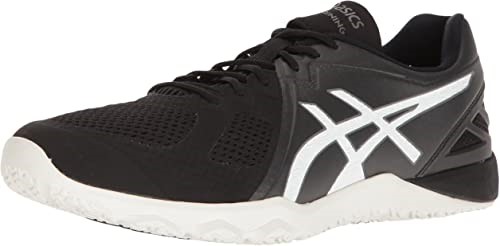 The Asics Conviction X training shoes come with a lot of cushioning and a minimalist design. The Conviction X are also reasonably priced, making them a wonderful option for the best CrossFit Shoes for those on a budget.
Construction and Design
The Asics Conviction X looks more like your average tennis shoe than a CrossFit shoe, thanks to its thick upper shell created from synthetic leather and additional cushioning.
Thanks to synthetic leather, the Conviction X is a lot more durable, helping to prevent wear during strenuous activities. You also get a breathable mesh near the toe to vent the shoes.
There are different designs dependent on the size you get. For instance, the slip-on design provides a tight fit. When performing high-intensity exercises or running, you get a snug fit ensuring your feet are secure in the shoes.
You also get great traction, thanks to the rubber sole. The insole and midsole provide great arch support, which can be quite useful for individuals with flat feet.
You get a heel height of 10 millimeters which can be low for individuals that love weightlifting. Nevertheless, it does add a bit of versatility to these CrossFit shoes.
One significant complaint most might have about the Conviction X is that it lacks adequate lateral support. This issue is most noticeable when sprinting or running.
Nevertheless, it also provides a lot of flexibility which can be useful when you suddenly change directions doing exercises such as shuttle runs.
The Asics Conviction X has a unique feature that ensures your laces are always tied. There is a small pocket built into the tongue of the shoes where you can tuck your laces. The upper is made from durable material, ensuring that these CrossFit shoes will last for a while.
Important Features
Tough synthetic leather upper
10 millimeter heel
Super grip rubber sole
6 millimeter forefoot
Perforated sock liner
The Asics Conviction X CrossFit shoes are well built and reasonably priced, ensuring that you get improved performance at a decent value.
Pros
Fairly versatile
Good ventilation
Cons
Poor lateral support
Drop might be too low for those searching for dedicated lifting shoes.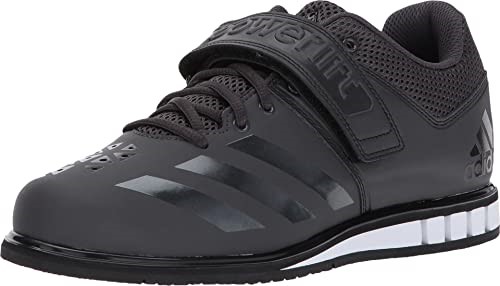 The Adidas Powerlift 3.0 has been designed as a weightlifting shoe; however, it can also be a great pair of CrossFit shoes.
It offers an affordable option to select from, costing considerably less than other name brands. The Powerlift 3.0 shoes have been created with durable but budget-friendly material.
Construction and Design
The Powerlift 3.0, as its name states, comes with various features that help with lifting. Some of these features include a solid sole and raised heel.
The heel has a height of 15 millimeters, which provides it with additional depth for squatting. It also relieves the pressure on your knees. The thick sole base helps to grip the floor for improved feet planting.
The upper is constructed from a breathable mesh fabric. The forefoot has an extra layer of material to provide more stability. This added layer of material also inhibits flexibility. Thanks to the soft fabric lining, the shoe's interior is extremely comfortable.
There are a couple of minor drawbacks with the Powerlift 3.0, however. Some people might find the forefoot to be a lot less flexible compared to other weightlifting shoes.
It also is a lot wider compared to the previous Powerlift shoes. While this might appeal to those with a wide foot, others might find that the extra space provides too much wiggle room.
Nevertheless, there are advantages to the Powerlift 3.0. for one, they are extremely durable and come with a thick strap over the middle of the laces. The thick strap provides additional support. The breathable material on the shoe provides additional comfort, helping the shoes dry quicker after a workout.
Important Features
Open forefoot
Mesh tongue for extra breathability
Leather upper
15-millimeter drop for deep squatting
The major advantages of the Powerlift 3.0 include style and durability. These shoes are more supportive and flexible than a typical shoe.
Nevertheless, they do not offer flexibility in the forefoot area. To top it off, the Adidas Powerlift 3 can be seen as one of the best value CrossFit shoes. If you don't want to spend a sizeable sum of money on the best CrossFit shoes, then you should consider the Powerlift 3.0
Pros
Very durable
Great for deep squatting
Quite breathable
Cons
The heel might be too high for some, especially when doing some exercises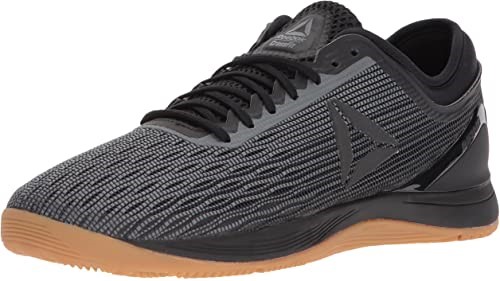 The Reebok Men CrossFit Nano 8 is a great CrossFit shoe. The clue is in its name, as it has been designed to provide the flexibility of a tennis shoe with the stability required for an intense CrossFit workout.
Design and Construction
The Nano 8 comes with a basic low-top design using synthetic materials for the rubber soles and the upper. Just like other CrossFit-specifically designed shoes, the Nano 8 has a low profile outsole coupled with a minimal drop to provide additional stability.
Speaking of the drop, it measures just 4 millimeters. You also get a wide toe box in this CrossFit shoe to provide increased support when placing weight on the tips of your toes.
The upper is created using a design known as FlexWeave. FlexWeave is the latest iteration that improves on the NanoWeave used in prior Reebok shoes. It has been created for stability and flexibility.
The Nano 8 FlexWeave cross trainer is the eighth iteration of the Nano line, and this shoe features one of the largest differences from earlier iterations. The Nano 8 has a removable bootie that isn't connected to the rest shoe. While the bootie is removable, it doesn't feel loose and provides additional comfort.
An advantage of the FlexWeave over the NanoWeave is that it is breathable. The Reebok Nano 8 CrossFit shoes are functional and durable, providing quite a lot of use before signs of wear appear.
Important Features
FlexWeave upper
4mm drop
Removable inner
Low top design
Reebok heavily recommends this cross training shoe for weightlifting and CrossFit training. The heel cup and wide toe box offer support when performing exercises such as squats.
The rubber soles of the workout shoe provide more than adequate grip. When you wear these CrossFit shoes, you will get the support you need for many exercises.
Pros
Wide toe box
Breathable upper
Highly versatile
Cons
Removable inner might slide as time goes by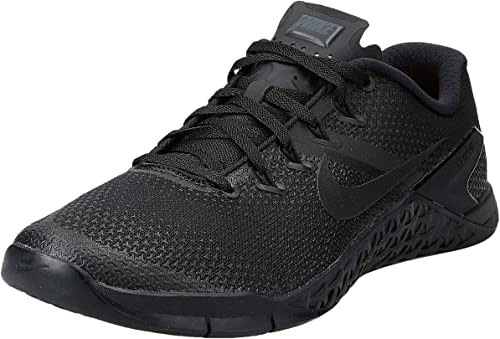 The Metcon 5, as its name states, is the fifth iteration of the Metcon series aimed at cross-fitters. It doesn't matter if you purchased earlier models or require a new pair of CrossFit shoes; the Metcon 5 can deliver in just about every way you require.
Construction and Design
The Metcon 5 from Nike takes its design cues from previous versions on the line with a couple of modifications to the construction and design. The most significant difference has to be the upper material. It now comes with a breathable sandwich mesh coupled with extra synthetic material that provides additional durability.
The lacing system is Nike's Flywire, and the interior comes with a soft fabric lining. Each of these features raises the comfort level of this CrossFit shoe without negating stability and firmness. The outsole design of the Metcon 5 is relatively unchanged.
It has a short, firm rubber outsole coupled with a 4 millimeter drop. The side of the outsole has been designed to wrap around the edges of the shoes, a helpful design that benefits climbers. It also helps prevent wear.
These cross trainer shoes have numerous features that make the Metcon series particularly popular for general fitness and cross-training. There is, however, one significant drawback that you need to be aware of. The Nike Metcon 5 has a mid-sole connected to the insole, making removal easy. While the insole provides the right mix of comfort and firmness, it can occasionally squeak.
Apart from the squeaky noises, the Nike Metcon 5 is one of the most recommended and best cross training shoes for a CrossFit workout. You get durability, stability, and just enough cushioning with the Metcon 5.
Important Features
6 eyelets
4mm drop from heel to toe
Hybrid hard plastic soft silicone sole
Two-layer mesh upper
These CrossFit shoes offer the perfect balance of comfort and stable design. The rubber outsoles provide surface grip to stop you from slipping regardless of climbing, jumping, or running.
The insole is sufficiently firm to give you protection when performing numerous exercises. You should note, however, that it lacks absorption.
While the Metcon 5 is great for farmers' walks and shorter sprints, they cannot match the perfect fit you can get from dedicated running shoes when covering large distances. Nevertheless, this is something that can be said for most CrossFit shoes.
Pros
Durable soles
Large array of colors
Stability thanks to great support
Highly versatile
Cons
Not the best choice for long runs
Buyers Guide: What to Look for in the Best CrossFit Shoes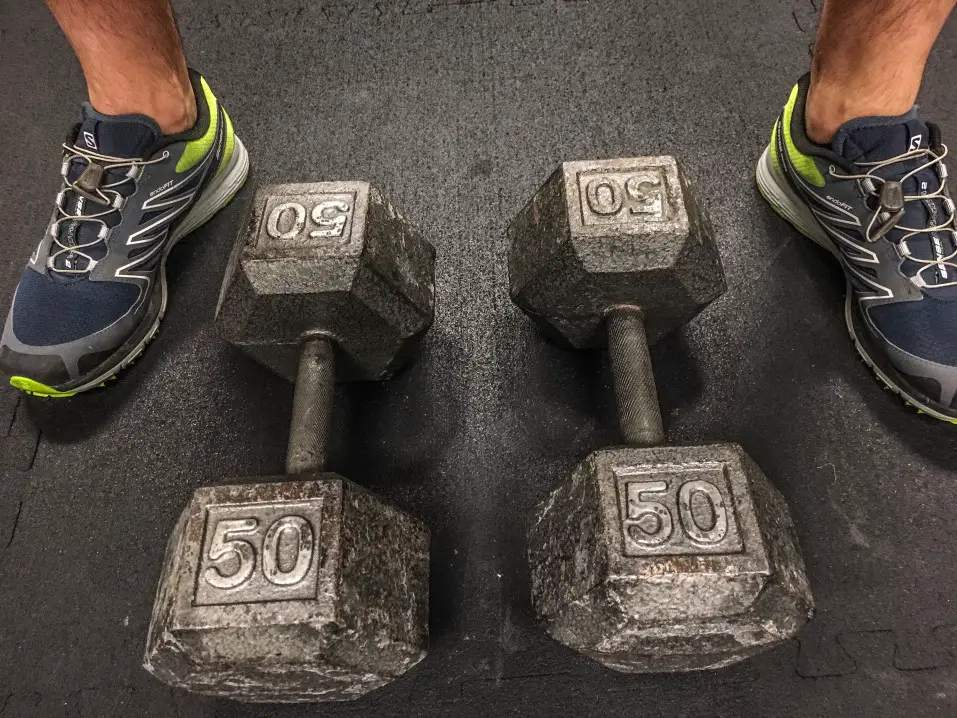 When you get into CrossFit, you rapidly realize how important it is to have quality gear. At the start, minute details might not bother you.
However, with the more experience you gain, you realize that these seemingly minute things are important. Having the best CrossFit shoes can help eradicate these problems.
Finding the best CrossFit shoes is important as you quickly realize the importance of versatile shoes. The great thing about CrossFit is that it provides you with various physical and mental challenges.
With that in mind, it is important to know what to look out for when searching for the best CrossFit shoes, especially for beginners.
Always Consider Your Workout of the Day
Before you purchase any shoes, you need to understand that different exercises require different features.
You should also remember that the type of CrossFit shoes you use in a training environment are likely to feel different in actual CrossFit games.
The most effective way to tackle this is to find the best CrossFit shoes that are versatile.
These shoes will enable you to get through your WODs with adequate support.
Traction
You will also want your CrossFit shoe to have outer and under soles that provide sufficient traction. On the one hand, it is important to ensure that your feet don't slip inside your shoe. On the other, you simply cannot afford to slip on the surface you are jumping or running on.
The Drop of the Shoe
Every CrossFit athlete pays attention to the heel-to-toe drop ratio of their shoes. The reason for this is that it influences how much support you get. For instance, weightlifters prefer a flatter heel to provide more support, while runners prefer a higher heel.
Sole Flexibility
Just as you need your CrossFit shoes to handle the heavy-duty requirements of CrossFit, they also need to be flexible. The best CrossFit shoes are those that do not restrict your movement.
Durability
You need to understand that CrossFit can be particularly hard on your shoes. Doing exercises such as rope climbs can wreak havoc on your outer soles if you don't get sufficiently durable CrossFit shoes.
And when you take into account other activities such as gymnastics, running, and squatting, you can see that durability is an extremely crucial factor.
Breathability
It is imperative that you pick the best CrossFit shoes that have been created with materials that provide adequate ventilation.
It doesn't matter if you have sweaty feet; if you are in the gym, you will work up a sweat.
When this happens, your feet could get wet, causing them to slip and slide. If this happens, you could become distracted.
Comfortable Weight
When you begin a workout, you aren't really concerned about how heavy or light your shoes feel. It is only after you begin sweating that you start feeling the weight of your shoes.
Getting the wrong shoes could cause you to feel like you have ankle weights holding you down. The best CrossFit shoes are lightweight with no extra ounce of unnecessary weight. Unnecessary weight can make you slow.
Lateral Support
It doesn't matter if you are lifting weights or running; your CrossFit shoes need to provide the best support for your feet. The right support minimizes the risk of injury and can also provide you with an extra edge.
Always bear in mind that when exercising, the needer torque comes from the hips, while your knees drive out as your weight shifts. This process can cause situations where your feet begin to slide over your shoes. This isn't a situation you want to happen. That is why the best CrossFit shoes always come with a sufficient amount of lateral support.
Conclusion: Finding the Best CrossFit Shoes
While most people tend to search for CrossFit shoes that can seamlessly handle every Workout of the Day, having a particular weakness can cause you to lean to a particular type of shoe.
Alternatively, you could choose to get different pairs of CrossFit shoes for the different workouts of the day.
If you are more focused on gymnastics:
Those with gymnastics as their focus need to look no further than the Metcon line from Nike. The Nike Metcon 5 is the latest iteration that provides many updates over the Metcon 4. The Metcon 5 is incredibly versatile, as it can handle powerlifting or rope climbs while providing stability.
If you are more focused on running:
The Reebok CrossFit Nano 9.0 should be at the top of your list when you require additional support for running purposes.
This CrossFit shoe is lightweight, providing adequate support without wearing you down. It also offers enough ventilation, ensuring that your feet don't feel bogged down after a few miles.
Its ability to absorb shock from your feet hitting the road is also outstanding, and its versatility is evident as you can use it for moderate lifting.
If you are more focused on weightlifting:
You can select various CrossFit shoes if you require additional support in the weightlifting department.
The Adidas Powerlift 3, for instance, is a cross training shoe that provides more lateral support thanks to its lower heel. It also ticks the right boxes for factors such as midsole flexibility, durability, and sufficient traction for just about any surface.