So you're interested in getting a Power Rack or Power Cage…but where do you start?
There are so many options, things to consider, and decisions to be made when selecting this central piece of equipment.
In this article, we are going to break down what a power rack is, the benefits of these racks, what to consider when buying your rack, and share some of our top picks for the best power racks and cages for CrossFit workouts.
In a hurry? Our three top picks: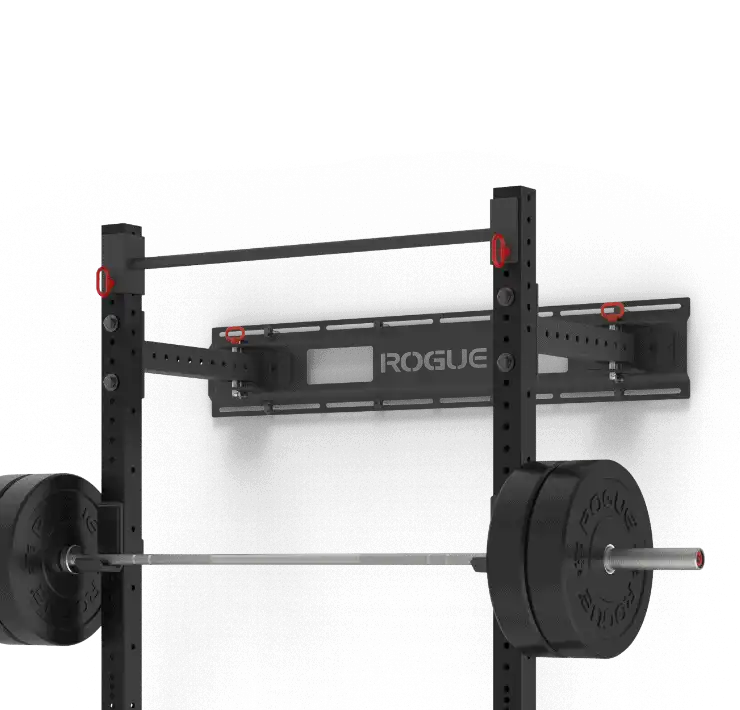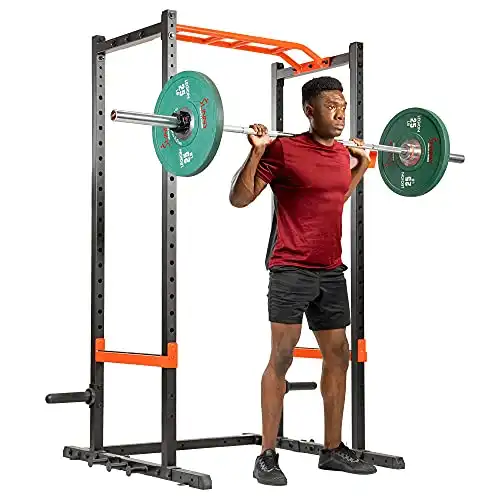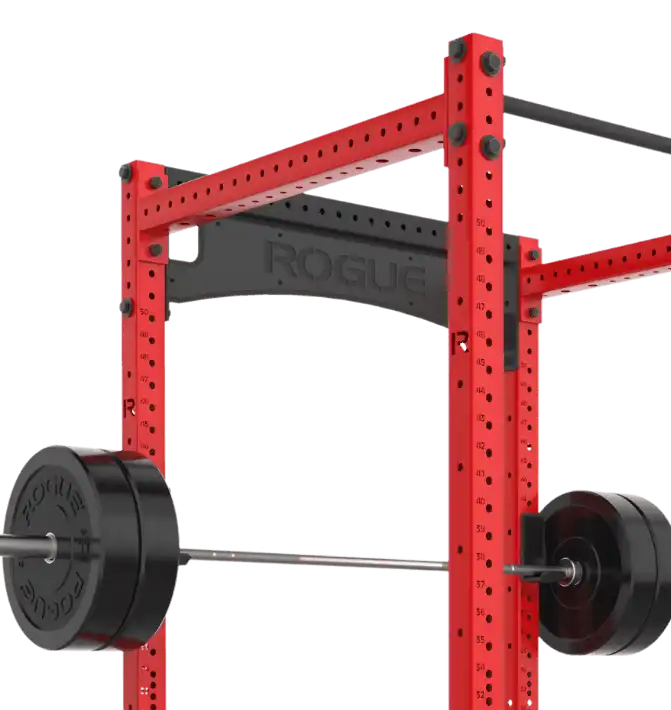 What is a Power Rack or Power Cage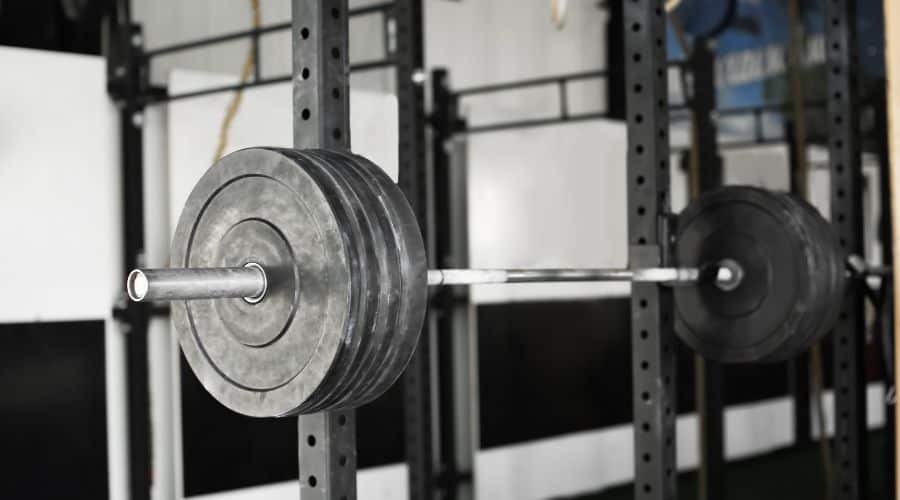 A power rack or power cage is a workout station designed to be used for free weight barbell movements and exercises. These workout stations can also be used for pull ups, bench press, rings, and a variety of other exercises.
These structures were originally designed for lift safety, allowing free range of motion with rails to catch a dropped barbell. The power rack has since evolved into an all in one piece of workout equipment, allowing you to build your gym around this structure alone.
Designs vary, but typically you will have four to six "posts" connected to foundation bars and top bars; top bars will be designed for pull ups or chin ups.
Within these posts are holes that you secure safety rails, catches, or j hooks to…essentially these bars are there to catch dropped barbells.
One side will be completely open so you can freely move in and out of the structure and add a bench press for a variety of additional exercises.
The appeal of a power rack is that you can workout most muscle groups and expand your exercise options by adding several different accessories.
1. Sunny Health & Fitness Power Zone Strength Rack Power Cage
Specifications:
Size: 50.4″ x 65.1″ x 82.9″
Weight capacity: 1,000 lbs
Competition for the all-round best power rack for CrossFit was tough, but in the end we felt compelled to award the top spot on our list to the very impressive Sunny Health & Fitness Power Zone Strength Rack Power Cage.
Take one look at it for yourself, and it should soon become obvious why. 
Standing just a fraction shy of 7ft, it's specifically designed to support users of up to 6'4″ in height, meaning the majority of CrossFitters will have no problem using this comfortably during their favorite WOD. 
Then there's the substantial 1,000 lbs weight capacity, something which only a handful of other power racks can compete with. 
The addition of specially designed safety lock latches and the ability to bolt this one firmly into the ground for added safety also combine to make this hands down the best power rack on the market right now. 
Pros: 
Features 18 different vertical height adjustments
Includes adjustable, reversible angled pull up bar to vary up your exercise
Includes 6 resistance bands to upgrade your workout.
Cons: 
May not be compatible with attachments from other brands
Rack holes aren't numbered which can make alignment tricky.
2. Fitness Reality Multi-function, Adjustable Power Rack
Specifications:
Dimensions: 45.5″ x 50″ 80.5″
Weight capacity: 800 lbs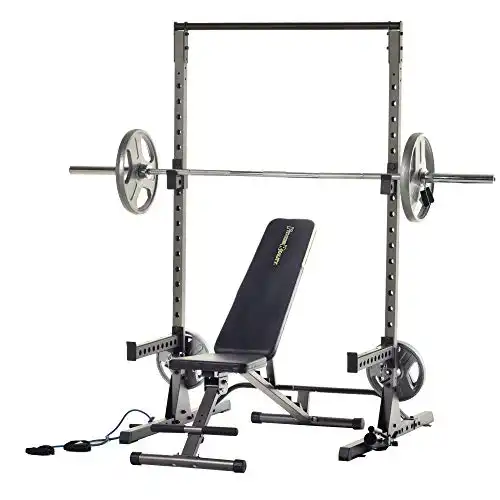 Until we discovered the aforementioned Sunny Health rack at the last minute, the Fitness Reality Multi-function, Adjustable Power Rack was all primed to be our number one pick of the best power rack on the market. 
It was only the fact that the Sunny Health version boasts a superior weight capacity (1000 lbs vs. the Fitness Reality's 800 lbs) that this one got bunked down to number too.
Still, let's not pretend that 800 lbs isn't still excellent in its own right. It should still meet the needs of most CrossFitters
This is especially true when you consider that it's one of the most versatile racks on the market. 
The 19 adjustable height levels, along with always-useful resistance bands posts, and a pull-up bar that can be adjusted between 78″ and 81″ all allow you to really customize your workout to your exact liking. 
All of this, combined with exceptional durability and construction quality makes it a fantastic option for anyone who takes their CrossFit seriously.
Pros:
Easy to assemble
Low price tag
Includes landmine attachment that is compatible with most standard and olympic barbells.
Cons: 
Pull up bar lacks any knurling for grip
The bench gap may be too wide for some users. 
3. Rogue RML-3WC Fold Back Wall Mount Rack Custom Color Edition
Specifications:
Dimensions: 46″ x 50″ 80.5″
Weight capacity: 800 lbs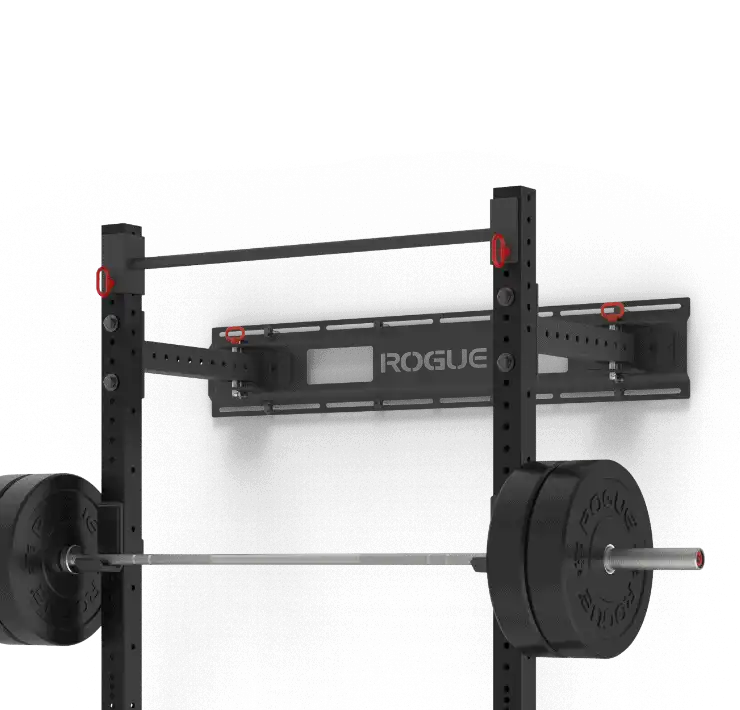 Rogue Fitness have long been one of the leading names in CrossFit equipment. A number of products featured highly in our recent guide to the best CrossFit barbells, and you'll no doubt hear their name held in high regard in CrossFit gyms up and down the country.
With that in mind, it was only a matter of time before a product like the Rogue RML-3WC Fold Back Wall Mount Rack Custom Color Edition made its way into our guide. 
Still, while the RML-3WC may boast the same outstanding quality that has earned Rogue Fitness such high acclaim, this one by no means gets in on reputation alone. 
What we like best about it is that it's fully customizable. 
The rack comes in a choice of 12 different color choices, ensuring you'll be able to pick a design that blends in perfectly with your home workout space or even a commercial CrossFit gym. 
Beyond that, you can choose from an inside depth of either 9", 21.5", or 41.5" to give you all the space and comfort you need. 
Elsewhere, the wall-mounted design keeps this one strong and sturdy for added safety and support, while the inclusion of Monster Lite J-Cups, detent pins and a quick-attach pull-up bar all help you to adapt this one to whatever exercise you choose to do.
Pros:
Made in the USA
Only takes up 5″ of space when stowed away, ensuring maximum space efficiency
Uses heavy-duty 11 gauge for optimum durability.
Cons:
Very expensive price tag
May not be suitable for users over 6'2″.
4. CAP Barbell Power Rack Exercise Stand
Specifications:
Dimensions: 46″ x 50″ 85″
Weight capacity: 500 lbs 
Like Rogue, CAP have carved out an enviable reputation as one of the leading purveyors of high quality gym equipment, albeit at a typically much more affordable price. 
The CAP Barbell Power Rack Exercise Stand is a prime example of why the company is so well regarded. 
At a fraction under 7'1″ in height, it's easily the tallest power rack we've looked at so far, making it a great choice for CrossFitters of a larger stature, and although the 500 lbs weight limit may be somewhat lacking for some, it should still suffice for most workouts. 
However, what we really like about this one is its strength and durability. The 11 and 12 gauge steel tubing is finished with a powder coat finish to ensure it remains tough, resistant and damage proof for years to come, all in all making it a very solid investment. 
Pros:
Available in 7 different color options 
Includes weight storage
Double-gusseted uprights for added stability and safety. 
Cons: 
Limited weight capacity may not be enough for more advanced users
Larger size can take up a lot of room in a home gym. 
5. Rogue RML-490C Power Rack 3.0
Dimensions: 49″ x 49″ 90″
Weight capacity: 1,000 lbs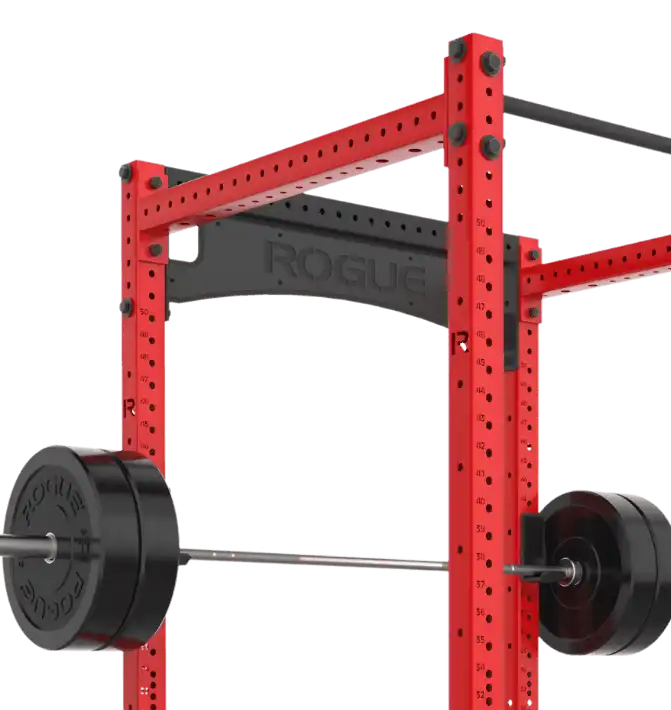 Yes, Rogue are at it again, this time with another high-quality, high-performance model in the form of the Rogue RML-490C Power Rack.
This one would have ranked much higher in our list were it not for the incredibly expensive cost which may put it out of the reach of many home gym owners. 
Still, if you've got the budget to spend, you'll find that the RML-490C delivers remarkable value for money. 
Not only is it incredibly well-built here in the USA with premium grade 3×3" 11-gauge steel, it also includes all of the features and accessories you'd expect from such a top-of-the-line model. 
A 43″ pull-up bar, Monster Lite J-Cups, resistance band pegs, and pin/pipe Safeties are all present and correct here, and if that's not enough, you'll find that the RML-490C is also fully compatible with a range of attachments and accessories so that you can really take your work out to the next level. 
Pros:
Comes in 12 different color designs
Uprights come numbered for easier use
Comes with lifetime warranty. 
Cons: 
Expensive
Difficult to assemble. 
Power Rack Benefits
So now that you about some of the best power rack options for CrossFit workoutss, let's discuss the benefits of the structure and why you need one.
To start, a power rack is convenient.
Whether you train in a gym, box, or your garage a power rack is a centerpiece. You can build an entire regimen around this one piece of equipment and workout alone without sacrificing load or technique.
A power rack utilizes free weights which uses both primary and stabilizing muscles for increased strength and movement effectiveness. This is unique, as most safety workout equipment use cables and tracks which can deter full exertion of stabilizer muscles and reduce the strain on the primary muscle groups for a less effective overall workout.
In addition a power rack can host a variety of exercises ranging from pull ups, squats, bench press, shrugs, dips, ring muscle ups, etc, etc…
Power Rack Home Gym Exercises
Some of the most common movements done with a power rack include; pull ups / chin ups, bar press, bench press, shrugs, row, curls, dips, and squats.
You can also add additional accessories allowing you to perform ring muscle ups, ring dips, rope climb, speed bag, heavy bag, and more.
Here is a video showing some of these movements.
You Found a Power Rack for Sale…Read this first!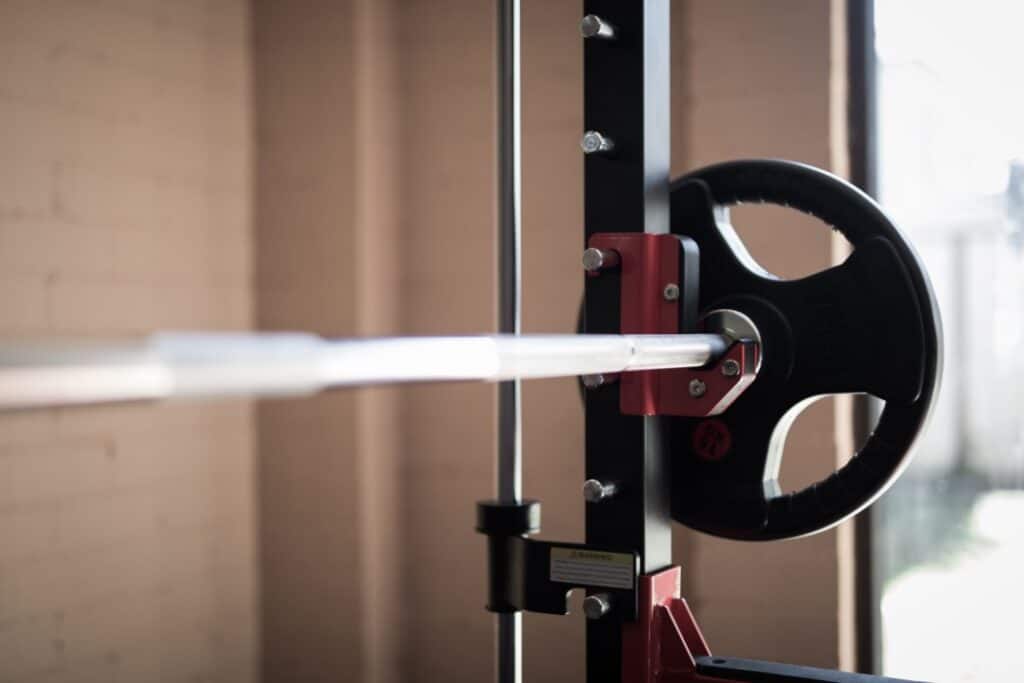 Power Rack Size
A power rack is a fairly large piece of free standing equipment that requires adequate room for the racks footprint, height, and corresponding weight and accessories.
A power racks footprint is simply the width and depth measurements of the structure, however you are going to need a space with at least a width of 9 feet if you plan on using a standard size Olympic barbell (7ft bar with 1 ft spacing on each side to add/remove plates).
Height is something else to consider as most racks are 7 to 9 feet tall and if you plan on doing pull ups you are going to want about a 12 inch clearance for your head.
If size and space are a limiting factor don't be discouraged because you can always go with a folding power rack.
A folding power rack is a wall mounted unit that secures directly into your wall studs, they fold away easily when not in use to maximize your floor space.
Most folding racks have catch bars or j hooks and a pull up bar to allow for the same exercises as a traditional power rack, with the only downside being that these do not have nearly the same weight capacity of a traditional rack.
Weight Capacity
When considering the weight capacity of a power rack you will really want to think about what you will be using it for today and in the future.
If you're getting the rack for general fitness and are looking to maintain 200 lb squats you're probably safe going with a basic entry level rack. If you do however already lift heavy, plan to increase weight, or power lift, you will want something with a higher weight capacity.
Weight capacity starts around 300 lbs and can go up to support weights higher than 1000 lbs.
Power Rack Safety
A major benefit of using a power rack is the safety it provides for lifting, with that being said it's important to make sure your rack is safe as well.
To start it's important to remember that a power rack may have welded pieces but the structure is ultimately held together with nuts and bolts, so make sure these are tight and secure.
Beyond nuts and bolts using the safety catch bars or j hooks properly will be the most important thing for lifting safety, but stabilizers and anchoring are just as important when lifting heavy or doing additional movements such as pull ups.
Anchoring your power rack or purchasing a rack with a stabilizer will ensure your structure stays stationary when dropping heavy weight or doing exercises such as kipping pull ups.
Stabilizers are a good idea, but for most people they just seem to get in their way, so if buying a unit with a stabilizer make sure it lays flush with the ground or is removable.
For the best results and if using a commercial rack or completing kipping pull ups or ring movements, anchoring your rack to the ground is the best way to prevent rack movement.
Not every model can be anchored so it is important to check out the features before purchasing. Once you know you can anchor your unit you will need a masonry drill bit, an impact gun, and some anchor screws to complete the job.
Safety Bar Spacing
A power rack's safety bar hole spacing is the distance between the hole used for safety bars or j hooks. Ideally, the closer the holes, the closer you can set your safety bars in relation to your lifting height for heavy movements.
Safety bar hole spacing can range from 1 inch apart to 4 inches apart depending on the rack, with some common spacing configurations to look for.
The less expensive more basic racks will have a 3 to 4 inch hole spacing, which is completely acceptable for most people. Whereas higher end units use a 1 to 2 inch spacing; a 1 inch spacing throughout the center for bench pressing, called Westside barbell spacing and a 2 inch spacing on the upper and lower parts of the posts for squats and presses.
Power Rack Pull Up Bar
Almost every power rack is going to have a pull-up bar or two, this is an often overlooked feature but something we recommend considering.
Pull up bars come in different diameters, textures, and designs, but we recommend staying basic with limited variation.
The most sought after bars are smooth textured, straight, fat and skinny bars. The smooth texture will allow you to add tape for grip or leave untouched, the fat bar focuses on grip strength, and the skinny bar focuses on core back muscles.
Bench Press in Power Rack
The adjustable weight bench, barbell, and weights are almost as important as the power rack itself.
The width and depth of your power rack will determine the weight bench you get as you will need to ensure you have room to get in and out of the structure and that the adjustable incline and decline aligns within the racks safety hooks spacing.
Also, depending on the power rack you may use an Olympic barbell or a short barbell, steel plates or bumper plates, and so on.
Power Rack Accessories
There are several power rack accessories ranging from band pegs, parallel and stall bars, ring and rope attachments, weight and bar storage, speed and heavy bags, wall ball targets, and more.
The main thing to consider with your power rack is if the accessories you want are available or compatible with that rack. If you want weight storage but it's not part of the rack and there are not add ons to equip with storage, you may want to consider other options.
Power Rack Cost and Quality
Of course everyone wants an inexpensive high quality rack, but it's worth considering what that means when making that purchase.
If durability and quality are what you're looking for than you should plan on spending between $500 – $1000; getting a power rack made in the US, with high quality steel, a warranty, from a trusted brand such as Rogue.
Now if you're  wanting to keep the cost down and extended durability is not an issue, the great news is that you can still get a great rack for $100 and up. You won't get the same steel, attention to detail, or customer support, but you will still have some solid options.
Shipping
Once you have identified the power rack that meets all of your wants and needs you will want to look into how it's shipped and shipping costs.
Will the rack be shipped in several small pieces that you have to assemble or does it come in a few welded pieces?
If in several pieces are you going to assemble or hire someone to put it together, if it's in a few large pieces are you going to be able to fit it through doorways or training space?
Once you know how it will be shipped you will need to know how much it will cost.
Check shipping cost before ordering as you may end up spending as much on shipping as you do on the power rack itself.
Luckily, most of the power racks on Amazon offer free shipping.
DIY Power Rack
There are countless DIY homemade power rack plans out there…but unless you are well versed in this area of expertise, just buy one.
A power rack is designed with safety in mind, these structures have been tested, and reviewed to keep you informed, provide a peace of mind, and save you time.
Don't risk it, spend the money and stay safe.
Decision Time
You now have all of the information you need to make an informed decision and get the best power rack for your needs.
You know why you need a power rack, things to consider for purchase, and have seen several highly rated options.