Talk to your CrossFit buddies about the best air bike to add to your home gym, and it won't be long before the Assault Bike vs Echo Bike enters the conversation. 
Both have earned a reputation as two of the most popular gym bikes on the market, earning rave reviews for their superior quality, expert design, and a whole plethora of features that make them ideal for customizing your home workouts. 
Still, while that may mean you've got two excellent choices to choose from when it comes to buying a new bike, you've only really got the room, and the budget, for one.
So which one is it going to be?
Our Pick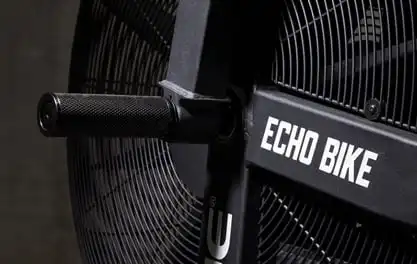 Rogue Echo Bike | Rogue Fitness
An essential piece of CrossFit endurance and conditioning equipment, the Echo bike offers unmatched stability.
Buy Now
We earn a commission if you make a purchase, at no additional cost to you.
To help you decide, we put both through their paces and compared the pros and cons of each one. You'll read exactly what we discovered and which air bike is best in our Assault Bike vs. Echo Bike head-to-head review below. 
The Main Differences Between the Assault and Echo Bikes.
The main differences between the AssaultBike Classic and the Rogue Echo Bike are: 
The Echo Bike is belt-driven, whereas the Assault Bike is chain-driven
The Assault Bike's seat has limited forward slides, whereas the Echo Bike has limited backward slides.
The Echo Bike is more responsive and takes less time to wind down after use, whereas the Assault Bike takes longer to wind up and wind down.
The Assault Bike has low, narrow handles, whereas the Rogue Echo has high, wide handles. 
The Rogue Echo boasts a weight capacity of 350 lbs, whereas the Assault Bike only has a capacity of 300 lbs. 
What is the AssaultBike Classic?
For years, the Assault Bike was the go-to air bike for anyone who took their training seriously. 
Set into any CrossFit box, public gym, or home workout space, and the chances are that if you saw an air bike, you saw an Assault Bike. 
After the Echo came along to challenge its dominance as the most popular bike, the Assault's designers gave it an overhaul and rebranded it as the AssaultBike classic. 
Like most bikes of this type, the Assault features handles that move back and forth as you pedal and a high-powered fan that provides all the resistance you need to up the intensity. 
Users of this particular bike praise it for being the best model out there for accurately measuring RPMs, calories burned, and other vital statistics, as well as being one of the easiest bikes to use, making it just as good for beginners as it is for those far advanced in their training. 
AssaultBike Classic Dimensions: 
Weight: 95.64 lbs
Length: 50.95″
Width: 23.34″
Height: 50″
Recommended Maximum Weight Capacity: 300 lbs  
What is the Rogue Echo Bike? 
The Rogue Echo Bike has been around nowhere near as long as the Assault Bike, having first hit the market just a few years ago in 2017.
However, it made an immediate impact thanks in no small part to the Rogue brand's outstanding reputation in the CrossFit and fitness communities. 
Whether they're turning their hands to barbells, bikes, power racks for CrossFit, or just about any other item of workout equipment you can think of, the company always excels and creates some of the most superior quality products on the market. 
In doing so, they've built up the kind of loyal fan base that few other fitness brands can match, and it was this fan base that helped make the Echo an early and enduring success.
Still, the bike's popularity isn't simply down to blind loyalty. It's an excellent product in its own right. 
Those who prefer the Echo praise it for its "overbuilt" design, meaning it's a big, bulky model with a substantial size that lends it a superior level of stability. If you've ever tried going full-bore on a lesser-quality bike only to find that it starts to rock and wobble, you'll no doubt appreciate what a difference this added stability can make to your workout.
Rogue Echo Bike Dimensions: 
Weight: 127 lbs
Length: 58-⅞" 
Width:  29-⅞" 
Height: 52.75" 
Recommended Maximum Weight Capacity: 350 lbs  
Assault Bike vs. Echo Bike: Head to Head Comparison 
With all that being said above, top-notch stability isn't the only thing the Echo has going for it, nor is accuracy the only thing the Assault Bike is known for. 
Below, we'll compare the key features of each bike to help you decide which one is worth spending your hard-earned money on. 
Size and Weight
Make no mistake about it; the Rogue Echo Classic is the bigger of the two bikes, standing a good few inches taller, longer, and wider than the Assault.
Placed in your gym, it will take up 44.5" x 23.75" of space compared to the Assault's 41.5″ x 23.3″ footprint. 
As you can imagine, there are pros and cons to this. 
If space is at a premium in your home gym, then the Assault's smaller stature may work better for you, ensuring you can fit it in comfortably while still having room to maneuver around the perimeter of the bike. 
However, as we've already discussed, the Echo's substantial size does provide enhanced durability, support, and stability, with the extra-wide feet, in particular, meaning you never have to worry about the bike toppling over once you hit your stride. 
Of course, weight is just as important. 
At 127 lbs, the Echo is over 30 lbs heavier than the 95 lbs Assault Bike. 
Again, this helps keep the bike firmly on the ground and improves stability, but it also means that it will be much more cumbersome to move around. 
Sure, a measly 30 lbs may not be a big deal to some heavy-duty CrossFitters, but let's be honest:
Having a lighter bike will make your life easier if you need to move it from place to place. 
Weight Capacity 
Closely related to size and weight are the maximum recommended weight capacities for each bike. 
As you've probably already known for yourself, the weight capacity of any piece of gym equipment is an essential factor in determining whether or not the model you're thinking of buying is strong enough to support you. 
However, with both of these two bikes, that shouldn't be a major issue. 
The AssaultBike comes with a sizable 300 lbs recommended weight capacity, which should be more than sufficient for most users. However, if you are a larger-bodied user or simply want the extra peace of mind of a larger weight capacity, the Echo's 350 lbs weight limit wins this round.
Assembly
The assembly process is often overlooked when it comes to buying new equipment for your home gym, but it's almost as important as everything else.
After all, having made your purchase, the last thing you want to be doing is spending hours of your day going through a complicated assembly process when you'd much rather be hopping on your bike and getting stuck into an intense workout. 
Fortunately, both bikes are pretty straightforward to put together, and there isn't much of a clear winner in this particular round. 
The Assault Bike does come partly assembled with all of the nuts and bolts already fitted into place. If you've ever had the hassle of having to fish around in a loose bag to find the perfect bolt for the right part (and risk losing a rogue piece or two!), you'll likely appreciate this as much as we did. 
Thanks to clear instructions and the inclusion of all the necessary tools, the remaining assembly process should take a newcomer no more than 45 minutes, though a more experienced pro may be able to knock it together much faster. 
Likewise, the Rogue Echo comes with simple-to-follow instructions and a complete tool kit so that you don't have to go hunting around for that missing Philips screwdriver before you start assembly.
Where the Echo triumphs over the Assault is that the average assembly time is only around 20-25 minutes, meaning you'll get to try out your new kit much faster.
On the downside, however, it's nowhere near as pre-assembled as the Assault nor are the nuts and bolts already attached, meaning you will have a few more steps to take. 
While all of the above may influence your final decision one way or another, you're really not going to have much trouble with one bike than you would with the other. 
Drive Method 
Where the Assault Bike and Echo Bike really begin to differ is in the way that each one operates, with the latter using a belt-driven approach to powering your bike versus the chain mechanism used by the former. 
Personally, we prefer the belt-driven system used by the Echo, which isn't too dissimilar to the kind of belt you may find in your car.
There's a couple of reasons for this. 
First of all, a belt is typically much quieter and smoother than a chain, meaning you don't have to worry about a noisy, clunky performance while you're busy trying to get a sweat on. 
Then there's the fact that belt-driven bikes tend to be much more responsive than their chain-driven counterparts. 
With a belt, the fan mechanism kicks into play the split second you start turning the pedals and stops again the second you stop, making for an all-round improved performance. 
Finally, it's important to note that belts require far less maintenance than chains. 
Opt for the Assault Bike, and you'll find the kind of chain that you'll no doubt be familiar with from a standard bicycle. While that isn't bad in itself, it will require regular oiling, tensioning, and all-round TLC, which for some people can be a major pain in the proverbial. 
What's more, the chain may make an audible clicking sound and give off some level of vibration as you pedal, meaning it's nowhere near as smooth. 
On the upside, all that maintenance -plus the fact that chains can be fully adjusted- often means that they last much longer. 
Once a belt starts to stretch, you'll need to replace it, and that can be something of a costly, time-consuming hassle, whereas, with a chain, you can simply adjust it and keep on keeping on. 
Still, while a chain may be more durable, the fact that a belt requires practically no maintenance and delivers a smooth, near-silent performance does mean that we have to give this round to the Echo. 
Measurements 
After falling short in the last round, the Assault Bike makes a pretty impressive comeback in terms of measuring and monitoring your workout. 
After getting your bike all set up and ready to ride, you may want to track and monitor statistics such as your distance, watts, and how many calories you've burned. 
To be fair, both the Assault and the Echo do a good job of this. 
The Assault Bike tracks all of the following:
Watts
RPM
Calories
Heart Rate 
Distance
Time 
Odometer 
Interval Training (Tabata and custom).
Meanwhile, the Echo Bike will only allow you to keep tabs on:
Time
Distance
Calories
Interval Training (20/10, 10/20, or custom).
In its defense, the Rogue Echo does come with an option to track your heart rate via its LCD panel, though it doesn't include the necessary heart rate transmitter to send data to your bike, so you'll have to buy that separately. 
Where the Assault Bike also comes into its own is in terms of accuracy. 
The Assault Bike is well known for avoiding "Ghost Riding," a phenomenon that occurs when the momentum of your machine means that it continues to count calories, distance, and time even after you've stopped pedaling.
While there may always be some minor discrepancies when it comes to monitoring and measuring your performance, the Assault's greater degree of accuracy in all performance metrics makes it a better choice for those who take their workout tracking super seriously.
Adjustability 
There are few things worse than spending hundreds of dollars on a brand new airbike, only to find that it's incredibly uncomfortable and just doesn't support your body in the way you need it to.
The good news is that both the Echo and the Assault deal with this by offering a great deal of adjustability so that you can customize your setup to best suit you. 
The Echo offers five adjustable seat positions, although moving to each new position generally means moving the seat backward. If you want to move your seat forward a fair deal, you may find that you're out of luck. 
The bike also offers eight different seat height adjustments, which does provide some flexibility. On the downside, the fact that the Echo's handlebars tend to be on the high and wide side, lowering the seat to the smallest height setting may mean that you struggle to comfortably grip the bars. 
In other words, if you're a person of shorter stature, you may find the colossal Echo isn't quite the right bike for you. 
On the other hand, the Assault Bike certainly does a good job here. 
The seat has more horizontal adjustment settings (8 compared to the Echo's five), though these are back-to-front rather than the front-to-back design you get with the Echo. As such, it's great for sitting closer to the handlebars but not so ideal if you prefer to sit further away. 
Meanwhile, the 8 vertical adjustment settings are on a par with the Echo, and since the handlebars are lower, smaller users are going to have a much easier time getting the most comfortable setting.
Frequently Asked Questions About the Assault Bike and Rogue Echo Bike 
Is the Rogue Echo Bike worth it?
In our estimation, yes, the Rogue Echo Bike is absolutely worth the cost thanks to its superior stability, excellent construction quality, and smooth, quiet performance. 
Why is an Assault Bike better?
The Assault Bike is better than other bikes like the Rogue Echo in terms of accurate measurements, adjustability, and durable chain. 
Is the Echo Bike harder than the Assault Bike?
The Rogue Echo has a reputation for being harder to ride than the Assault Bike, as the belt-drive system means that it takes longer to rev up and get going. That said, seasoned gym veterans should have no problem getting this one going. 
Assault Bike vs. Echo Bike: Which is Better? 
If you've read our head-to-head comparison, you'll no doubt understand why the Assault Bike vs. The Echo Bike debate continues to rage on with no clear conclusion. 
Both bikes are incredibly well made and offer everything you could want from a quality airbike and then some. 
Still, that doesn't exactly help you if you're trying to determine which one to buy.
If you want our final recommendation, we say go for the Rogue Echo Bike as it's far more sturdy, stable, and generally more durable than the Assault Bike, not to mention being practically maintenance-free and offering the smoother, quieter performance out of the two. 
However, that's not to say that the AssaultBike Classic should be ruled out altogether. 
After all, while the Echo's larger size may be good in many respects, it also means that it's not so good for smaller-bodied users, so if you're somewhat on the short side, you may find the Assault Bike better.
Speaking of size, the fact that the Assault Bike is smaller also means you need less room to use it, which makes it perfect for those with limited home gym space.
Finally, we do like that the Assault Bike offers more accurate measurements, though again, the belt-drive system, number of options and features, and all-around quality make the Echo our favorite.