Searching for the best leggings for CrossFit can be challenging. You need something that provides support and flexibility so as not to make you feel encumbered during your WOD routines.
In earlier posts, we've covered essential women's CrossFit apparel including sports bras, shorts, and shoes. But leggings are perhaps the most quintessential piece of women's fitness apparel.
If you're into CrossFit, or pretty much any other fitness or movement program where clothing needs to be comfortable, durable, flexible, and stylish, the following options are worth a look.
Keep on reading to learn more about our picks for the best leggings for CrossFit you can find online right now.
The Best Leggings for CrossFit
The best leggings for CrossFit are highlighted in this article due to their overall value and quality.
Specific aspects we looked at include quality of the materials, comfort, moisture-wicking, reviews and feedback, along with extra features like pockets or supplemental material and fit.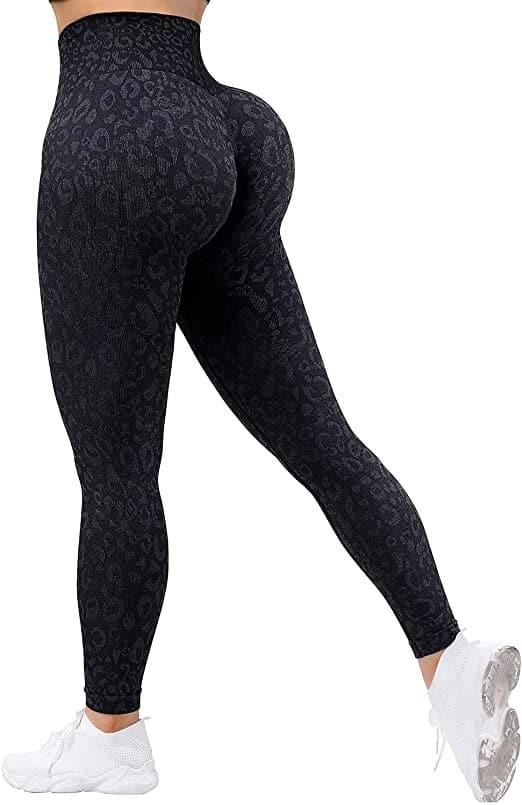 The leggings from Doulafass are made from polyester and nylon. They are high-rise seamless workout leggings that support you at all times.
The support is provided by the wide ribbed waistband that ensures you don't have to worry about a muffin top. This workout legging also has a tummy control design that provides a more streamlined and flattering look.
The nylon and spandex blend presents a stretchy and lightweight fabric. The 4-way stretch design ensures that at no point in your workout do you feel restricted. You get moisture-wicking capabilities to keep you cool even during and after the most intense WOD.
When you wear these leggings, you can be assured of your privacy, as while the material is lightweight, it isn't sheer. This means it doesn't become see-through when you bend or flex. It has a ribbed design that molds the leggings to your body, making it perfect for just about any physical activity.
You can purchase the Doulafass women's camo leggings in 25 different configurations. These leggings come with a ribbed butt lifting design for those who want to look great while working out. This ensures that your curves are accentuated and your butt pops.
Furthermore, these leggings are squat-proof, ensuring that you don't have to worry about any rips or tears when you do squat.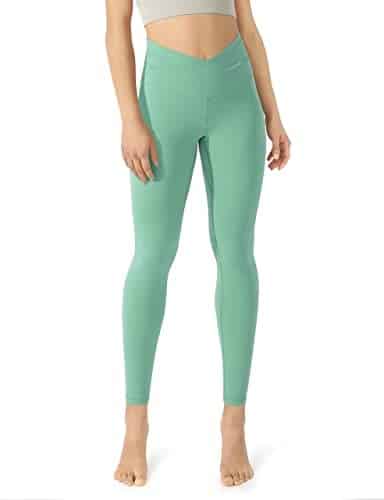 The Ododos Women's Cross waist leggings embody the stressless activewear philosophy of the company. They claim that you should be able to use their activewear for your exercises and your everyday use.
These CrossFit leggings are luxuriously soft and extremely flattering. They have a gathered and cross waist design that accentuates curves. This design, combined with the wide waistband, helps prevent roll down. Inside the waistband is a hidden pocket that you can use to carry the essentials.
The fabric is a 4-way stretch fabric that has been created to contour, smooth, sculpt, and lift whenever you move. These cross waist leggings provide the right balance of stretch and firmness.
According to Ododos, it doesn't matter if you are headed to the gym, out to the shops, or for brunch; these leggings are extremely comfortable.
Asides from being perfect for jogging, yoga, biking, CrossFit, and any other type of workout, they are:
Lightweight
Breathable
Moisture-wicking
Quick dry
Buttery soft
4 way stretchy.
These CrossFit pants are constructed from high-quality ODLEX Interlock Fabric. This fabric blend utilizes double knit technology to provide more stability and firmness. They are non-see-through, ensuring they remain opaque even when flexing and bending.
The 4-way stretch helps you move with more freedom compared to other leggings on the market. Moisture-wicking capabilities ensure you remain cool no matter how intensive your WOD is. The fabric has been designed to perfectly contour your body, providing you with a streamlined look.
You can get these leggings in two variations:
Solid :72% Polyamide, 28% Elastane or 76% Polyester, 24% Spandex
Pattern:76% Polyester, 24% Spandex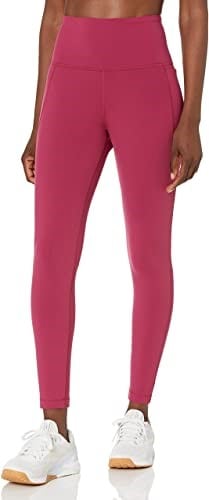 These Reebok Lux High-Rise Leggings have been specially designed for CrossFit athletes. They are compression leggings that have a high waist to prevent rolling. Thanks to this high waist legging, you never have to worry about needing to readjust while working out.
They are made using moisture-wicking materials to ensure you remain comfortable and dry even during the most grueling CrossFit WOD. You can enjoy the convenient media pocket located on the side for added capability.
Athletes on the shorter side might find that these leggings fit more like 7/8 leggings rather than a Capri. These Reebok CrossFit leggings are true to size, so you should have no problem getting your actual size. Nevertheless, some athletes might consider getting a side down to benefit from improved compression.
The materials used to make these gym leggings are extremely durable and capable of handling an intense workout. That being said, Reebok doesn't provide a squat-proof guarantee, so if you do a lot of Squat WOD, you might want to look elsewhere.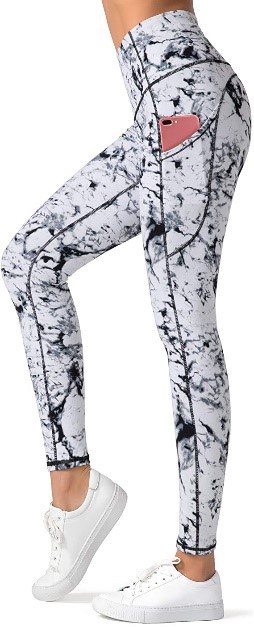 While the Dragon Fit high-waisted leggings are marketed as yoga leggings, numerous CrossFit athletes can use them as a price-friendly choice.
They come in a variety of lengths and styles. Wearing these leggings is quite comfortable due to their breathable fabric design.
They are very effective as workout leggings, thanks to their form-fitting design. This design enables them to move along with your body while also being roll-proof and squat-proof.
The soft fabric ensures that these athletic leggings are extremely comfortable; however, you should note that they can be quite susceptible to damage.
These leggings are great for some athletes; however, if you plan to engage in intense WODs which will make you sweat heavily, you might want to find other CrossFit leggings that offer moisture-wicking capabilities.
Another thing to note is that while these leggings are fitted, they might lack compression to some. They make a great pair of CrossFit leggings for those that want something on a budget.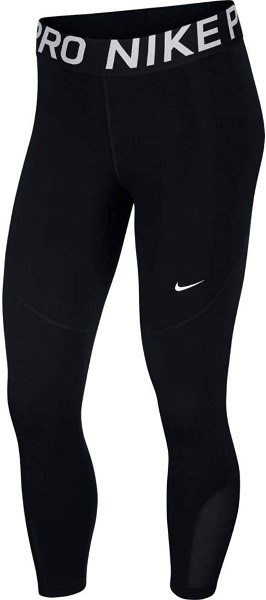 The Nike Pro Crop Tights are among the best Nike compression tights available. They offer a blend of spandex and polyester, promoting moisture-wicking and durability. There are mesh panels at the back of the legs to ensure you remain cool even during the most challenging and intense WODs.
Nike is known for its high-quality manufacturing in its sporting line, which is evident with these CrossFit leggings.
The elastic waistband helps to provide a snug fit without feeling restricting. This design makes these leggings great for those with a muscular build. The Nike Pro Crop tights are lightweight, fitting like a second skin, making them great for endurance training.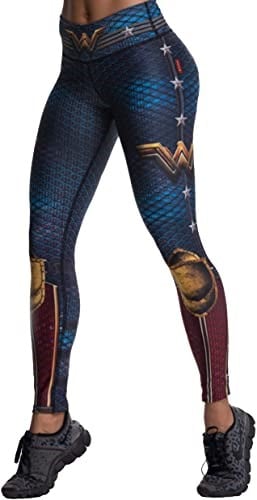 The Drakon Many Styles of CrossFit leggings are available in 14 different configurations. You can get everything from Wonder Woman and Spiderman to Superman and Iron Man.
These leggings are made from 100% spandex, and while spandex is usually a thin material, these CrossFit leggings are incredibly tightly women and thick. This design ensures that they are completely square-proof.
You should note that these leggings might be too tight for some due to the level of compression. So, it might be necessary to go a size or more up to feel comfortable. While it is easy to believe the superhero prints are the only feature these leggings have, that isn't true.
These CrossFit leggings offer one of the best compression levels on this list. The thick waistband and high waist help prevent rolling, ensuring that these leggings remain comfortable, especially during intense workouts. One thing to note is that these leggings are the best at moisture-wicking, but it does help keep athletes dry.
If you are searching for leggings that come with pockets, you are out of luck with these CrossFit leggings from Drakon. Nevertheless, they are quite durable, and you won't have to worry about them fraying or losing their luster in the washing machine.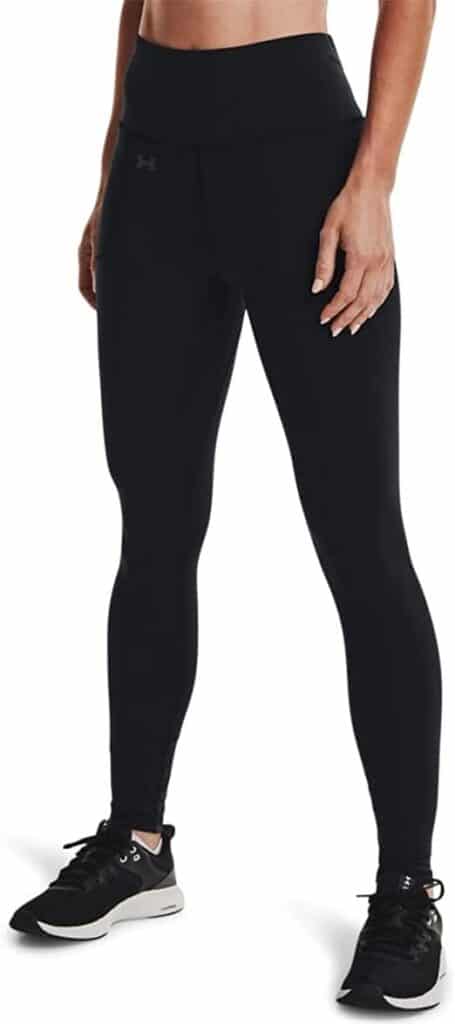 The Under Armour Women's Motion leggings have been created for just that motion. They have been designed to offer stability and flexibility while you move.
These Motion leggings are constructed using thin, lightweight elastane and polyester. This makes them feel more like tights than leggings. They are quick-drying and moisture-wicking, which, coupled with antimicrobial elements, help them prevent the nasty post-workout smell that comes from keeping your gear in a gym bag.
These CrossFit leggings are ankle-crop length which helps with temperature control. The added compression feature ensures that these leggings move with you during your workouts.
You get a 4-way stretch construction to ensure that every move you make in these leggings feels natural. The waistband is flat and wide to prevent rolling down when you move from your hips. You also get a side drop-in pocket that can store anything from keys to your phone.

These CrossFit leggings from ColorfulKoala are extremely versatile. They come in an array of patterns and colors for you to select from. The lineup is also regularly updated, so you can expect new configurations.
These leggings are made using a spandex and polyester blend, which provides light compression without the telltale restriction. You should note that these CrossFit leggings do not come with pockets, so you might want to look elsewhere if this is a requirement.
Nevertheless, you get a high-waist that has been designed to prevent rolling. There are some things you should be aware of about this brand.
For one, the sizing is not accurate, so you might have to pick a size slightly larger size if you are in doubt. That being said, you never have to worry about sheerness when you squat.
You should also be aware that not every Colorfulkoala leggings are actually from Colorfulkoala. The company has experienced problems with fake companies using their images and name. You must do your due diligence when buying leggings. Ensure that you only purchase directly from the original manufacturer.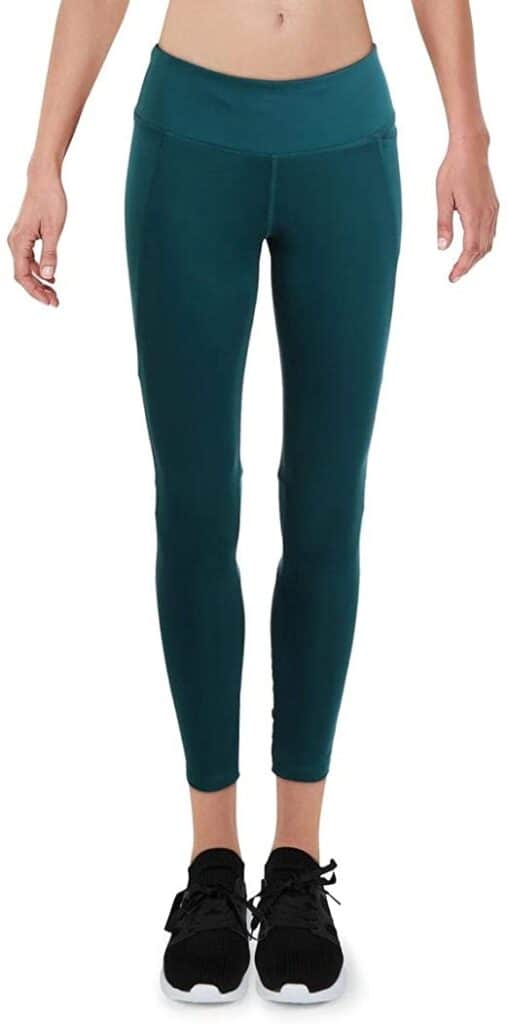 Reebok is a long-time sponsor of CrossFit, so it would make sense for it to make perhaps the best leggings for CrossFit. The Lux Bold tights from Reebok further buttress this point.
These CrossFit leggings are constructed from a spandex and polyester blend, which appears to be held together with flat seams. The flat seams help to prevent discomfort from compression and indentation.
While the waistband is low-rise, it is sufficiently wide to prevent rolling while training. The Reebok Women's CrossFit Bold Tight also comes with additional features to make them stand out. For one, they have flatlock seams to provide comfort. The V-shaped flatlock seams are placed at the hips to enhance movement and give a flattering fit.
You can also find a top-entry media pocket on the left side, which is large enough to store a phone. The pocket is designed in a way that doesn't impede movement, so you don't have to worry about not being able to do a workout without your phone getting in the way.
These tights have been constructed with recycled polyester. This helps to decrease emissions and save resources.
You can purchase these CrossFit leggings in four colors and patterns, making them extremely versatile. They can be a great investment as you can wear them during your WODs or even on a rest day.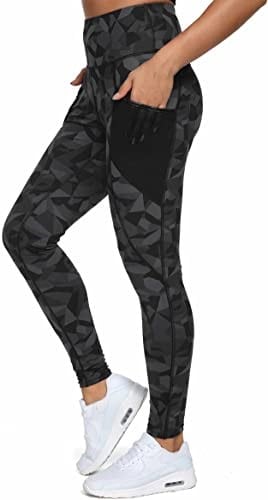 The QUEENIEKE brand of compression pants has been designed for individuals serious about fitness. Since it is originally designed for yoga, it acts like a second skin creating a snug but flexible fit. It has a hidden waist pocket that enables you to store your phone or card while working out. It also comes with a functional side pocket that is large enough to store your keys, phone, and other everyday carries.
You get a high elastic waist which provides adequate tummy control, ensuring that the leggings don't fold over while you workout.
These compression pants have been constructed with soft and elastic fabric to ensure you have unrestrained movement when working out. They offer a bit of compression to ensure your blood keeps circulating, thereby limiting inflammation and pain while engaging in a tough WOD.
The Queenieke yoga pants come in 25 patterns and colors, ensuring that you can find a style that suits your personality. You can choose from winter white leopard print and sika deer print to green and pink.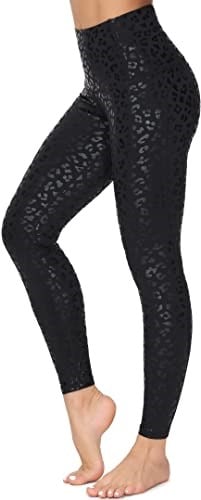 When it comes to training attire, you really can't go wrong with these CrossFit leggings from Dragon Fit. These CrossFit leggings are made using a blend of spandex and nylon materials, ensuring that you get durability during your use.
The stretch material offers ample coverage during squats and compression without your movements being restricted.
Furthermore, it comes with a fitted waistband that helps prevent slippage. This feature means you don't have to continuously adjust your leggings while you train. As the name implies, these leggings offer compression, which is great as it feels like a second skin.
You can get these Dragon Fit leggings in various patterns and colors to suit your individual style. The waistband has an elastic closure that enables you to store your keys or small change while you work out.
These leggings are sold with a 100% satisfaction guarantee. This means that if you are not satisfied with the leggings, you can get your money back. This offer is only valid for 30 days, however.
Best leggings for CrossFit: Buyers Guide
When it comes to shopping for the best leggings for CrossFit, there are a few features you need to watch out for. The first feature to pay attention to is the material.
The best leggings for CrossFit are usually made from high-quality breathable material. The material also needs to be moisture-wicking as this characteristic helps with humidity and temperature control during your workouts.
Temperature control can also be an invaluable feature to have during cold-weather workouts as it helps keep you healthy and safe while you smash your goals. The material should also be squat-proof, enabling you to do squat workouts without fear of rips or tears.
Your CrossFit leggings should be made with thick and closely woven fabric that doesn't become sheer when it is stretched. There should be no signs of fragile elasticity or piling. Remember, the best leggings for CrossFit also fit like a second skin.
More importantly, your chosen leggings should be comfortable. Leggings with high-waist compression features can help prevent roll-downs when you engage in hinging movements. The best leggings for CrossFit should not be a source of distraction.
Finally, when searching for the best leggings for CrossFit, you need to select a style that appeals to you and fits your personality. You can have features such as drawstrings or additional pockets to enhance your comfort if you need them.
The Best Leggings for CrossFit: Conclusion
To have a great workout, you need to have the right gear. The right gear in this context means investing in the best leggings for CrossFit.
The leggings you select need to feel comfortable. You should also be able to wear them without readjusting them every couple of minutes. When it comes to excelling at WOD, that time lost can make all the difference.