Choosing the best CrossFit gloves is an important decision that anyone serious about the sport will inevitably have to make at some point. 
Designed to help protect your hands from calluses and avoid the kind of blisters and sore spots that are often an unwelcome byproduct of this form of exercise, a good pair of gloves prove to be a CrossFitters best friend over the years. 
Yet while buying a pair may be a no-brainer, choosing the right pair isn't always such a straightforward process.
With so many different options, styles, and material choices to pick from, how exactly are you supposed to know which is the right pair for you?
If that's the dilemma you're facing right now; this guide is designed to help. 
Top Pick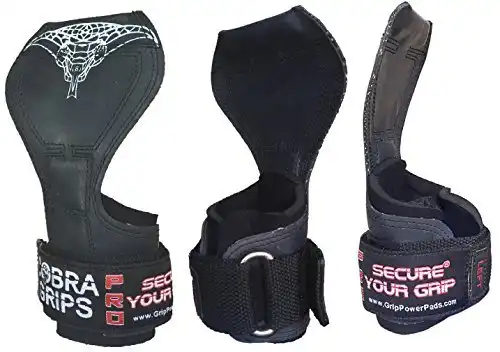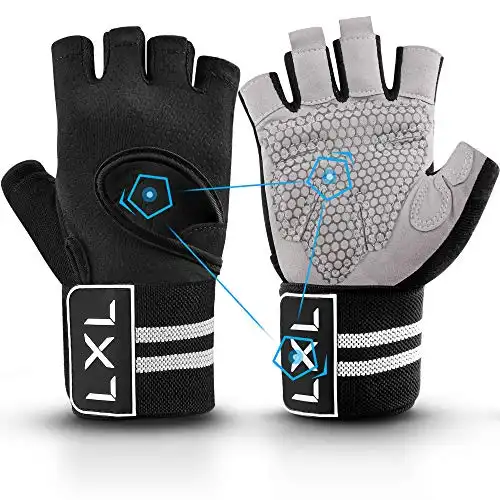 Budget Pick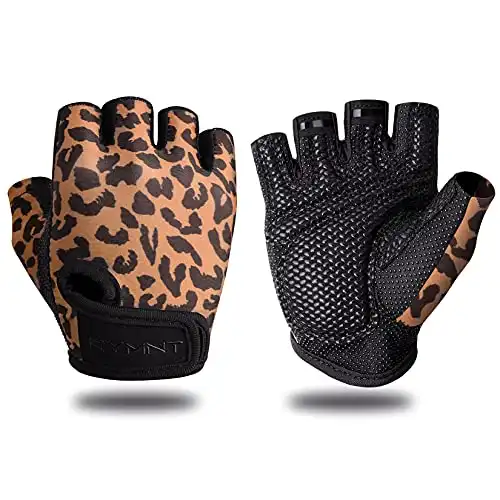 Below, we've reviewed 10 of the very best CrossFit gloves currently on the market today, as well as offering our complete buyer's guide to help you determine which gloves are best for you. 
Top 10 CrossFit Gloves in 2022
1. Cobra Grips PRO Weight Lifting Gloves
Specifications: 
Material: Neoprene
Hand orientation: Ambidextrous
Closure Type: Hook and loop
Put the Cobra Grips PRO Weight Lifting Gloves through their paces, and it quickly becomes apparent why these are among the top best-selling CrossFit gloves anywhere around right now. 
The comfortable adjustable wrist straps ensure that one size fits all, while the wrists themselves are fully protected with built-in wrist straps, eliminating the need to buy them separately.
Elsewhere, the neoprene material provides outstanding durability, ensuring that no matter how long you use them, you're guaranteed not to have to put up with the kind of wear and tear that you may get with lesser quality gloves. 
Beneath that outer layer of material, there's sufficient padding to deliver a tight, comfortable grip with zero chafings. 
Finally, the unique, Cobra Grip design helps to provide all the protection and support you need without covering your whole hand, allowing for exceptional breathability and minimal sweat. 
Pros: 
Available in 40 different design choices
Excellent wrist support
Fits wrist size from 4.25" up to 7.0" 
Cons: 
Very expensive compared to other cloves
It May take a while to set up a proper grip on a barbell
2. LXL Workout Gloves
Specifications: 
Material: Microfiber
Hand orientation: Ambidextrous
Closure type: Backstrap
If our number one pick doesn't quite do it for you, the LXL Workout Gloves may prove to be a very solid alternative. 
Not only are they significantly less expensive than the Cobra Grip gloves, but the simple backstrap closure types make it much easier to slip them on and off than you'd find with hook-and-loop type gloves. 
Still, those aren't the only reasons why these are some of the best CrossFit gloves around right now. 
The breathable microfiber material helps to keep your hands perfectly cool during even the most intense WODs, meaning minimal sweat and no post-workout smells. 
Beyond that, we're big fans of the ergonomic design, which features thick foam padding on the palms to maximize your grip and eliminate chafing altogether. 
Add in an attractive design that will compliment your most stylish CrossFit attire, and what you've got here is an excellent choice for any serious CrossFitter.
Pros: 
Fingerless design allows for breathability and easier grip
Strong in-built wrist support
Attractive price.
Cons: 
It can be a snug fit, meaning users should consider buying a size larger than usual.
Microfiber may not be as durable as other materials. 
3. ZEROFIRE Workout Gloves
Specifications:
Material: Polyester
Hand orientation: Ambidextrous
Closure type: Backstrap
If you're looking for the most uniquely designed CrossFit gloves, the ZEROFIRE Workout Gloves for men and women should definitely be on your radar. 
The gloves come in six different designs, including camo, Stars and Stripes, two different types of leopard print, and a very stylish tattoo-like design that just so happens to be our favorite. 
No matter which ones you prefer, you're guaranteed to stand out from the crowd the next time you head into your favorite CrossFit gym wearing these gloves. 
Still, we all know that looks aren't necessarily everything, and ZEROFIRE's signature gloves still have a lot to offer in other departments too. 
While the polyester material ensures a good combination of comfort and durability, it's the addition of a silicone anti-slip material and a high-density foam padding that we really like, both of which combine to prevent calluses and blisters while giving you sufficient grip when you reach for that CrossFit barbell. 
Overall, these are affordable, attractive, well-made gloves that would make a welcome addition to anyone's CrossFit kit. 
Pros: 
Backstrap design with removable pull tabs makes it easy to take them off after use.
It comes with a 100% money-back warranty
Comfortable fit.
Cons:
Lacks wrist support
Velcro tends to wear down faster than on other gloves. 
4. TriDeer Workout Weight Lifting Gloves
Specifications:
Material: Elastic mesh fiber
Hand orientation: Ambidextrous
Closure Type: Hook and loop.
The first thing we love about the TriDeer Workout Weight Lifting Gloves is that they deliver high quality at a pretty low cost.
Only our upcoming number five pick matches these It canin terms of price, yet the Trideers rank a little higher in all-around comfort and quality. 
The lightweight elastic mesh fiber provides excellent ventilation and breathability while at the same time allowing for free, flexible movements, meaning you get none of the restrictions that come with thicker gloves. 
Still, just because they're thin doesn't mean they don't offer a solid level of support. 
The palm side is layered with thick foam pads and an anti-slip silica gel to keep you comfortable, safe, and well-supported during your next WOD. 
All in all, if you're looking for one of the best pairs of CrossFit gloves for those on a budget, the TriDeers are well worth a look.
Pros:
Built-in 19″ wrist brace support
Features terry cloth on the thumbs to wipe off sweat
Available in a range of comfortably fitting sizes. 
Cons:
Not as durable as higher-priced gloves
Can be tricky to remove
5. Viomir Workout Gloves 
Specifications:
Material: Spandex fiber
Hand orientation: Ambidextrous
Closure Type: Hook and loop.
Like the Trideer gloves, these Viomir Workout Gloves are very attractively priced, making them another budget-friendly option for anyone trying to keep a tight rein on their bank balance. 
Aimed at both men and women, the gloves come in a choice of five sizes and two different colors, including a stylish pink and grey or the bolder black and grey combination. 
Looks aside, the breathable spandex fiber allows for a great level of ventilation and freedom of movement, while the addition of foam pads on the palms and a soft towel on the thumbs help you to maintain a comfortable, non-slip grip. 
Though some CrossFitters may prefer a pair of gloves with added wrist support if that's not an issue for you, you'll find a lot to like about these. 
Pros: 
Features adjustable velcro for a more snug, secure fit
Narrow wristbands mean you don't have to remove a watch
Fingerless design for added freedom. 
Cons:
It doesn't come with wrist supports
A small number of users report some of the print from the design runs off and temporarily stains the skin. 
6. MRX Weight Lifting Gloves for Men
Specifications: 
Material: Amara Leather
Hand orientation: Ambidextrous
Closure Type: Velcro strap
If you have your heart set on finding the best leather CrossFit gloves, the MRX Weightlifting Gloves for Men is well worth a look. 
The high-grade premium leather is double-stitched to provide maximum durability and resistance against wear and tear, ensuring that what you're getting here is a pair of gloves that are truly meant to last. 
Yet while some leather gloves can be a little rigid and inflexible, there's no such problem here. MRX has specifically designed these to increase flexibility so that you never have to worry about them restricting your training. 
Finally, the half-finger grip and non-slip design ensure you'll be able to take a firm hold of that bar and keep it held securely no matter how sweaty your workout may get.
Pros:
Available in six attractive designs
Features premium-grade wrist support
Hook and loop closure ensures a strong fit.
Cons: 
No towel on the thumb 
Leather material means they aren't as breathable as other gloves. 
7. Trideer Workout Gloves for Women
Specifications:
Material: Microfibre
Hand orientation: Ambidextrous
Closure Type: Hook and Loop
If you liked the last set of Trideer gloves we looked at, but you'd prefer a pair that is specifically designed for women's hands, the Trideer Workout Gloves for Women may be just the pair for you. 
These top-quality gloves are built to fit better the female hand, which is perfect if you find that other gloves just don't quite fit right no matter what size you wear. They're also built to accommodate wedding rings or other jewelry that you don't remove. 
The elastic mesh fiber provides a good level of flexibility and breathability, while the deep set foam pads built into the palms are a powerful protector against blisters and other painful damage, ensuring you get the same kind of quality and support that the Trideer brand is famous for.
Speaking of quality, it's also worth noting that these gloves are 100% vegan, making them a good choice for sustainability-conscious CrossFitters.
Pros: 
Hook and loop closure helps you adjust the gloves to your comfort level
Short wristband design ensures you can still wear a fitness watch
Comes with a 12-month warranty.
Cons:
Not machine washable
Sizes can be a little large, meaning lots of users have to order a replacement after first trying them out. 
8. Kansoon Breathable Workout Gloves
Specifications:
Material: Spandex
Hand Orientation: Ambidextrous
Closure Type: Backstrap
The Kansoon Breathable Workout Gloves are the perfect choice for anyone who finds that they sweat more than the average CrossFitter during their workout. 
The breathable spandex alone helps keep your hands cool and prevents those post-workout smells from stinking out your favorite CrossFit bag. 
Beyond that, the backless design offers further ventilation to ensure that no matter how hard you work, your hands are going to remain comfortable and that no amount of sweat is going to get in the way of a perfect grip. 
As if that's not enough, the addition of a soft towel construct on the rear of the thumb design is perfect for wiping down sweaty palms. 
While the lack of wrist support may be off-putting to some, this impeccable level of breathability and lightweight design does make them a great choice for dynamic CrossFit workouts, boot camps, and other exercises. 
Pros:
Includes foam-padded palms to protect against calluses
Features anti-slip silica gel for added grip
Snug-yet-comfortable fit. 
Cons:
No wrist-support
Limited color choices.
9. Rymnt Full-Finger Workout Gloves
Specifications:
Material: Polyester
Hand Orientation: Ambidextrous
Closure Type: Snap
Let's face it:
There are some people who just don't like the fingerless style of most types of workout gloves. 
If you're one of them, the Rymnt Full-Finger Workout Gloves may be the ones to go for. 
The full-length fingerstyle ensures that even the tips of your fingers lend these an exceptional level of versatility, meaning they don't just work well for CrossFit and general weight lifting but prove every bit as useful for cycling, rowing, general gym training, and other sports. 
What's more, it also ensures that even the tips of your fingers are protected against blisters, with the same premium material covering the entire hand. 
Moving towards the palms, where the worst calluses usually form, there's extra thick foam padding for extra protection and that all-important silica gel to ensure a solid, no-slip grip. 
Finally, we love that despite covering the fingertips, the gloves have been designed with modern users in mind, ensuring that they can still be used to control the touch screen on your phone or fitness watch without having to take off your gloves.
Pros:
Includes integrated wrist strap support
Features terry cloth on the thumb for wiping sweat.
Comes with a 100% money-back warranty.
Cons: 
Tend to be on the smaller side, meaning you may have to order larger than your usual size
Not machine washable. 
10. Harbinger Women's Power Weightlifting Gloves
Specifications:
Material: StretchBack Mesh and Leather
Hand Orientation: Ambidextrous
Closure Type: Hook and Loop.
Last but not least, we come to the Harbinger Women's Power Weightlifting Gloves, a seriously heavy-duty set specifically designed for women looking to take their lifting game to the next level. 
The hybrid construction of stretchback mesh and abrasion-resistant leather works flawlessly to provide everything you could possibly want in a glove, with the former delivering flexibility and breathability and the latter serving up optimum support and protection. 
While the design is somewhat basic compared to many of the other gloves on this list, aesthetic appeal is typically one of the last things people consider when choosing a good pair of CrossFit gloves, and it by no means takes away from its quality, comfort, and durability.
Pros:
Backless design improves ventilation
Thumb is double-layered with extra leather for added anti-abrasion protection
Features pull tab for easy removal.
Cons:
Lacks wrist support
Small size only fits hands measuring 6.5″ – 7″.
Choosing the Best CrossFit Gloves: Your 2022 Buyer's Guide 
So, you've seen what we believe to be the very best CrossFit gloves around in 2022, but you've also seen that a number of these gloves vary greatly from one another. 
Our top-ranked Cobra Grips PRO Weight Lifting Gloves, for example, are very different from the LXL Workout Gloves that came in at a very close second. 
So, with that in mind, how exactly do you determine which are the right pair of gloves for you?
To answer that question, we've put together the following buyer's guide, which outlines all of the key factors we considered when picking our top ten and explains how each of these factors may ultimately influence your decision as to which pair to buy. 
Material 
By far and away, one of the most important things we looked at was the kind of material each pair was made from. 
As you'll no doubt have noticed, CrossFit gloves are made from a wide range of materials, with leather, polyester, spandex, and various mesh fibers all proving to be the most popular. 
Leather material is perhaps the toughest and, therefore, most durable, meaning a good pair of leather gloves should last you a very long time, but they're not very breathable, meaning your hands are likely to get hot, clammy, and uncomfortable.
Leather gloves are not as flexible as other gloves either, meaning there's a chance they could restrict your hand movements while working out. 
On the other hand, spandex and microfiber gloves tend to give you lots more freedom and flexibility. 
Those that are made with a built-in mesh design are even better as these provide plenty of ventilation, allowing your hands to breathe and preventing sweat build-up. 
Closure Type 
Traditional workout gloves tend to come with either one of two methods for closing and securing them; hook and loop and a velcro backstrap.
This really is where personal preference plays a big part in deciding which types of gloves to buy.
Some CrossFitters generally prefer the velcro backstraps (especially those with a convenient pull-tab) as they find them easier to slip on and off. However, others find that the velcro itself starts to wear down after a number of uses, meaning they don't quite get the snug fit they need to work out comfortably.
On the other hand, others find that hook-and-loop gloves are much easier to deal with and come with none of the drawbacks that you get with backstraps. 
Palm Padding 
This may sound obvious to experienced CrossFitters, but for newcomers, it's worth mentioning that sufficient palm padding should be one of the most critical factors you look for when choosing a good pair of gloves. 
Since one of the main reasons for wearing gloves in the first place is to prevent chafing, calluses, and blisters, it's vital that you choose a pair with sufficient foam padding to protect yourself against such troublesome damage to your hands. 
Grip Support
Along with providing protection, ensuring a proper grip is the other main reason why CrossFitters wear gloves. 
If you're deep into your workout, you may find that sweat causes your hands to slip when you grab that barbell or other piece of equipment. 
While wearing any type of workout glove provides a protective barrier between the equipment and your sweaty skin, choosing a pair with integrated anti-slip silica gel will help to improve that grip even further. 
Wrist Support 
We've talked a lot about wrist support throughout this guide as for some people, it's one of the most essential things they need from a good pair of gloves, while for others, such support can be more of a hindrance.
Wrist support is something all serious CrossFitters should consider as it provides ample stabilization, ensuring you don't hyperextend those wrists and cause yourself an injury.
Many people choose to buy their wrist wraps separately, though others prefer a glove that can provide support for both the hands and the wrists in one solution. 
On the other hand, some CrossFitters find that the kind of support you get with most gloves just isn't sufficient or that it makes it difficult to wear an Apple Watch or other fitness watch to track their progress during a workout. 
If you're in the former camp, you'll find many good options in our top ten. If you're in the latter group, you may want to look for those that don't offer wrist support and buy more suitable and supportive wraps separately.
Full-Fingered vs. Fingerless Style 
There are a good number of reasons why fingerless gloves always seem to be the go-to style for CrossFit and other types of training.
For one thing, the open-fingered style is another way of ensuring good ventilation so that you can keep cool and don't end up with gloves that are soaked in sweat.
For another, fingerless gloves tend to offer more freedom of movement so that you can maintain a solid grip and proper lifting technique.
However, fully-fingered gloves have their uses too, and they may be your preferred option if you find that you're still getting blisters and sore spots on the tips of your fingers following a workout.
Frequently Asked Questions About CrossFit Gloves 
What gloves are good for CrossFit?
Any pair of quality workout gloves that offers sufficient padding to prevent calluses and blisters, as well as enough flexibility to be able to move dynamically through your workout, would be good for CrossFit. 
In terms of brands, names like Cobra Grips and Trideer make some of the best CrossFit gloves around right now. 
Is it better to train with or without gloves?
While CrossFit gloves won't do much in terms of improving your performance, they can help to protect your palms and fingers as well as preventing sweaty hands from ruining your grip. 
What can CrossFitters wear on their hands besides gloves?
If you don't like wearing regular workout gloves, gymnastic grips make an excellent alternative as they allow you to still get a firm hold on equipment while being easier and often more comfortable to wear. 
What are the Best CrossFit Gloves to Buy in 2022? Our Verdict 
If there's one thing that should quickly become obvious from reading our top ten picks, it's that any number of different CrossFit gloves could technically be considered to be the best around.
From gloves that come with a premium price tag to those of a more budget-friendly nature, gloves with in-built wrist-straps to those that do without them and everything in between, workout gloves come in and styles, designs, and price points, meaning picking the "best" pair to wear for your next WOD all really boils down to what you consider to be your top priority. 
If cost is the most important factor for you, then either the TriDeer Workout Weight Lifting Gloves or the Viomir Workout Gloves should hold plenty of appeal for you as both offer great quality at a low cost, making either one a great value-for-money pick for budget-conscious CrossFitters.
If you're fed up with unisex gloves that don't quite fit right, and you prefer a pair of CrossFit gloves that are designed especially for women, then Trideer once again comes through with their attractive, tough, and comfortable Trideer Workout Gloves for Women. 
If, on the other hand, your only priority is getting your hands on -and into- the very best CrossFit gloves money can buy in 2022, then look no further than the Cobra Grips PRO Weight Lifting Gloves.
A premium quality pair of gloves, the Cobra Grips combine exceptional wrist support with high-grade protective padding, non-slip grip, and the kind of outstanding durability that guarantees they'll continue to serve you well for countless workouts to come.