As CBD products become more and more popular, it's no surprise to find an increasing number of athletes looking to find the best CBD for CrossFit Training and recovery.
The only problem is that with a wealth of different Cannabidiol (CBD) products out there in all different strengths and guises, it can often feel difficult, if not impossible, to know which one to throw into your CrossFit gym bag.
That's where this guide comes in.
Here at Boxletes, we've tried and trusted dozens of this year's leading CBD products tailored to the sports and athletic performance market to help you determine the right one for you.
Below, we'll outline our top five picks, as well as explain everything you need to know to make the most out of CBD for CrossFit.
In a hurry? Here are our favorite CBD products for CrossFit:
What are the Benefits of CBD Oil for CrossFit?
There's no denying that the rapid growth in popularity of Cannabidiol is all thanks to its numerous and plentiful health benefits.
Whether it's in gel, capsule, oil, or even edible form, it's often used to manage pain-related symptoms of numerous health conditions, promote physical healing, and improve well-being.
So it's no surprise that more and more members of the CrossFit community are turning to CBD to enjoy the following benefits.
1. Aid Recovery
Cannabidiol has been shown to have anti-inflammatory properties which can be beneficial for reducing muscle stiffness and soreness.
Studies on animals have also shown CBD to have pain-relieving properties which can be invaluable after an extra hard workout or when recovering from injury. 
2. Reduce Performance Anxiety
Although more research is needed to prove exactly why it happens, Cannabidiol is said to interact with receptors in the brain to produce a relaxing effect.
This is one of the reasons some people use it to help with mental health conditions such as General Anxiety Disorder, but it's also the reason why CrossFit athletes may find it helpful to treat another form of anxiety; performance anxiety.
If you're in preparation for a big event like the CrossFit Games, for example, then taking a CBD gel or using a tincture before bed can help you enjoy a peaceful night's rest and may even help to calm nerves on the big day.
3. Improve Mental Focus 
Whether you're competing in a competition or just aiming to up your game while training in your favorite local CrossFit gym, there's no denying that CrossFit is as much a mental activity as a physical one.
The good news is that CBD can help create a sense of mental well-being that leads to improved focus and clarity while working through a tough hero workout.
4. Reduce Post-Workout Fatigue 
If you've been wary of trying CBD because you're worried that it will make you feel high and sleepy in the same way that THC products might, we've got some good news for you. 
CBD helps to modulate the dopamine receptors in the brain which can improve mental clarity and attention and manages to help you feel awake and alert while simultaneously enjoying CBD's relaxing properties. 
Top 5 Best CBD for CrossFit 
1. Jibe Wellness CBD Gummies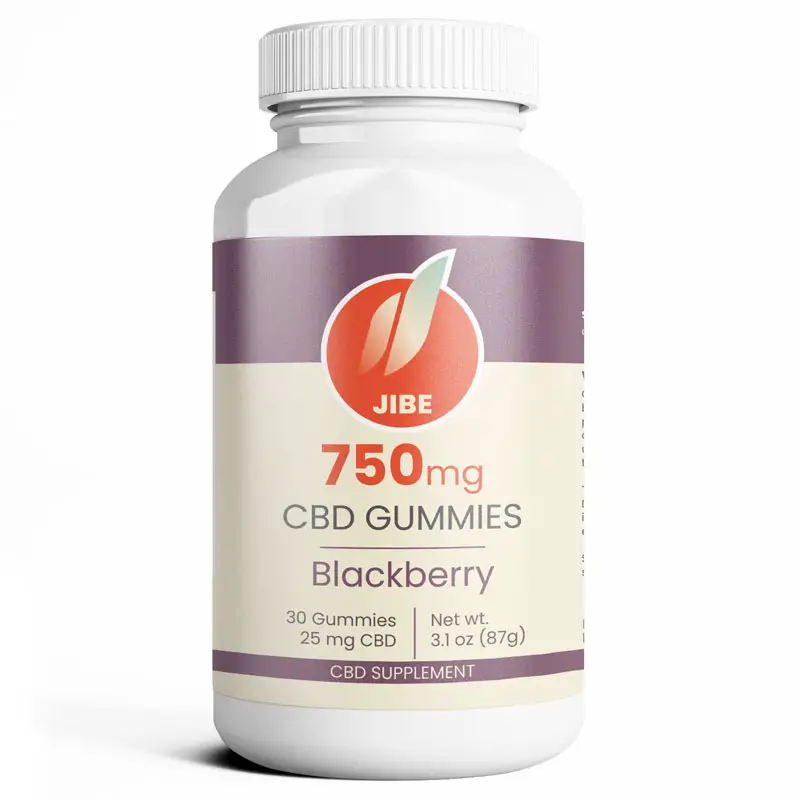 Specifications: 
Quantity: 30 gels
CBD strength: 30 mg per gel
THC level: Less than 0.3%.
Though we prefer their blackberry ones, Jibe Wellness CBD Gummies come in a variety of different flavors, making them a tastier and more enjoyable option than taking standard CrossFit supplements. 
Of course, that's not to say that a delicious taste is all that these 25 MG gummies have to offer. 
The product has earned rave reviews from its loyal users which praise it as an excellent relaxant that does a great job in improving sleep. 
Made to the highest quality standards in the USA, Jibe Wellness CBD Gummies are our top recommendation for any CrossFitter interested in utilizing CBD. 
Pros:
100% vegan
Mader from USA hemp 
No artificial sweeteners.
Cons: 
Only has 30 gummies per order which may mean frequent restocking if used regularly
Since gummies affect the whole body, this one may not be a good choice for athletes looking to relieve soreness on certain muscles
2. CBDMD Full Spectrum CBD Oil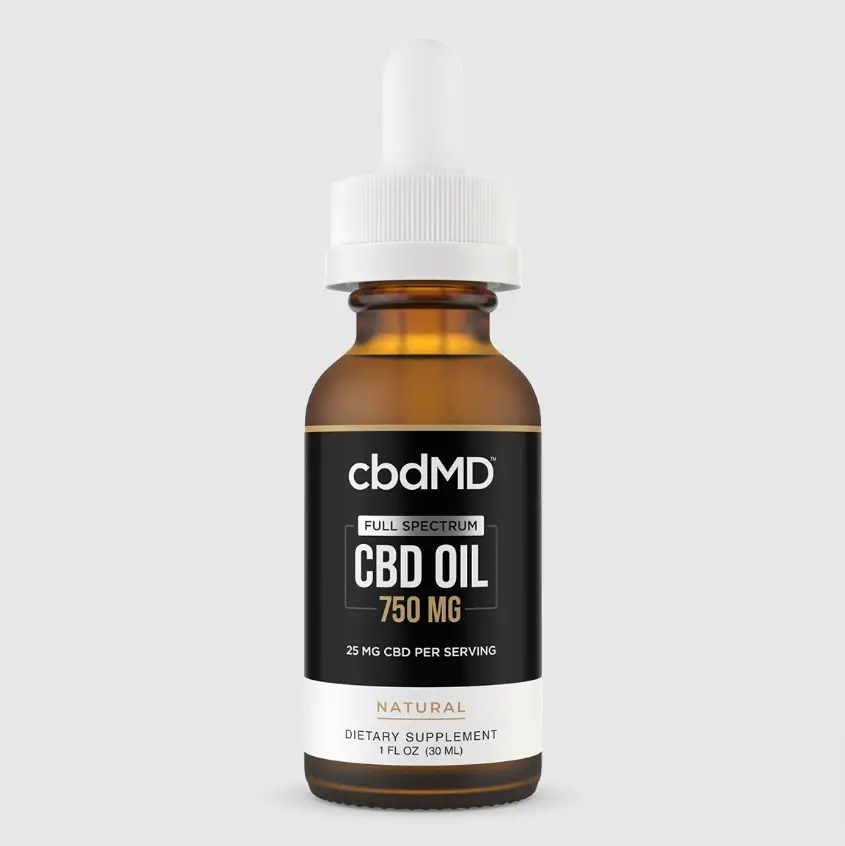 If you're looking for the best CBD oil rather than gummies or other forms of Cannabidiol, then Full Spectrum CBD Oil Tincture is hands down our top recommendation. 
This all-natural product is made from only two ingredients: 
Full-spectrum hemp extract which packs all the terpenes, flavonoids, and cannabinoids you want without taking you over the legal THC limit.
MCT oil, a natural oil which has its own wealth of health benefits. 
Available in three different strengths (750 MG, 1,500 MG, or 3,000 MG), this high-quality CBD oil can be a powerful recovery tool and help you approach your next workout with optimum energy levels. 
Specifications: 
Quantity: 750 mg – 1,500 mg
CBD Strength: 25 mg per serving
THC level: 0.3% 
Pros:
Available in natural or mint chocolate flavor 
Made with USA-grown non-GMO hemp
Available in multiple strengths. 
Cons:
Expensive compared to other CBD oils.
Try Full Spectrum CBD Oil Tincture
3. Planetarie Muscle Rub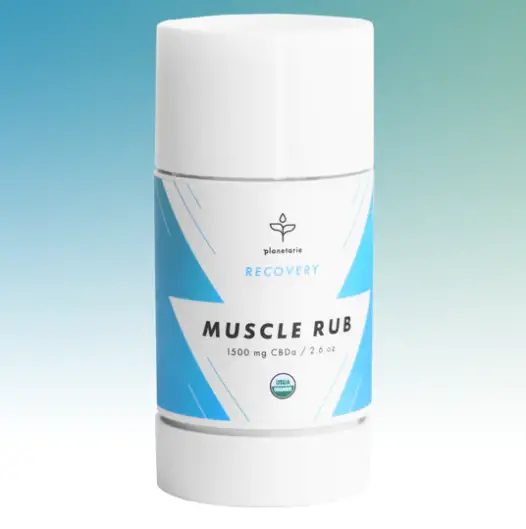 Specifications: 
Quantity: 1 x 2.6 oz stick
CBD Strength: 25 mg per application
THC level: Less than 0.3% 
While the last two products were excellent choices for all-over physical and mental wellbeing, Planetarie's Muscle Rub is the best choice for targeting specific muscles after a particularly brutal workout. 
The 1,500 MG stick is made from water-extracted Cannabidiolic acid (CBDa), a raw CBD which offers high CBD levels without tinkering with THC limits.
The CBDa is combined with organic ingredients such as mango butter and jojoba oil which help you to effortlessly and comfortably glide the CBDa into the skin. 
All in all, this is an excellent choice to aid muscle recovery or take care of nagging aches and pains
Pros:
Comes in a convenient roll-on stick which makes it easy to add to your gym bag
Effective for both pre and post-workout
Planetaire offers a subscription service that sends you a regular supply at a discounted rate.
Cons:
Doesn't last as long as other CBD products.
4. Pure Spectrum 99% Pure Cannabidiol Isolate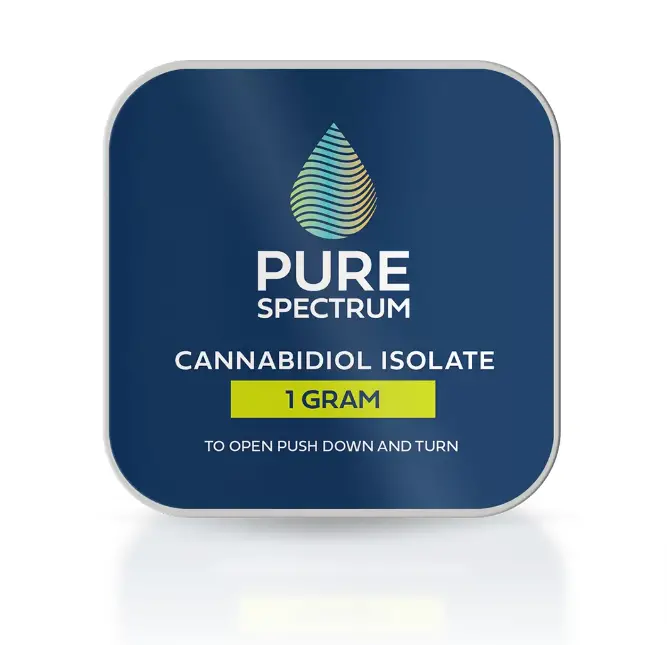 Specifications: 
Quantity: 1 gram or 5 gram options
CBD Strength: 99% 
THC level: 0
Pure Spectrum 99% Pure Cannabidiol Isolate is, as the name implies, the purest and most raw form of cannabidiol you're going to get, ensuring maximum effectiveness no matter whether you're looking to rejuvenate sore muscles or calm your nerves before a competition. 
However, that's not all that we like about it. 
First, we love that Cannabidiol Isolate is perhaps the most versatile way to buy CBD, as it can be used in cooking, recovery drinks, or combined with other CBD products to up your intake. 
Secondly, although the tin is only small (1 gram), it's also the most affordable way to use Cannabidiol as the actual off-the-shelf cost is much lower than other forms of CBD. 
Pros:
Works well as an effective pain reliever
Made from organically grown phytocannabinoid-rich hemp extract
Comes with free shipping and a 15% discount when you join the Pure Spectrum Subscribe & Save program
Cons:
The small tins may not be enough for some CrossFit athletes
Try Spectrum 99% Pure Cannabidiol Isolate
5. Jibe CBD Tincture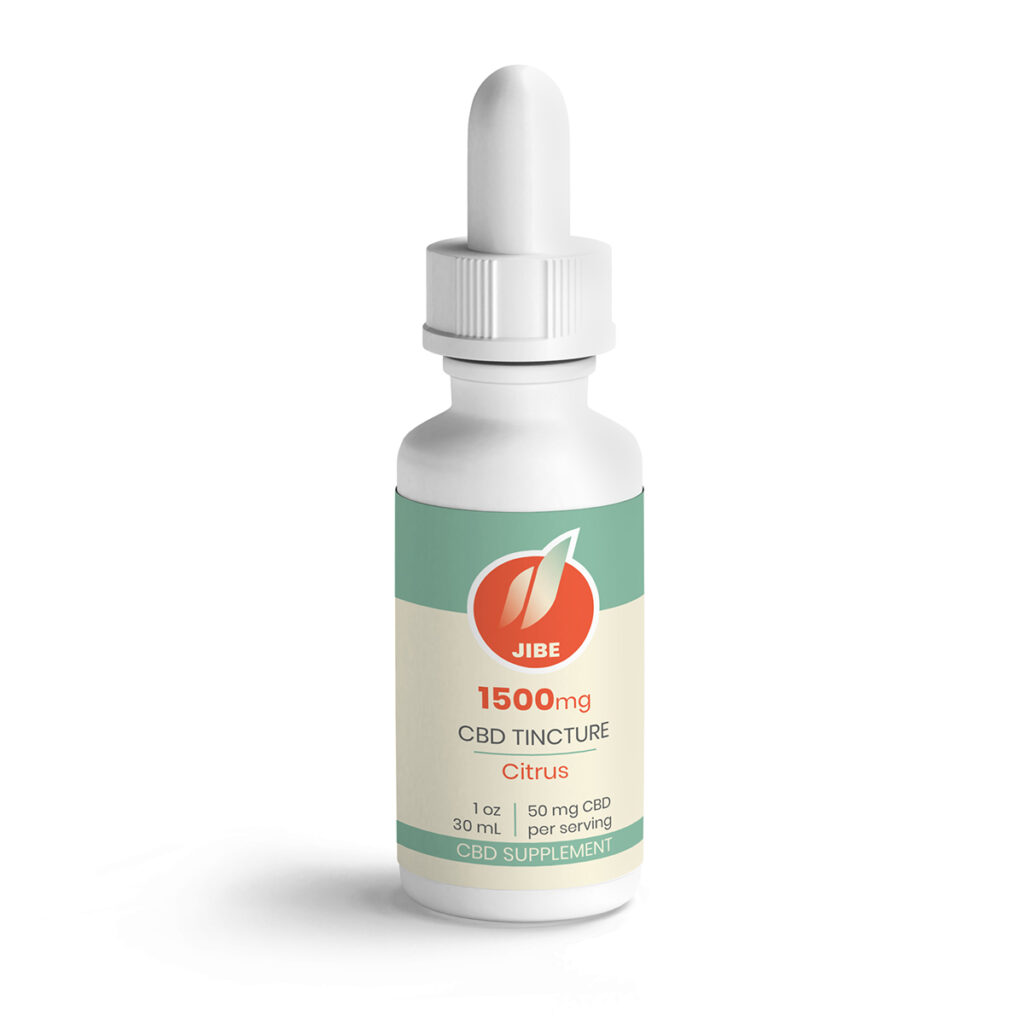 Specifications: 
Quantity: 1 x 2.6 oz stick
CBD Strength: 50 mg per application
THC level: Less than 0.3% 
If you enjoyed the cost, quality, and 100% vegan ingredients used in the Jibe gummies we looked at earlier but prefer to take your CBD in oil form, then the Jibe 1,500MG CBD Tincture may be your best alternative. 
Offering 50 mg of CBD per millilitre, this safely potent tincture combines CBD with MCT oil to provide you with full mind and body benefits.
The tincture also uses a natural citrus flavoring to make the tincture more palatable, something which may hold lots of appeal if you love the effects of CBD oil but not the natural oil taste. 
At such a high strength, 1 milliliter per day should be enough to help most CrossFit athletes boost their recovery process and improve focus.
Pros:
100% vegan
Made with grown-in-the-USA hemp
Has a natural citrus flavor
Cons:
Jibe doesn't offer discounts for repeat purchases the way other CBD brands do.
How to Use CBD for CrossFit
There are two main reasons why Cannabinol is so widely used both within the CrossFit community and outside of it.
The minimal (if any) THC content ensures it can be taken safely without worrying about feeling high.
It comes in a wide variety of forms which gives you the freedom to use it in a way that works best for you.
Here are some of the most common ways to use CBD to improve your CrossFit performance:
1. Capsules and Softgells
Capsules and soft gels are one of the most popular forms of Cannabidiol, especially in sports and athletic performance, as they are convenient to carry around and easy to take.
However, if you have trouble swallowing pills and capsules, you might find one of the following alternatives more appealing.
2. CBD Oil 
CBD oil can be one of the most effective ways to take CBD.
Place a few small drops under the tongue and the capillaries in your oral mucosa enable the oil's health-promoting properties to be absorbed into the bloodstream much faster and much more fully than with other methods.
3. Muscle Rubs
Throughout this guide, we've talked a lot about the anti-inflammatory properties of Cannabidiol, so it should come as little surprise to learn that many sports-based CBD brands offer a variety of creams and rubs to help soothe those aching muscles.
Does it work?
Absolutely. 
Our skin has a high number of cannabinoid receptors which activate something known as the Endocannabinoid System when CBD is applied topically.
This system enables the Cannabidiol to bind to those receptors, reducing inflammation and alleviating pain in the process. 
4. In the Bath
If you picked up a CBD oil like the CBDMD Full Spectrum brand we looked at earlier but decided that you don't like applying it under the tongue, another solution is to simply add a few drops to that relaxing, post-workout bath you take. 
Adding as little as 25 MG can help to lower stress and leave you feeling more relaxed while adding a higher dosage (up to 100 MG) will help you to make the most of CBD oil's pain-relieving properties. 
For the best results, it's a good idea to stay in the bath for at least 15 – 20 minutes so that the CBD has enough time to work. 
5. Cooking
Last but not least, did you know that you can add CBD to your food and drink. 
Whether it's part of your caffeine-free pre-workout drink to help you feel relaxed and focussed, to help amplify the effectiveness of your favorite recovery drink, or simply as part of a meal, adding a few drops of CBD oil can be a helpful way to ensure that your body absorbs as much CBD as possible. 
Using CBD for CrossFit: How Often to Take It
If you're new to using Cannabidiol, it's a good idea to start with small doses and gradually increase it until you feel the benefits you want.
But how often should you take it?
Whichever form you prefer, you'll find that CBD is most effective when used regularly, with daily usage of oils and capsules, in particular, being especially useful if using CBD for your mental well-being.
Muscle rubs or other forms of CBD that you're taking specifically for pain and inflammation can be used both before and after a workout and can be taken as long as is necessary to get the desired result. 
Frequently Asked Questions About Using CBD Oil for CrossFit
How Much CBD should I use for CrossFit?
There's no standard answer to this question other than to use as much as you're comfortable with. 
If you're just starting to introduce CBD to your CrossFit training, you may find it a good idea to start with a small dose for the first few days and then slowly increase that dosage until you achieve your desired result. 
Is CBD legal in CrossFit?
Yes, CBD is legal in CrossFit and other sports providing there are no traces of THC.
Cannabinol isn't currently on the World Anti-Doping Agency's Prohibited List, which means that you can safely use it to help prepare for competitions.
Does CBD Increase Athletic performance?
Although CBD may not directly impact your athletic performance, it can help you to sleep better as well as alleviate pain and help stiff, sore muscles to recover faster, all of which tend to lead to better performance
What is the Best CBD for CrossFit? 
If you've read through this entire guide, you should know everything you need to know in order to choose the best CBD product for you.
You've learned about the benefits of CBD for CrossFit and the best ways to consume it to enjoy those benefits to the fullest. You've also learned about the best CBD products on the market, with five different but equally excellent options to choose from. 
The only question that remains to be answered then, is which one of those five choices is right for you?
The honest answer is that it all depends on what's important to you. 
If you're looking to try CBD but don't want to spend a large amount just to see if it's for you, then the affordable and versatile Pure Spectrum 99% Pure Cannabidiol Isolate is definitely worth a look. 
If your top priority is to soothe aching muscles and relieve pain and inflammation, the small-but-powerful Planetarie Muscle Rub may be the one for you. 
However, if you're looking for our recommendation for the all-round best CBD for CrossFit, one that not only provides maximum benefits at a relatively affordable price but also tastes good, then there's no doubt that it has to be the Jibe Wellness CBD Gummies.